Iceland Journey Part 2/7 – Something Old, Something New
For many years now I've had a secret little fantasy of one day coming to Reykjavik to just write. Today (15.07.11) that dream came true albeit a somewhat diminished version of the original grand plan in which I am paid a massive advance to write my masterpiece as opposed to labouring away on my hideously delayed blog. Still, at this point in time, I'm a little more concerned about making a life rather than making a living. By Patches McGee, aka Naomi Doyle.
I took up residence at Hemmi og Valdi, a very cosy and cool little cafe/bar on the main street (Laugavegur) where I could watch the world go by, or Reykjavik at least. It was a glorious day outside making me one of the few people happy to be indoors, alleviating any pressure for me to drink up and move on. I managed to knock out a couple of entries before the lure of the sunshine and street music became too much too resist.
I had no particular destination in mind but my feet seemed to find the path they'd beaten several times before, leading me straight to Fríða Frænka – a veritable treasure trove spread over two overflowing floors of every kind of crazy-crap you can imagine – furniture, dead stock wallpaper, vintage kitchenware, jewelry and the finest collection of circa 1960 plastic and melamine children's ephemera. Fríða Frænka is in a league of its own serving as much as a museum as a shop. (FYI the store closed down in 2016)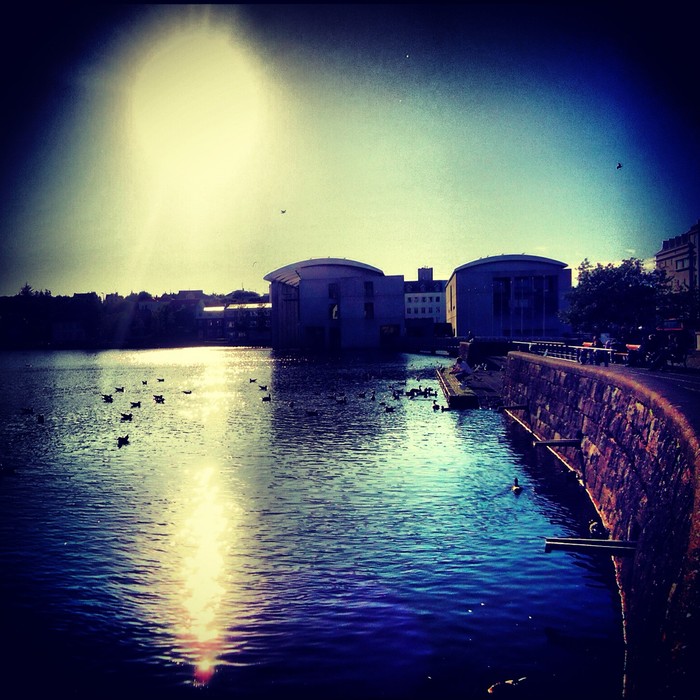 From the old to the new, I next discovered another recent addition to the ever-burgeoning Reykjavik cafe scene – Laundromat. If Fríða Frænka hadn't reminded me of the library in my own house, then this place practically transported me with its bookshelf bar lined with colour-coded spines, maps and globes around the walls interspersed with a smattering of leftist political slogans – it was a little spooky. I stayed for a drink before leaving the parallel universe for further rambling around town and the lake, Tjörnin, which had been frozen last time I was here.
Feeling a little peckish, I decided to follow a tip I'd received about the best place to get a veggie burger in town. The address I had led me to a very fancy bar that didn't at all match the description I'd been given. I went in anyway and was almost immediately ushered out the back by the waiter who seemed to know my type and what I was after. Sure enough, tucked away in what I assume is an incongruous, back room sublet situation, there was my speak-easy burger joint only meters, yet a whole world away from the far more salubrious establishment fronting it. Luckily there was a spare crate upon which I could enjoy my burger and fries and not much else!
Still broad daylight, my senses were mistrusting of my watch which insisted it was almost 9pm. I wandered towards the apartment where I was happily met by Halla. Our chit chat over a beer quickly turned into deep conversation over several. By the end of the night, we were firm friends already making plans for the rest of the week.