Iceland Journey Part 6/7 – A different kind of birthday blues
Happy Birthday to me! I awoke in an empty house to find a birthday card and gift waiting for me from superhosts – Halla and Berglind. Unfortunately I'd missed saying goodbye to them but the time had come to make tracks to my special birthday destination… I just managed to catch the bus as it pulled out of the bus terminal and then headed towards one of my favourite points on the planet – the Blue Lagoon. By Patches McGee, aka Naomi Doyle.
For the uninitiated, the Blue Lagoon is a reservoir of geothermal water fed in from the nearby geothermal power plant. Thanks to the white clay and blue algae in the basin, the water is an opaque pale blue making it look and feel as though you're stepping into a lagoon of warm, powder blue milk. It is surrounded on all sides by lava fields giving it an other worldly feel. It is without a doubt the countries biggest tourist draw card but I choose to believe that there's something quite special about naturally occurring phenomenons like this that bring people from around the planet to one point to share in its wonder.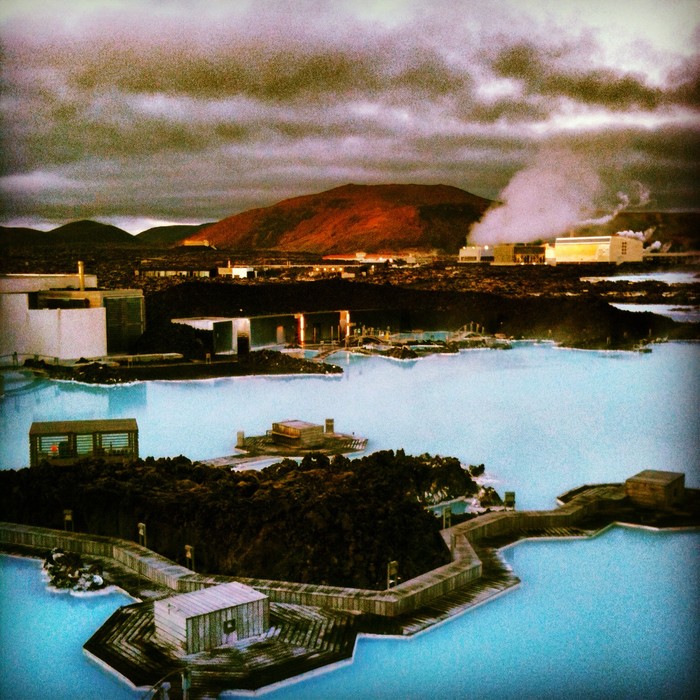 After a contemplative drive, I couldn't help but smile as we pulled up in front of a now familiar sign only this time, instead of proceeding straight ahead to the actual lagoon, I turned left and followed a gravel path around and over milky blue riverlets to the Blue Lagoon Hotel, ok, technically 'clinic hotel'.
I checked in and was shown around the hotel which disturbingly includes a psoriasis treatment clinic which is mercifully separate to the smaller guest-only lagoon. I was then shown to my room. I don't mind telling you I paid a pretty penny to stay here, a rather extravagant gift to self, so I was a little disappointed to find the place a little more 'clinic' than 'hotel' – two single beds, no complimentary toiletries, no mini bar and worst of all… no wifi!!! What about the rest of my birthday messages? Who would sing to me now?
The saving grace was the view of absolutely nothing but mossy lava fields as far as the eye could see. I couldn't see a soul and no one could see me, emphasising the solitude of the occasion. My beds were also laid with Álafoss blankets which I loved so much on my last trip that I'd bought one back with me.
I dumped my bag, put my on my swimsuit and headed back across to the main lagoon which is more developed each time I visit. This time is no exception with the addition of an in-water kiosk selling ice creams, drinks and DIY facial treatments. Being my birthday, I made a bee line for the kiosk and charged an almond magnum to my electronic bracelet and floated off singing happy birthday to myself (low enough so others wouldn't hear).
I spend the next several hours floating around in a bubble of bliss occasionally stopping to smear myself with therapeutic white clay and a frozen ball of algae from the kiosk which I was assured would make me look younger if melted it all over my face!
When I'd had my fill, I got out, smothered my hair with conditioner and headed back to my room to overdress for dinner. Without even having to pull the birthday card, I was given the best seat in the house right next to the lagoon. I ordered the vegetarian option which I paired with a half bottle of red and finished with a piece of cake – every birthday needs cake! When the waiter came to clear my table, I couldn't resist telling him that it was my birthday which elicited the appropriate response. Although he didn't sing, he did tell me that there was a viewing platform above the restaurant that I could go watch the sun'dip' from. I went up and took in the view over the lagoon, now closed, silent and surreally beautiful. I was all alone but not lonely. It felt like a gift.
Content, I wandered the path back to the hotel where I encountered a man with a tripod taking far more impressive photos than those you see here. We introduced ourselves and watched the sky change colour as it approached midnight. Before the strike of 12, I quickly blurted out that it was my birthday to get one last well wish in for the year to come. Ben and I strolled back, swapping travel stories and mutual relief at not being the only one a little disturbed about paying a premium to sleep in a psoriasis clinic!
We parted ways and I retired to my room, pushed back the curtains, opened the doors and sat a while on my little balcony wrapped in my Álafoss blanket contemplating the year gone by and the one that lays ahead. I came back in but left the curtains open, happy to sleep in the light of a new day, a new year and new start.