Trip in Iceland 2013 part 3/5
Lights, camera, action! ~ My sister, Bec (aka Pretty Patches* for the purposes of this blog), has travelled for 37 hours straight to be here. Originally, I planned to do this trip with Bec but we just couldn't get our dates to match. She had a trip to Bali planned and a work trip that just didn't leave enough wiggle room in between. Then it occurred to us that she could tack it on to the front of her work trip. By Patches McGee, aka Naomi Doyle. (March 1, 2013)
Unfortunately, that meant that she had to lock in her dates before we'd heard back from Mum's doctor about whether she could travel after her operation. In the end, we gave up on the idea of coordinating our trips and booked independently of each other. A couple of weeks later when I'd locked in Mum's and my flights, I spoke to Bec to ask what dates she'd managed to book… it was a perfect overlap. She'll be leaving on the same day at exactly the same time as us. We couldn't have planned it better had we been able to. I guess it was just meant to be!
Aside from her epic journey and associated jet lag, Bec has also been fighting the flu, exhaustion and various other aches and pains. By the time she arrived at Room With a View (who have generously arranged to accommodate the three of us in our lovely apartment with a giant spa bath!), she was so full of medication and empty of sleep that she could barely speak. Unfortunately for her, there was no time for rest, only for a quick shower and change before reporting for active holiday duty. Considering tonight was our only allocated night to look for the Northern Lights, the primary reason for the trip, poor Bec didn't really have a leg to stand on in terms of staying in (actually, she had two legs to stand on, they were just too tired and wobbly to object).
Like the super trooper she is, she sucked it up and rugged up warmly – we all did. In terms of our winter wardrobe, it was time to pull out the big guns! We put on every layer we had including a very fetching Canadian toque (aka as a beanie to the rest of us) and mittens given as a gift in anticipation of this very night. I reviewed my notes on how to best photograph the northern lights (guide written by Nat & Stu – Where's My Passport) and we were on our way! We rendezvoused at the Iceland Excursions office. As I mentioned earlier, the Northern Lights have been in hiding for days on end so tonight's improved forecast drew quite a crowd! Being a natural phenomenon, there can be no guarantees of a sighting on any given night so the way Iceland Excursions run their Northern Lights tours is to allow passengers to continue to go out night after night until they see them (if there's no chance of a sighting, the tour doesn't run and passengers are advised through their hotels). When we arrived and saw all the people, I was worried we wouldn't all fit but they just kept putting on more buses to accommodate everyone. In total, we were a fleet of six excited and expectant coaches.
Being more of an independent traveller, I had a concern that this large group dynamic would undermine the experience but I couldn't have been more mistaken. Our guide, Guðbjörg, had us all in stitches by the time we reached the outer limits of Reykjavik with her stories of how her husband had mistakenly and foolishly thrown away her vintage chocolate tin collection and how she intended to get her revenge. As we drove deeper into western Iceland, Guðbjörg gave us a better understanding of the science behind the Northern Lights aka Aurora Borealis. She explained that there are three main types: the calm or arc aurora (the most common, slow moving, usually green, smudgy streaks across the sky); the active aurora (more intense ribbons of light that swirl and sometimes drop curtains of light tinged with colour that move and fold); and the twinkling or pulsating aurora (quite rare, very active with bright curtains of light that dance). As she spoke, all eyes were glued to the windows and the clouds that still hung overhead.
About an hour or so into the drive, there was a hush and a murmur as the clouds to the right of us started to look decidedly green around the gills! Guðbjög became very animated, instructing us all to look out as they got brighter and greener. She was very excited (as were we all!) saying how very unusual this was and that they usually drive around looking for 'starbright' sky before stopping because, ordinarily, any trace of clouds were enough to obscure the lights from view. It was almost unprecedented in her experience for them to be so strong so as to actually permeate the cloud cover. The excitement on the bus was palpable, especially for those of us with window seats on the right hand side. Camera's were snapping, mine included. Despite the universal instruction for the need for the camera to be still on a long exposure, I managed to actually get a few good shots – blurry but representative!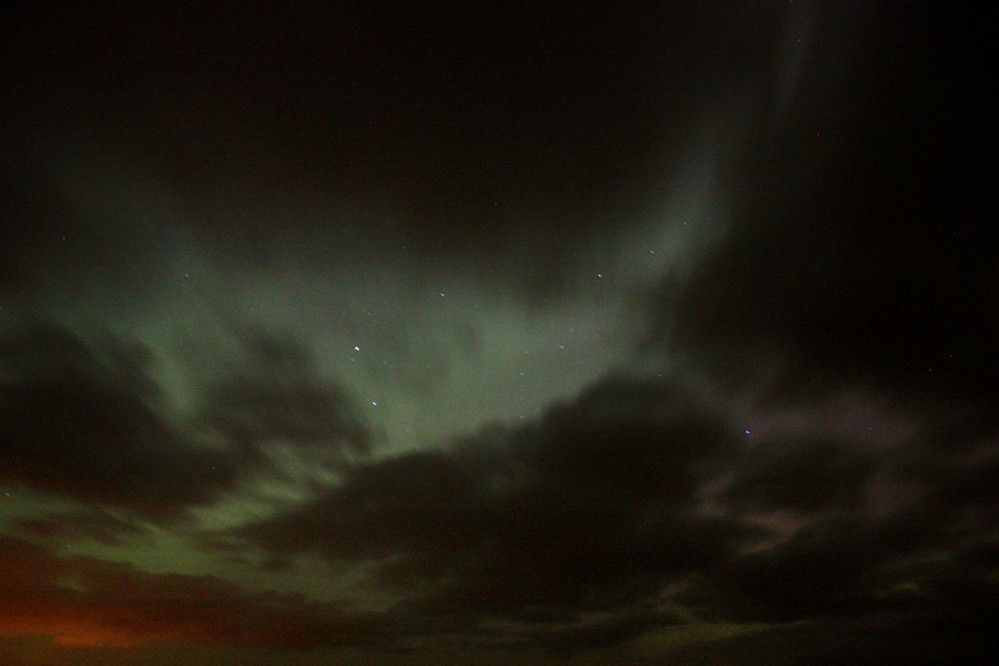 Although the lights were undeniably out in force, they were still behind cloud so we didn't stop until we found clear skies. We eventually arrived at a spot in western Iceland somewhere near a waterfall (I probably just described a hundred places but I missed the place name, sorry). Unfortunately, the lights had gone back into hiding by the time we alighted and climbed to the top of the freezing, boggy hill in pitch blackness. The smart people, like my mum and sister, sought refuge in the cafe that opened to service our party. Meanwhile, a small tribe of diehards like myself set up our tripods and kept a silent vigil in the freezing night air, long after we'd lost all sensation in our extremities (tip for future Northern Lights explorers – don't wear canvas shoes!). Although there was probably about 15-20 of us up there in relatively close proximity, it was quite a solitary experience. There was more than enough room for us all without jostling for position or invading each others personal space. There was the occasional quiet conversation on the edge of hearing but for the most part, I felt alone with my thoughts for which I was grateful.
Then came our reward! The sky gently lit with vast green arcs on all sides – the calm aurora. The guides rushed inside to rally the troops to come and see. We shutter bugs defrosted our fingers and snapped away slowly, very slowly – each photo taking 20 seconds or so to expose. I should mention that the long exposure gives a vibrancy to the photos that isn't always as intense to the naked eye. In fact, I initially thought that tonight's display of the calm aurora wasn't as bright as I'd seen it in Alaska 11 years ago but now I'm unsure if that's because my memory of that night so long ago has been augmented by the photos of it – I just don't know. Memory can be so slippery.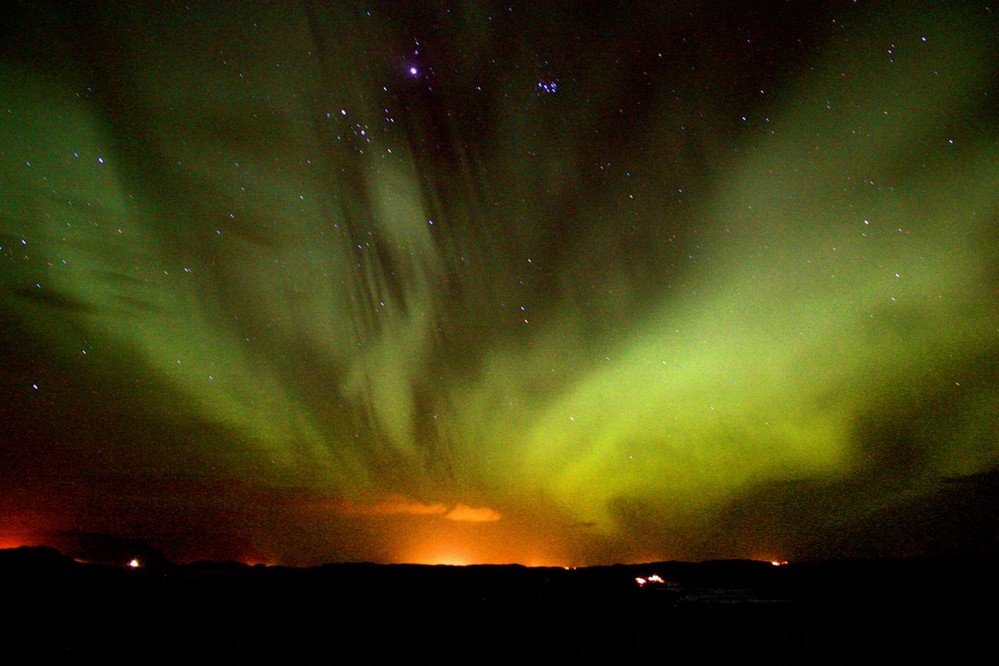 Guðbjörg and the other guides kept spirits high as they danced amongst us singing songs from the musical Hair which lent the occasion a rather appropriate element of pagan ritual. They claimed it encouraged the lights to shine brighter and so they did! Almost on command, the light intensified into ribbons, picking up speed and dropping shimmering curtains tinged with red – the active aurora! I couldn't believe our luck, I hadn't seen colours before, only green so I was thrilled to pieces, taking even more photos at a snails pace. Another benefit of the long exposure is that there's time between photos to just look up in awe at the magical display of nature. It truly is otherworldly. We stayed up there on that freezing hilltop for well over an hour just marvelling and natures majesty. The lights faded and time came to re-board the bus and head for home satisfied that we'd seen a most spectacular show. All settled in, doors closed, lights off, engine purring, ready to go… then all of a sudden the doors flung open, lights came on and Guðbjörg yelled "Get out, get out, the colours are coming!!!".
In a frenzy, we all poured out of the bus to find the sky absolutely bursting with light and colour, the likes of which I have never seen, nor imagined! The twinkling aurora! And twinkle it did! It was like the sky was playing with all the joy in the world! Such pure white light with the softest, most radiant pink flickering through it, I wouldn't have been surprised if it had covered us all in glitter! In all the excitement, I fumbled with my borrowed equipment – my friend Gabby's camera and Inga from Tiny Iceland"s tripod – unable to get them to cooperate with each other. Eventually, I thrust them into the hands of the nearest guide and pleaded with her to join them up which she did with practised ease. I snapped and snapped and snapped for as long as I could without being left behind. As it was, I was last onto the bus. Despite what I said just above and although I think these last photos were the best of the night, they just don't capture the magic of what we witnessed and I'm yet to see any photos that do. Everyone was positively giddy including Guðbjork who declared the night to be in her top 5 aurora viewings – as she talked us through the others, tonight's show crept up to #2 on her list.
The lights continued to dance around us for some time as we wend our way back to Reykjavik. Mum and Bec slept as I gazed out the window contemplating the magnitude of the night. This whole trip was founded on the premise of "Operation Northern Lights" – there's no doubt that I can now declare it well and truly "mission accomplished" and how! I started off with a determined wish, tonight it was magnificently manifested. At such close proximity, it's too big to make sense of, it's going to take some time and perspective to digest. For now, I am happy to remain in awe, to believe in magic and to be a little bit totally freaked out that I asked something of the universe and it gave it to me in all its glory in a very strict deadline. I mean, how and where do you send a thank you card for that?!
In the very first entry of this blog, when this trip was nothing more than a pipe dream I didn't think possible, I said "To see the Northern Lights in the wild, weird and wonderful landscape of Iceland would be so many dreams come true that I'd be afraid I'd never dream again but I'd be willing to risk it!". At the end of one of the most enlightening days of my life, it's time for me to take that risk!
Naomi Doyle, aka Patches McGee is a writer, traveller and phone-ographer. Thank you Naomi for sharing this exciting post about your mission witnessing the northern lights. Check out Naomi's guest profile and follow her new journey here.
*Patches McGee and Pretty Patches were the names of two rag dolls I had growing up. They were unrelated. Pretty Patches was much bigger and prettier. Patches McGee was much smaller and geekier. This may be the first time I've actually articulated what I understood as a child which was that Patches McGee always felt like the 'under-doll' so to speak. I naturally felt more protective of her and had an inherent mistrust of Pretty's good looks. This is not reflective of my relationship with my sister, it was just a neat naming strategy since Mum became Patches McMum (though Bec is suspiciously pretty and I'm undoubtedly a geek)!
Here are notes from Naomi's mom & sisters:
Patches McMum: We strolled back to do Mokka for scrumptious waffles, cream and hot chocolate and home to wait for Bec for our trip to see the Northern Lights. The 3 of us boarded the bus for a two hour trip out so we could see the lights. It was absolutely black as pitch and we fell over in the mud but the coldness, the mud and the slosh were all worth it to see the wonderful, amazing, beautiful, spectacular, astounding northern lights! The best bit was at the end. Another beautiful day in Iceland.
Pretty Patches: Today has been the longest day I can remember in some time. I started it in Sydney and ended it in Reykjavik with stops in Singapore, Heathrow & Gatwick. I need to be in London on Tuesday for work so I've taken advantage of the airfare and flown out a few days early so I can meet up with my mum & my sister to see the Northern Lights. Naomi is a huge fan of Iceland and has had me wanting to go there for ages and today is finally the day, after 3 flights and 3 bus rides I have finally arrived. I was so excited to see Mum & Naomi and couldn't wait to drop my bags, have a nice long shower, get some sleep and get up ready to discover Iceland but they had other plans. I was barely in the door with hugs and kisses done when they told I had half an hour before we are being picked up to see the Northern Lights, I can't honestly think of anything that would feel more compelling than going to sleep but I wasn't given a choice so I did as I was told, put on every layer I could manage and jumped on the bus and fell asleep. I have no idea where the bus took us or how long it took, I was asleep for most of the ride and only dragged myself out into the coldest night I have ever known because we were told this might be the only night this weekend we might see the lights. It was pitch black, muddy & did I mention freezing? Amazingly, the lights did come out and they were stunning, I will let Naomi do justice to their beauty because I do not have the words. As exhausting and long as this day has been, I'm so glad I pushed through and got to finally see the lights, this weekend is off to a great start. Now it's time for bed. zzzzzzz.