Road Trip Around Iceland – Summer
If you've been following Tiny Iceland from the beginning you might have read about my epic road trips, for example Iceland Challenge.  There I was focusing on introducing Icelandair's stopover program which is a great way for travelers flying a transatlantic flight that want to have the opportunity to visit Iceland with no extra flight cost (for up to 7 days). Imagine what you can see and do with seven days in Iceland?!
This week, from July 29th to August 2nd 2017, I'm doing a roadtrip around Iceland with Sixt rent a car Iceland and joining me from the United States is my good friend Gregory from New York and his father Lee from Michigan. I was fortunate enough to road trip with Gregory around the USA last summer so I'm excited to return the favor and show them around the little island I call home, Iceland.
Joining us for the trip is one of my BFF's, Særún, who will help with driving, navigating, photographing and more. So make sure to follow @tinyiceland on social media if you don't want to miss out! (Instagram, Facebook and Twitter)
The trip will start in Reykjavík on Saturday July 29th where we will pick our rental car from Sixt Iceland headquarters in Reykjavík. We plan to hit the road around 10AM aiming for Northwest Iceland. Since we only have 5 days and 4 nights, I'm focusing this road trip on the Northern and Eastern part of Iceland with a hint of the South coast during the last day. Last summer I did a road trip just focusing on the Westfjords and previously I've done multiple trips around the West and South so now I'm ready to explore more regions and gather new photos to share with you guys! Cheers, Inga, founder of Tiny Iceland.
There are plenty of tips on TinyIceland.com about all of Iceland, so please use the categories above in the blog menu or the tags on the right if this is not what you're looking for.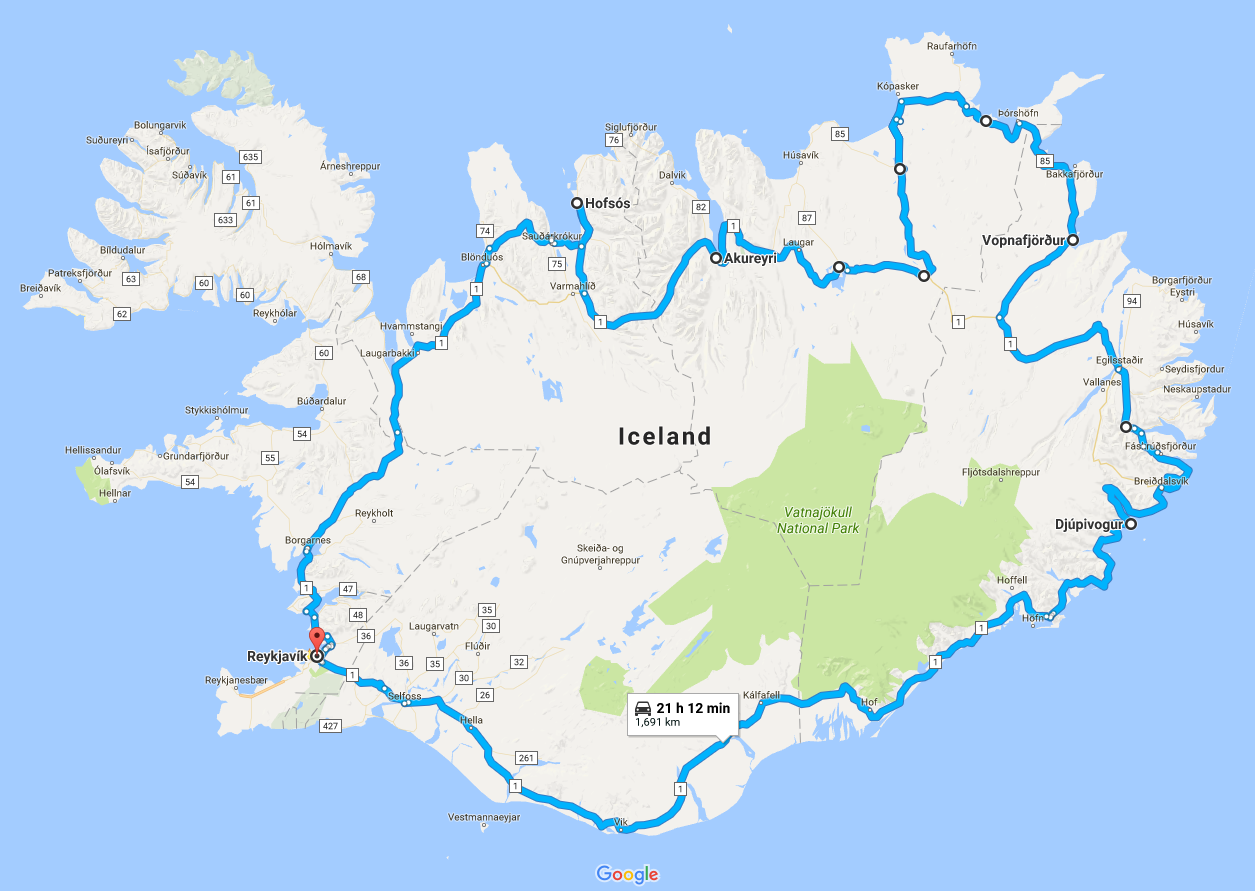 Day 1 plan – Reykjavík to Hofsós
The road trip starts in Reykjavík after we pick up our car rental from Sixt. We will drive towards Northwest Iceland and stay in Hofsós, a small village in Skagafjörður. There are a few places we want to visit during this drive for example:
Kolugljúfur canyon and Kolufossar waterfalls, located just off ring road (route 1), drive down road 715 Víðidalsvegur and you will see a walking path around the canyon. Hvítserkur sea stack which I've been dying to photograph for years! The sea stack resembles a rhino so stay tuned for photos to follow. Before the day comes to an end, we aim to visit the man-made nature pool, Grettislaug. Grettislaug is named after the Icelander Grettir the strong, whom rested in this pool after his famous swim Drangeyjarsund. The pool has natural heated water at a temperature of 40°C. Showers and changing facilities are located near the pools.
Day 2 Plan – Drive from Hofsós to Akureyri
We will start the day by visiting the local swimming pool in Hofsós, its an infinity pool overlooking the ocean.
After a morning soak in Hofsós swimming pool we drive out of town via Siglufjarðarvegur instead of road 1 towards Akureyri. It's a more scenic route and since we are heading to Dalvík to try the new beer spa, Bjórböðin, which is located in Árskógssandur.
Bjórböðin has seven indoor tubs filled with a good combination of beer, hops, yeast and water which is supposed to be really good for skin and overall health according to the spa's owners. Not to mention every tub comes with a private beer draught from the Kaldi brewery. We are very excited to try the Icelandic beer spa, Bjórböðin, and I will write a full report after the trip!
Akureyri is known as the capital of North Iceland and it is the fourth largest city in Iceland. There are plenty of things to do in Akureyri as it's booming with culture and great atmosphere. We are really excited to visit Café Laut, a small but very pretty café located in the botanical gardens in town. Recently, the biggest swimming pool in Akureyri got a fresh renovation and has now one of the biggest water slides in Iceland – perfect for kids and of course adults. Akureyri also has a very beautiful city centre with lots of cafés, small shops and restaurants. You'll most definitely find a concert in town when you are visiting Akureyri as the locals are known for their love of music.
Lava Apartments, a friendly apartment hotel located in the central of Akureyri invited us to stay with them while exploring the city so stay tuned for my review to follow after the trip. In the meantime have a look at their website. I'm mostly excited to stay here because of their perfect location in the central!
To read more about North Iceland check out my other blogs here.
Day 3 Plan – Drive from Akureyri to Vopnafjörður
North Iceland is a paradise for geologists, full of large lava fields, mud pools, volcanos, the most powerful waterfall in Europe, and so many more places! Day three will be a combination of all of these. We aim to visit the places mentioned below while driving to our next destination, Vopnafjörður.
Goðafoss is the waterfall of the gods, located in the Mývatn district of North Iceland. Krafla volcano which lies just outside of Mývatn was one of the most active volcanoes in the 70s and 80s. The crater beneath is known as Víti, or 'hell' since many Icelanders used to believe that hell was located below these craters. Located just on the other side of Route 1 is Hverir—the geothermal hotspot area. It is highly active with hot steam and mud bubbling up at random spots. Just remember to be careful walking around this area and stay within the roped pathways!
Grjótagjá is a small lave cave near lake Mývatn with a thermal spring inside. The locals have been bathing in these caves for ages but we are not sure if it's too hot to bath there at the moment. At least we are going to check it out and let you know. A fun fact: Game of Thrones was filmed there! Dettifoss is the most powerful waterfall in Europe, falling down 45m and with a width of 100 m. Hljóðaklettar is a cluster of columns that make a cave, located in the Jökulsárgljúfur canyon. From ring road 1,drive road 862 and FYI this road is closed during winter.
Day 4: Drive from Vopnafjörður to Djúpivogur
This will be our main drive around the Eastern fjords of Iceland. Our next destination is the small town of Djúpivogur, known for a unique art installation along the coast of Gleðivík (translated as 'Merry Bay'). On our way there we aim to explore a few things around Egilsstaðir, the capital of East Iceland and drive along the fjords to see some amazing scenery.
We want to explore Hengifoss, third highest waterfall in Iceland, 128 meters. It's a bit of a climb 2.5km each way but it should be easy and worth it to capture stunning photos of it.
Skriðuklaustur, a cultural site with a long and diverse history. It was a farm for centuries before becoming the site of a monastery from 1493 till the Reformation. There is a nice little café in Skriðuklaustur called Klausturkaffi which offers a buffet of coffee and cakes. If we have time to spare we want to visit the natural pool at Laugarfell, located in the eastern part of the Icelandic Highlands.
If you are in a hurry and don't have time to drive the Eastern fjords from or to Egilsstaðir then stick to the ring road and take the route called Öxi. We plan to skip Öxi and drive the fjords: Reyðarfjörður, Stöðvarfjörður, Fáskrúðsfjörður and Berufjörður ending in Djúpivogur.
Day 5 Plan – Drive from Djúpivogur to Reykjavík
This will be our longest drive of the trip, but with a few stops along the South coast it will be a great drive. As mentioned before I've driven around South Iceland multiple times so please read other blogs for more detailed ideas here. Our focus this day will be a few of my favorite places to visit.
Jökulsárlón, is a glacier filled with ice bergs and you can even take a boat tour around the lagoon. I recommend you go across the bridge and make a right to the glacier beach where icebergs flush up on shore. You might even spot seals in the lagoon or at the beach. Only a few minutes after driving from Jökulsárlón is Fjallsárlón, I called it the mini glacier lagoon and much more secluded. So make sure to check it out also!
Next stop is at Skaftafell national park. From there is a hiking trail to Svartifoss waterfall. It's about 1.8km (11 miles) long and should take about 45min one way. If you are not in a rush then enjoy some other sites on the hike e.g. Eystragil, Hundafoss, Magnúsarfoss and have a picnic in the wilderness.
Other places we will try to visit: Skógafoss, Dyrhólaey, Kirkjubæjarklaustur, Seljalandsfoss and VÍK.
Driving time and kilometers (without stopping to sightsee or rest)
Reykjavík to Hofsós = 320 km (4hrs)
Hofós to Akureyri = 137 km (2 hrs)
Akureyri to Vopnafjörður = 230 km (3 hrs)
Vopnafjörður to Djúpivogur = 211 km (3 hrs)
Djúpivogur to Reykjavík = 545 km (6,5 hrs)
After the road trip I will update how many kilometers we drove and spent on gas.
Where we are staying:
July 29th to July 30th in Hofsós, Northwest Iceland
July 30th to July 31st in Akureyri, North Iceland – at Lava Apartments
July 31st to August 1st in Vopnafjörður, Northeast Iceland
August 1st to August 2nd in Djúpivogur, East Iceland
A few tips:
Some gas stations don't accept credit cards or are simply closed early in the morning. We recommend buying a gas card before heading out of any 'major' town to avoid getting stuck in a sticky situation!
Icelandic Association for Search and Rescue, ICE-SAR, safetravel.is is an informative website about traveling safe in Iceland.
The Official number for Iceland emergency service is 112.
It is the law to wear a seatbelt at all times and driving off-road is forbidden!
In the summer, sheep have the right-of-way on the roads, so either you have to stop and wait for them to pass or honk the horn to make them scatter.
Many of the bridges along the Ring Road are one lane–the car who got to the bridge first has the right-away.
Also BOOKMARK this post! "Tips for Safe Traveling in Iceland".
Don't forget to follow Tiny Iceland via social media for frequent updates. Twitter, Instagram, Facebook, and Tiny Iceland's Pinterest profile is filled with boards and pins to get more ideas what to see & do when planning your Trip in Iceland. Tag using Tiny Iceland's official hashtag #TripInIceland.
Special thanks to Sixt rent a car Iceland for sponsoring us with a 4×4 car, Lava Apartments for accommodating us in Akureyri and Bjórböðin for inviting us to their new Beer Spa. They deserve a shout out so I hope you guys will check them out before planning your own adventure around the Iceland. All opinions are my own! Cheers and happy travels, Inga, founder of TinyIceland.