Snorkeling in Silfra & Whale Watching
One of the amazing geological oddities in Iceland is the Silfra Fissure in Þingvellir National Park, a rift where the North American and Eurasian plates are slowly pulling away from each other. While researching our trip, my husband Dave and I found out that it is possible to snorkel or dive in the fissure, so we jumped at the opportunity and booked a snorkel trip right away. By Karlie Marrazzo
Þingvellir (Thingvellir) is a 45-minute drive northwest from Reykjavik. We arrived at the meeting point and saw the van from Dive.is waiting for us. I started to get nervous as we approached the van. Even though I knew that they were professionals and that I would be wearing a dry suit so I didn't need to worry about getting cold, I was still uneasy. I am from the land-locked prairies in Alberta, Canada, after all, so floating in freezing water between continents is foreign to me!
We met our guide, Louis, and followed him down to the edge of the dive site. He was a young guy around my age. Icelanders have a reputation for being hard workers – they have Viking blood, after all – and are serious about what they do, so I knew we were in good hands. He went over safety with us and told us what the day would be like. His way of speaking made me feel more at ease – firm with the rules but a few jokes tossed in for good measure. Silfra is one of the top spots in the world for diving, thanks to some of the clearest water in the world and underwater visibility of over 100 meters. The naturally filtered glacial water hovers around a chilly 2C all year round. The fissure didn't look like much from above, just a crack in the Earth full of crystal clear water. It was impossible to see the depths from where we were standing. The weather was decent for Icelandic standards – not too windy, not raining, and only some clouds in the sky.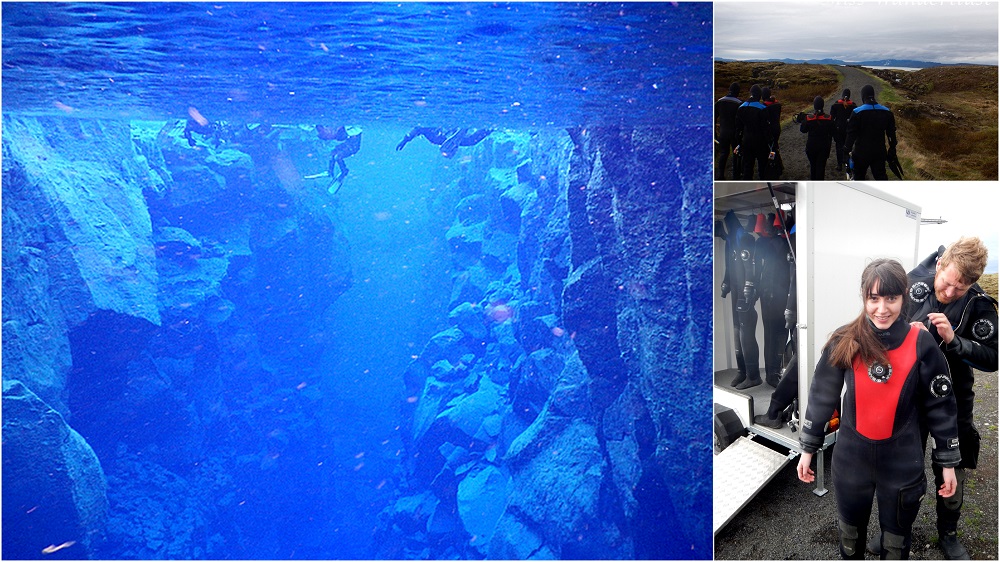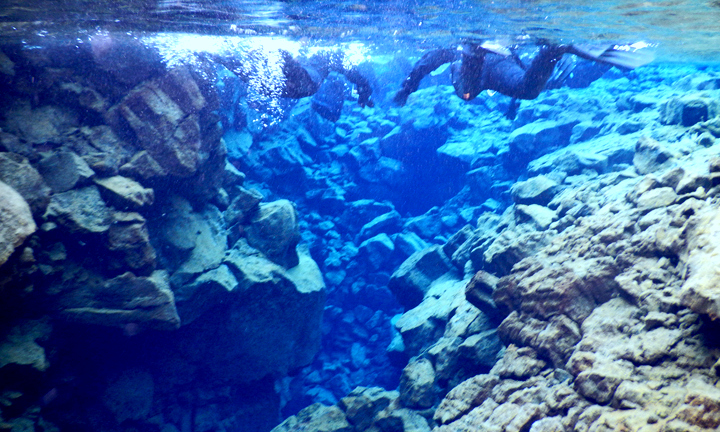 Louis helped all of us get kitted out, which was probably the most complicated part! We stripped down to our thermals, put on some sort of base layer, then the dry suit, then gloves and a head covering. Everybody looked hilarious struggling and wiggling all over the parking lot, trying to get the gear on. A bunch of moon men walking on Earth.
Once I walked down the metal steps into the water, there was no going back and my anxiety disappeared. Our group bobbed upright in the water momentarily. Then we were all face down and floating off in our own world. The water wasn't as cold as I expected, and I adjusted quickly. Floating there felt like I was no longer of this earth, floating somewhere between heaven and hell. It wasn't scary or upsetting, it felt like nothingness, other worldly, and peaceful. I have never seen water so clear in my life. The blues and greens were so beautiful, and staring down into the depths was mesmerizing. There are a few fish that can survive in the cold temperatures, but I didn't see any that day. I only wish we could have stayed in for longer. Because of the cold temperature, the excursion is only about 30 minutes long.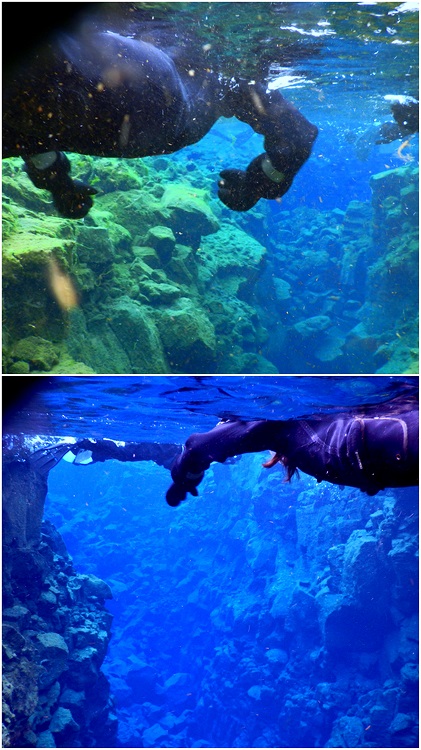 We waddled back to the parking lot and did another dance to get our dry suits off. We warmed up with some hot chocolate and cookies and said goodbye to our group.
We made our way counterclockwise around the island, and a few days later we were in the North of Iceland. We decided to do a whale watching tour in Húsavik, another small and perfectly picturesque Icelandic town that has a great reputation for spotting whales.
We made it just in time for our 14:00 whale watching tour, run by a company called North Sailing. The beautiful oak schooner Haukur, built in 1973, was awaiting us in the harbour. Once our group of 12 passengers boarded along with two crew members, we were given big, heavy, warm overalls to wear. Even though the weather on land was gorgeous – blue sky with only a few clouds, little wind – we would absolutely need this warmth very soon.
As we set out into the bay, everyone was eager and alert to spot whales, although it was more likely that we would see them further out where the water is deeper. The tour we were on was called Whales, Puffins and Tails, so we were also all on the lookout for those funny little birds. I still hadn't seen any puffins up close, so my hopes were very high. About 30 minutes after setting out, we reached Lundey, nicknamed Puffin Island. Finally, there they were! They were so much smaller than I realized they would be, flitting through the air, some of them looking like they were about to drop out of the sky. The crew turned off the engines and we floated around the island for a bit, watching the puffins while the captain told us more about the birds.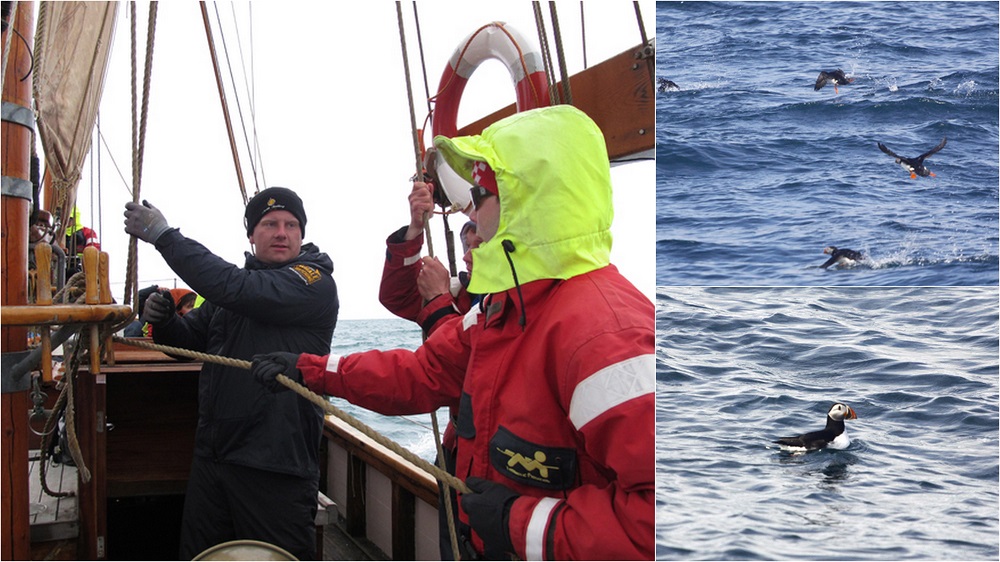 By this point the sky was getting cloudier and I could already feel the temperature dropping. Once we set out again, until we arrived back on land, I completely lost track of time. I couldn't tell you how long it was between the time we set out again and when we saw our first whale, or until we saw him again, or until we saw the next one. But I can tell you that the first moment I saw a humpback whale appear out of the water, I almost burst into tears. I didn't expect that reaction at all! The moment was so brief, but so powerful.
We continued to follow the humpback for a while and spotted it a couple more times. Later on we also spotted a smaller minke whale. Although I was excited about the experience, the longer we were on the boat, the worse I felt. As I've mentioned elsewhere, I don't do well on boats, so this is not a reflection of the tour company. I can admit that I don't have a very good sense of direction, so I was getting quite dizzy and disoriented. And, even though we were wearing the big warm overalls, with the wind and cloud cover factored in, it felt like -15C. At some point on this excursion, I was the furthest north I have ever been, close enough to say I was just shy of the Arctic Circle – only 19km, or 66.67187N, according to the GPS on my camera. I was huddling into myself, trying to keep warm, only jumping up (and trying not to fall overboard) when a whale was spotted. As we started to approach land, the crew cut the engine and hiked up the sails, and then came around with a thermos of hot chocolate and cookies for everyone, which I devoured. There was the option of adding a nip of rum to warm up, but I had to pass.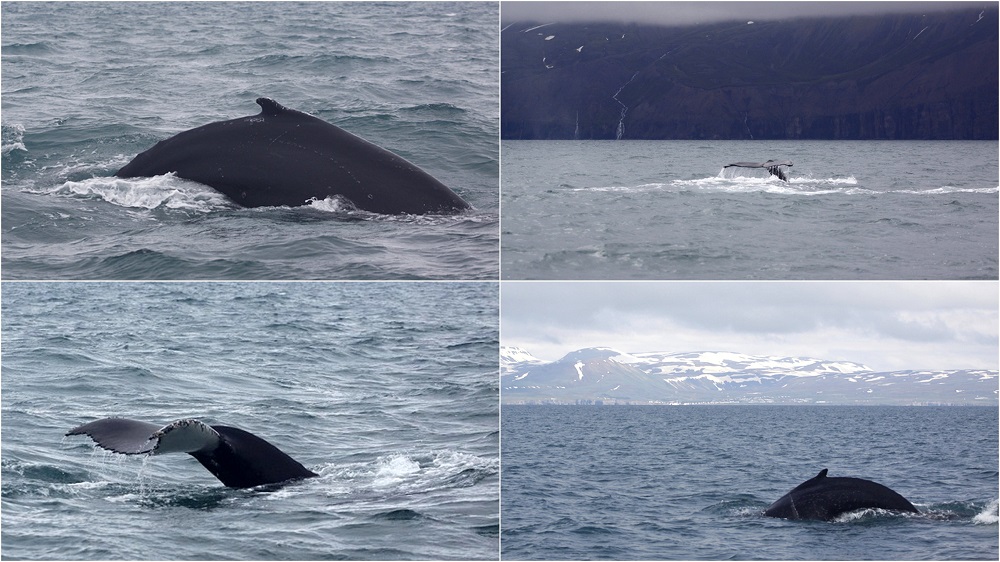 Our original plan was to stay in Akureyri for two nights, but for reasons beyond our control we moved on after only one night and headed to Hvammstangi for the second night. We didn't know anything about the village of 580 people, but Hvammstangi gave us another one of those little travel treasures the next morning. As we had been approaching, we kept seeing signs saying that it was the 'seal capital of Iceland.' Dave and I went to the seal centre, right beside the water, to get info on how and where we might glimpse seals. We talked to the nice lady for a few minutes, while her husband and two cute little kids were hanging about. When we went back outside, they were standing very close to the water, pointing out. There were a ton of birds hovering over one spot in the water. When birds do this, it is a tell tale sign that a whale is nearby, because that is where the whale is looking for food, so there will be food for the birds, too. All of a sudden, there it was – another humpback! The sky was clear and bright, the air was crisp, and there were only four other people around. It was another perfect moment in Iceland.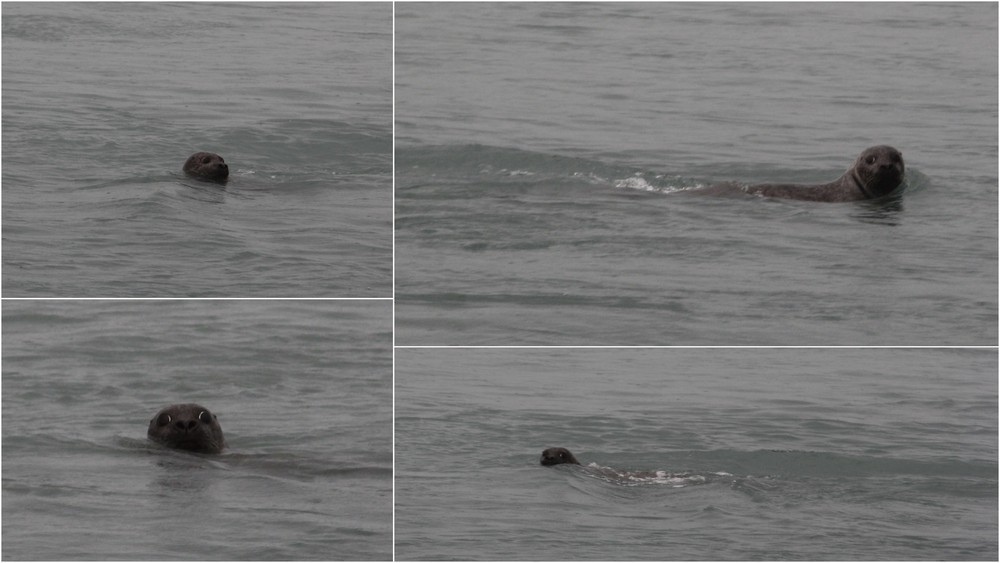 Karlie Marrazzo, aka Miss Wanderlust is a writer and traveller. Thank you Karlie for sharing this wonderful post!
Have you ever been snorkeling or diving in Silfra? What did you think? — Have you ever been whale watching in Iceland? If yes, what kind of whales have you seen?
If you want to book a whale watching tour in Reykjavik via Tiny Iceland, click here
If you want to book a snorkel tour or diving tour in Silfra via Tiny Iceland click on the link.