US Navy Plane Wreck in Iceland
Useful guide finding the US Navy plane Wreck on Sólheimasandur, South Iceland. By Stu, who publishes Wheres My Passport, with his wife Nat.
When we first went to Iceland in 2012, I really wanted to visit the Iceland plane wreck (US Navy Dakota DC-3, it could actually be a C-47 Skytrain) that crashed on the black beach at Solheimasandur, a vast area of sand and gravel in South Iceland close to the town of Vik. It looked like a truly interesting place to visit and one that offered some great photography potential.
*FYI UPDATE March 14th 2016 – The road leading to the plane wreck has been closed by land owners due to people visiting haven't followed direct paths and the land needs to heal. People are allowed to visit the site by walking from the main ring road. See instruction below where to find the spot to stop. (I will update this blog post if the owners will allow driving to the plane again)
We never read up about it before we went so we had no idea where it was, only that it was on the south coast near Vik. Needless to say we never found the plane as we couldn't find the correct turning. But we recently re-visited Iceland and thought it would be better to prepare ourselves this time in finding the location and we were successful. Finding it is actually pretty easy and straight forward. You hear people saying you need a GPS and a 4×4 to get there. This simply isn't true, we visited the site in our little KuKu camper. Yes the road is a little rough, but it is certainly possible to reach in a 2 wheel drive during summer. Finding instructions was pretty tricky so we have decided to write our own so that other people can find the plane. GPS 63.459523,-19.364618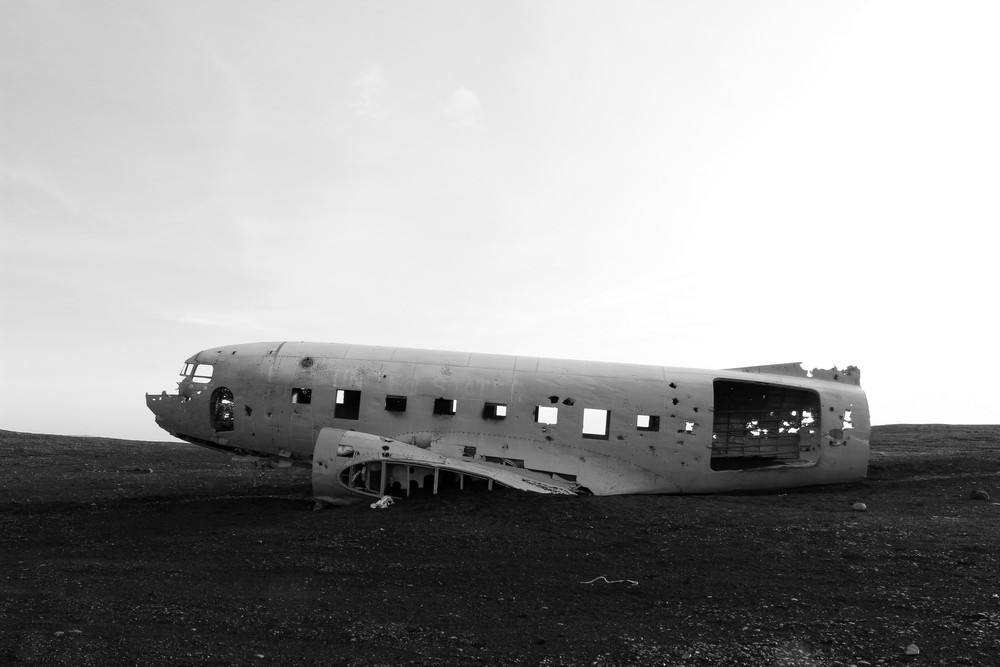 Iceland Plane Wreck – Driving Instructions:
For the purpose of this guide, we are going to be heading in an easterly direction as if you are driving from Reykjavik to Vik as it easier to pinpoint the locations in this direction due to the key landmarks.
1) Head east along Route 1 (The main road that circles Iceland) towards the town of Vik.
2) Drive past Seljalandsfoss, Eyjafjallajökull Erupts Museum, and Skógafoss.
3) Around 6km from Skógafoss you will drive across a bridge that crosses quite a substantial river called Jokulsa that is fed from the Sólheimajökull glacier.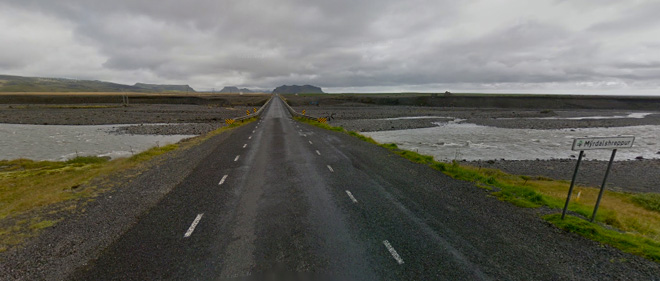 Once across you will see a left hand turn sign posted for Sólheimajökull. This is how you know that this is the bridge we are talking about.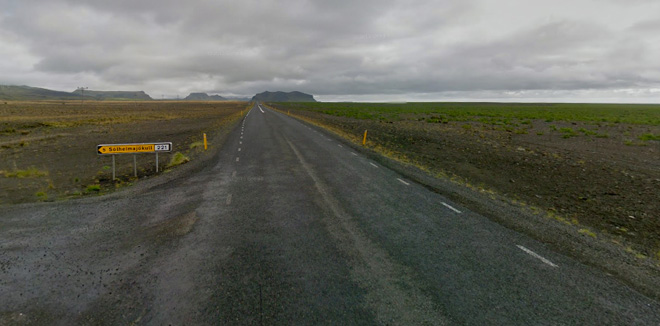 4) Carry along Route 1 towards Vik but keep an eye out on the right and side of the road as you will see a farmers field that is fenced off.
5) As you drive along this road it will very gradually go uphill and then downhill again. Keep watching the fence because you will eventually come across an obvious entrance that has a cattle grid. You need to turn right here. This entrance is about 2km from the bridge crossing.

You will know this is the right road as the dirt track bends to the right at the entrance and it is the only opening in the fence you will come across. If you cross another river or see a left hand turn then you have missed the farmers track.
6) Stay on the famers track as it bends round again and keep to the left at the fork in the track. The track will eventually open up to a wide open expanse of black gravel. This gravel is pretty compact so its easy to drive along (but be cautious if it's been raining alot and/or during winter).
7) The best bit of advice here is to simply keep driving in pretty much a straight line and follow all the other tracks left by other vehicles heading towards the plane wreck site. There are plenty of vehicle tracks to follow so it is relatively easy. This will feel like its going on for a long time and you still can't see the plane wreck. Don't panic, the reason for this is because it is actually sitting in a place where the dune drops down so you will only actually see it when you are a few hundred meters from it.
8) If you are in a 2 wheel drive car then use your common sense and avoid the loose ground or park the car and walk (1 hour) if the weather is bad and/or your car isn't up for the road. Again, especially if it's been raining or snowing you can not access the plane with a 2 wheel car. Sometimes there is NO access to the plane due to heavy snow during winter. Make sure to check road.is during winter to see how accessible the South Coast roads are
Iceland Plane Crash, Then and Now:
The story of the crash is that on November 24th, 1973 a US Navy plane was forced to land after running out of fuel, amazingly all the crew survived. When you get there you will wonder how anybody survived let alone everybody. It must be pointed out that a lot of the plane has been removed over the years. For example, the farmer for some unknown reason sold the tail.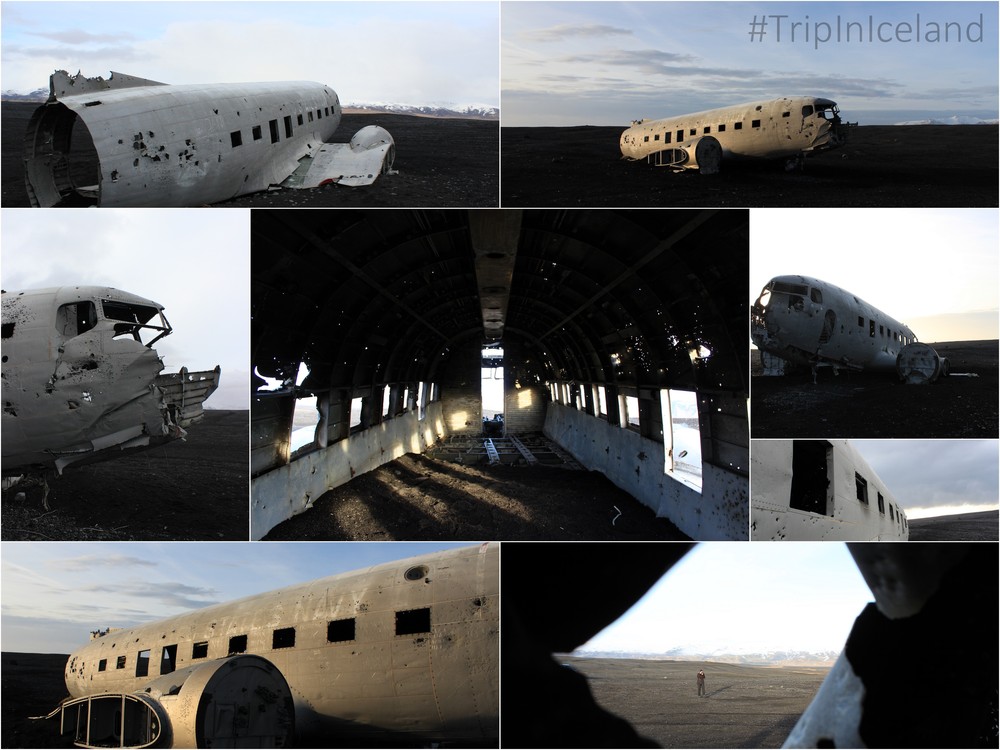 I hope you find this guide useful and you too can find this magnificent site and feel free to share your success stories.
Follow Stuart Howarth via Wheres My Passport along with his wife Natalie Sands. Stu and Nat's blog shows that you can balance a work life with a serious wanderlust and covers their journeys and experiences along with beautiful photography and photography advice.
Don't forget to follow Tiny Iceland via social media for frequent updates. Twitter, Instagram, Facebook, and Tiny Iceland'sPinterestprofile is filled with boards and pins to get more ideas what to see & do when planning your Trip in Iceland. Tag using Tiny Iceland's official hashtag #TripInIceland. Cheers and happy travels, Inga, founder of TinyIceland.