Iceland: Off The Beaten Path
For a tiny, isolated island anchored in the North Atlantic ocean, Iceland is jam packed with some of the world's most incredibly stunning landscapes. From east to west and north to south: every bit of Iceland unfolds before the eyes of visitors in a manner that suggests Mother Nature arranged the country as if to say, "This is it. This is what it's all about. This is the icing on the cake; the glittering bow atop a gift exchanged between loved ones. By Nicole Hay-Chapman
Feast your eyes on her beauty–allow yourself to be completely lost in amazement at the wonders of our natural world. Let it awaken that desire within you to do your very best to care for this planet we all call home."
Go. Do. Drive the ring road around Iceland with its access to essentially limitless sights and sounds that will make your jaw drop. Float aimlessly around the Blue Lagoon in a state of ultimate relaxation while it works to give your body and mind a renewing boost. Experience the nightlife! Attend Iceland Airwaves music festival; explore Reykjavik and the surrounding area. Then, go off the beaten path. Find yourself surrounded by spectacular views of otherworldly scenery and colors you might not have known exist in nature. These visions will have you asking yourself if it is possible you might be dreaming: welcome to Remote Iceland!
I want to share a few photos of my favorite less frequented spots in Iceland in hopes that you will consider venturing out there during your next trip. I felt very emotionally bound to these areas while visiting and they continue to greatly influence my life today–my memories of them are among my favorites of those I keep.
Flatey: a quiet island getaway.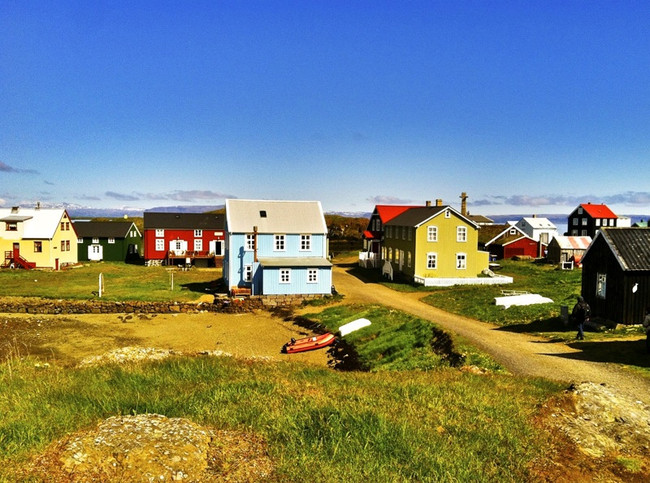 Landmannalaugar area: impossibly-pinch-me-I'm-dreaming-mind-blowingly-gorgeous.
Seyðisfjörður: a serene village alive with art and color on a fjord in the shadow of the mountains.