Viking hike and glaciers, South Iceland
It's time for Day 3! An epic day filled with black sand beaches, an ancient Viking burial quest, Icelandic hot dogs and TWO glacier lagoons; yes, Jökulsárlón is not the only glacier lagoon in Vatnajökull National Park! We'll give you the inside scope on this hidden gem. Read more to hear about some great places to explore while road tripping from VÍK to Höfn!
Breakfast at Hótel Edda VÍK was a pretty interesting affair. It all started with a little thing called Lýsi—also known as 'fish cod oil' for us English speakers. Inga noticed a huge bottle of the yellow liquid at the buffet table and grabbed some shot glasses for us all.
Why, do you ask, is a bottle of fish oil sitting on the buffet table? Great question. Icelanders have been taking it for years to keep their immune systems healthy and I'll tell you the truth, I can't argue with the health secrets of a country with a life expectancy of 81 years old! However unpleasant throwing back fish oil shots at 9am sounds, we embraced it (although I should note that faces of disgust were made). Inga calls it her 'Viking potion' and probably downed three shots, no sweat. We were all pretty impressed.
Before leaving the hotel we met up with Elías who gave us a detailed tour of the new Icelandair Hotel VÍK which is scheduled to open in 2015. If you haven't read up on the details in our hotel post, I'll catch you up to speed. It's a sleek new building with spacious rooms and huge windows to enjoy the beautiful views. It will be open all year round with 46 fully furnished rooms. I plan on booking a room for my honeymoon…Elías, you can pencil me in.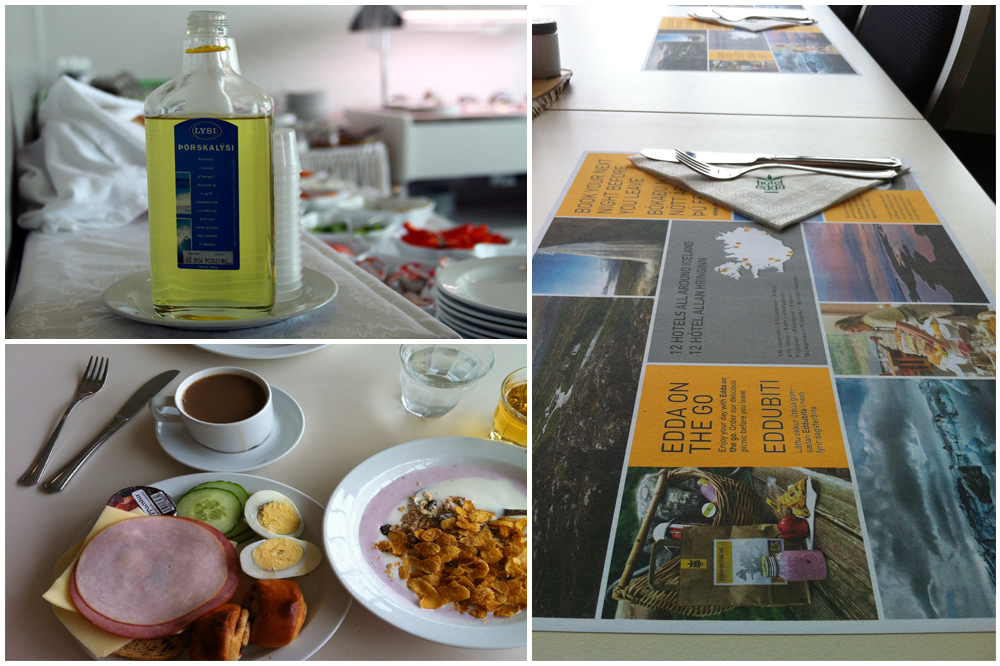 By 10am, the car was packed and ready to go. We made a quick stop at Icewear in Víkurprjón to buy lopapeysa—the famous Icelandic wool sweater. When I say 'we,' I really mean Liz and Marika who both live in decently cold climates. I live in Florida, enough said.
We drove south out of town to get a better view of Reynisdrangar and get a closer look at the basalt columns along the beach. Basalt columns are formed from solidified molten rock that shrinks under pressure and forms these pencil-like shapes. The geology behind it is almost as cool as actually seeing them. They are massive and absolutely incredible to behold. I saw them for the first time in a music video of Bon Iver's 'Holocene'. I was enchanted then and couldn't believe I was standing in the same spot.
The tide was low so we were able to walk behind the columns towards a cave that Inga knew about, but I should warn you, walking along the shoreline can be extremely dangerous. The water is rough and the current is strong from heavy northern winds– this is the North Atlantic, after all. Just please be aware of your surroundings while walking along the shoreline, especially if you spend endless time taking photographs. Thanks—that's one less tourist swept into the sea.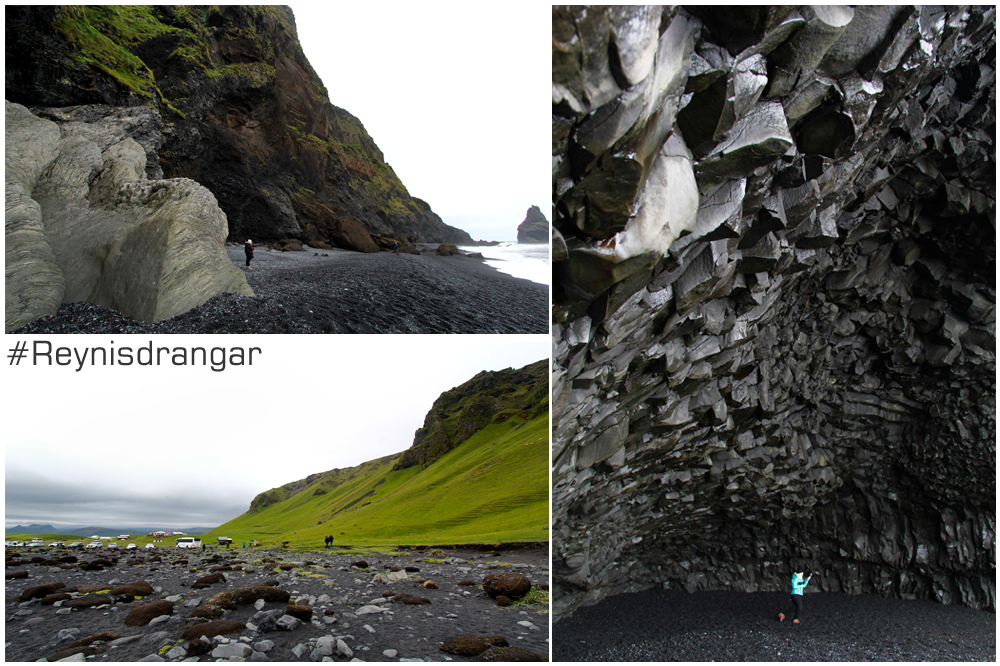 Our next stop was a hike to the top of Hjörleifshöfði (ten points if you can pronounce that name). The Viking Hjörleifur Hróðmarsson settled here in 874. He is the brother of Ingólfur Arnarson who was the first Nordic settler in Iceland. A year later Hjörleifur was killed by two of his slaves (I want to hear about that story). Naturally, Ingólfur took revenge on his brother's murderers. Long after the murders, no one dared to settle on the land. The rumor of 'supernatural beings' has played a big part in Hjörleifshöfði's history. People have encountered a lot of unexplained phenomena and many claimed to have been strongly affected by the place. 'Hjörleifshöfði' is deserted today and both brothers are buried on the highest point of the mountain known as "Hjörleifshaugur."
We had our own encounter with the supernatural when a cloud descended upon us at the burial site. I think it was Hjörleifur's way of telling us to get the hell out. We may have annoyed him with our excessive picture-taking. What do you think?
We improvised a path down the hill and ended up receiving another surprise from Hjörleifur, no doubt. About three quarters of the way down, Liz realized she dropped her phone. Now I've met people who care about their phones, but I didn't realize the extent of the love affair Liz has with hers. She was absolutely devastated and we spent the next 45 minutes combing the brush for signs of her Iphone 5. I grasped very quickly how important a phone is for a blogger. It's their lifeline to the world. I would be just as devastated if I lost my camera or the photos on the SD card. It connects me to what I was thinking, feeling and seeing at the time the photo was taken. So I hear you, girl! Thankfully, we found it so nice try, Hjörleifur…we're no suckers to your tricks.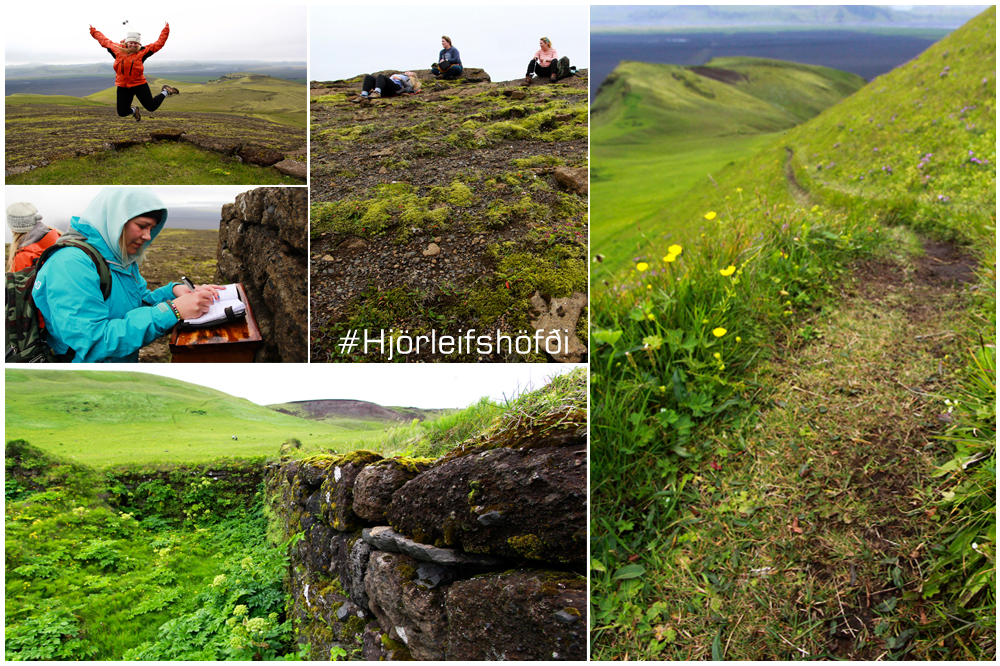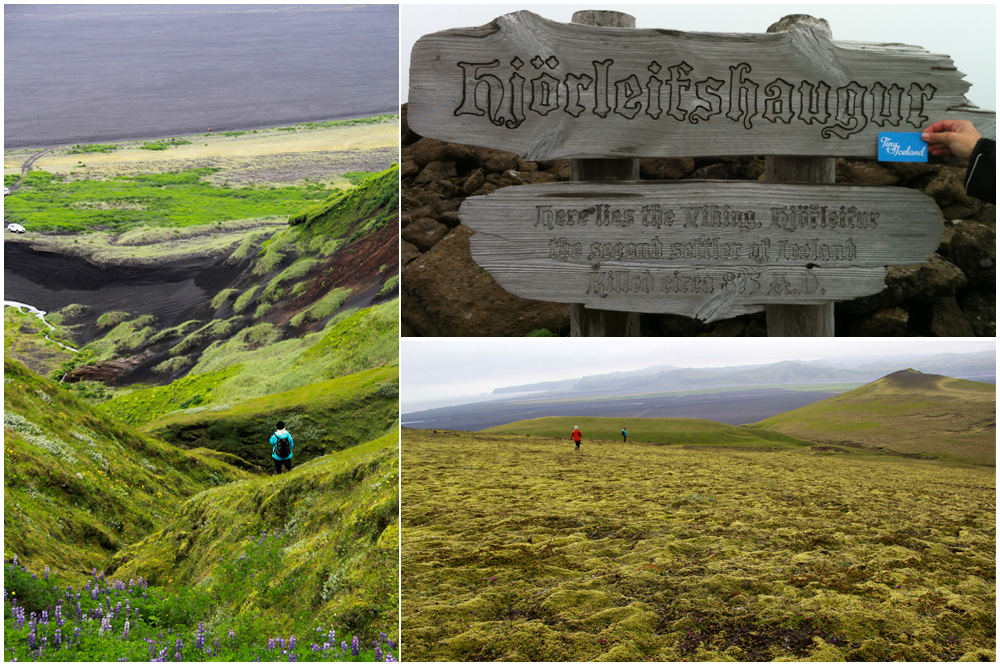 Back on the open road, we were in for a long ride. It is about 270 km from VÍK to Höfn (prounced 'Hupf' rather than 'Hoffin') and we needed to make up some ground after spending more than we expected at the Viking tomb. Given it was our third day, we were all getting cozy living out of the car. Music was exchanged and endlessly debated, beers were cracked open and Iceland's beauty was the object of everyone's fancy. It should be noted here that there are no laws against alcohol consumption as a passenger in a moving vehicle—only against the driver. We had no problem complying there! By the time we hit Kirkjubæjarklaustur, we were all itching to stop for hot dogs…awesome decision. Hot dogs in Iceland are cheap and can be found at almost any gas station.
We got our first decent look at Vatnajökull glacier late that afternoon and stopped shortly after at a secluded glacier lagoon called Fjallsárlón.
Fjallsárlón is stunning. It quite literally left me breathless. I've seen glacier lagoons before, but this one had a serene quality that is unlike any other. The sun rays were streaming through the clouds and the whole place was quite deserted. I just let the beauty wash over me. That and I did end up taking an obscene amount of photos.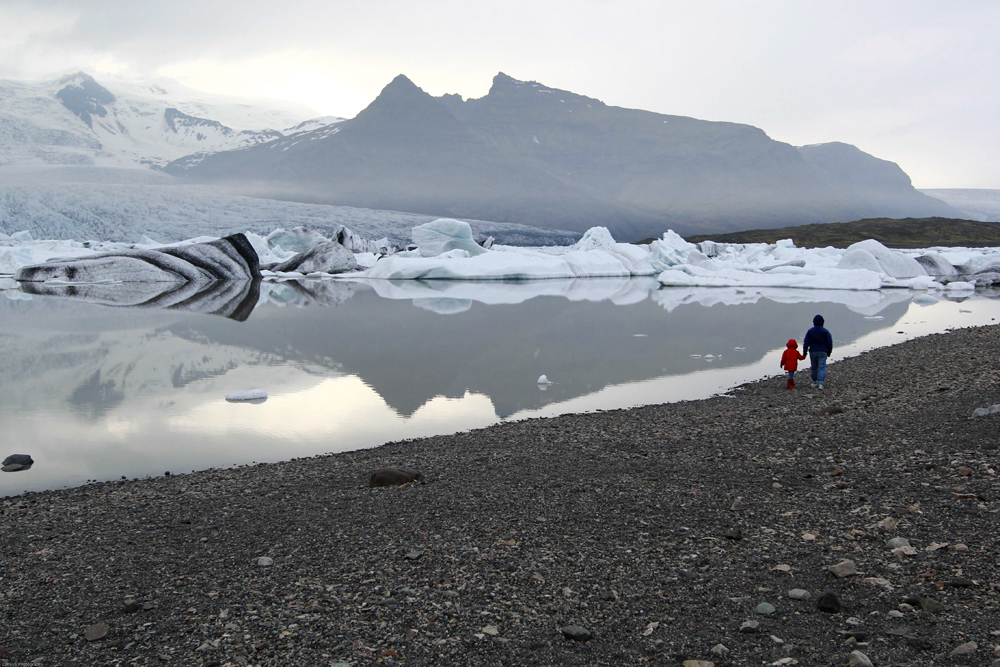 Inga had to tear us away with the promise of more spectacular sights to see. Jökulsárlón, probably the most famous glacier lagoon in Iceland, sits a few kilometers down the road from Fjallsárlón. The glacier beach (that flows from the lagoon to the ocean) had us most excited. It's probably the only place on earth that you can see icebergs along a black sand beach. We encountered a surprise at the beach when a seal popped his head out of the water. He seemed to be lost and attempting to fight the current to reach the lagoon. Inga whistled for him a couple times and he turned his head every time! We think she is a seal-whisperer.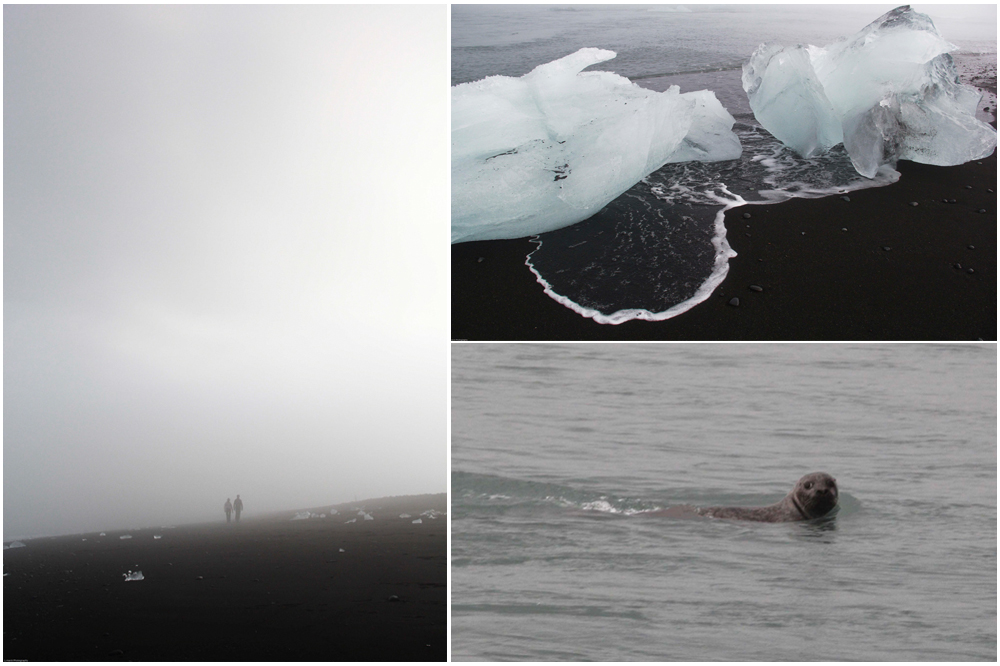 Psyched and slightly windswept, we all piled into the car for the last leg of the trip. It was only about an hour until we rolled into the little town of Höfn, East Iceland.
We checked into Hotel Edda Höfn (located near the harbor) and then made our way to Kaffi Hornið for some delicious lobster soup! If you're ever in Höfn, I highly recommend stopping by. It can get pretty crowded during the summer seasons, but boy is it worth the wait! After nine hours and 270km, we crashed into our beds like zombies…
Enjoy this beautiful illustration made by our team member Marika Paz and check out her artwork.
Have you ever heard/been to Fjallsárlón? How does it compare to Jökulsárlón? What is your favorite part about visiting Höfn?
© All photos taken by Laura Hundersmarck
Plus if you missed any of stories from the Iceland Challenge, click here for past blog articles.