Iceland Journey Part 3/7 – Bunnies & Wonderful Beer
This trip to Reykjavik was always going to be confronting for me as it was only 18 short months ago that I was last here with Matthew (my partner of 18 years who I lost quite suddenly only 8 months ago) – life seemed genuinely perfect and the future brighter than ever. It was therefore with some trepidation that I crossed the threshold of 'our' favourite cafe, Mokka, and took up our regular seat. In the context of my own life, this dark, little cafe is quite iconic – the photos I'd taken across the table of Matthew with his camera are amongst my favourites. Written 16.07.11 By Patches McGee, aka Naomi Doyle.
Now looking across at an empty seat, I couldn't help but feel sadness, pure but gentle. I'm sure many think I'm being a glutton for punishment but it felt inevitable and necessary to face the feeling and having done so, to move on. The sun seemed to smile kindly on me as I set off to make some new footprints – even in a place as small as Reykjavik, I marvelled at the fact that there are always new experiences to be had.
In our many previous visits we had never walked up to Perlan, a Reykjavik landmark which started life merely as hot water storage tanks but has evolved to encompass a museum and cultural centre. From the viewing platform up the top, the views over the city are spectacular, especially on a day as clear and bright as this. I stood a while, soaked it in and refilled my own tanks before heading off on a proper adventure.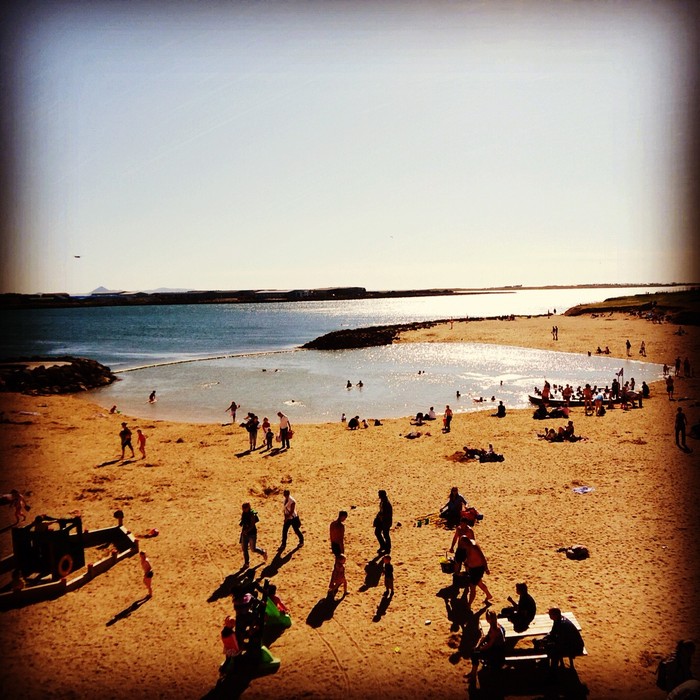 Setting off passed a small geyser through a small forest (trees are so rare in Iceland that this somewhat modest stand is actually marked on the map!), I arrived at what has officially been declared 'the worlds weirdest beach'. Only open in the summer months, the beach (Nauthólsvík) is an artificial construct more like a rock pool with sand imported from Morocco. What earned it the title however, is that fact that the water is warm. You'd have to be living under an ash cloud to be unaware of Iceland's geothermal and occasionally volcanic properties. They have so much geothermally heated water that they can afford to just keep it pumping out to sea to create this bizarre little beach. I have often said that Iceland is my idea of a beach holiday – preferring cold weather and warm water to warm weather and cold water – today I had the best of both worlds!
Any sadness I had felt earlier in the day was soothed away by this beautifully bizarre beach that so epitomises what I love about this city and it's inhabitants – the celebration of its uniqueness, the fierce pride in being like nowhere else on earth, creatively embracing its differences as strengths.
Giddy from the experience, practically skipping back through the 'forest' and thinking it couldn't get any more gorgeous, I turned to corner to find bunnies hopping around – I don't mean rabbits either, I mean please-can-I-take-one-home-disney-style-bunnies!!! It was like being in a Bjork video where real life suddenly merges with mixed animation and hyper real scenery. I'm telling you, she's not weird, she's Icelandic – taken in context, she's really quite normal! Had there not been so many, I would've thought they were pets on the loose but no, everything is just better in Iceland, including their wild animals!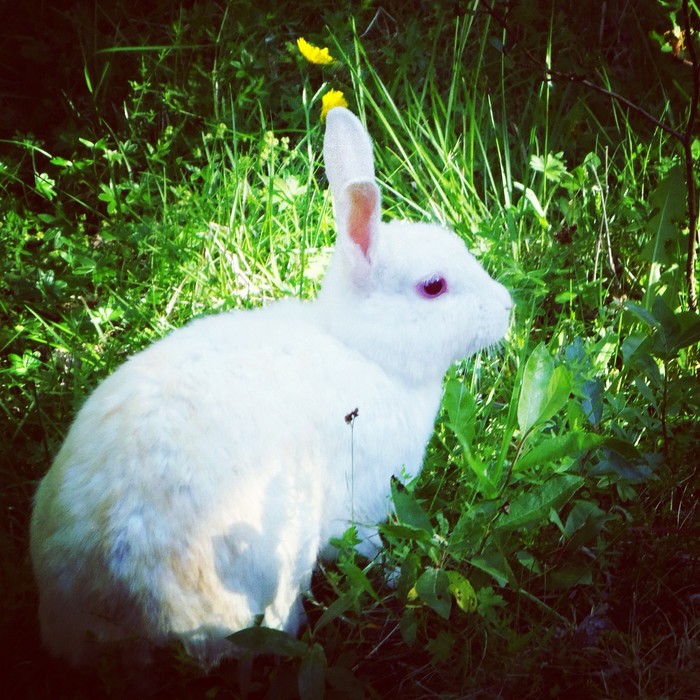 I have to confess at this stage I felt compelled to shout out 'this is so f@*#ing beautiful! Because sometimes normal words are just not enough!
I got back to the apartment to meet my other flatmate, Berglind, who'd just returned from a camping trip around the country. Halla already had dinner underway having made pizza dough from scratch which the three of us then rolled out, topped and put in the barbecue to cook. We ate, drank and were increasingly merry as midnight approached. Far from calling it a night though, we were just getting warmed up for another truly unique Icelandic experience – "The rúntur".
The rúntur is essentially a pub crawl along the main drag (Laugavegur) of Reykjavik which by day is lined with laid back little cafes that by night become bars and clubs. Owing to the exorbitant price of alcohol, everyone drinks at home and only emerge around midnight to party all, er, morning! Again, for a city of its size, I am astounded by its energy and thriving youth culture. The artistic output of this country, especially in music, is impressive by any measure but taken on a per capita basis, it's mind-blowing!
Last time we were here, Matthew and I went on the rúntur in the freezing cold which didn't seem to deter anyone. In fact, it was far busier then than tonight due to the sheer volume of people taking advantage of the midnight sun to go camping. Halla and Berglind plotted a course of their favourite places which started at my own favourite, Boston, owned and operated by the same folk that once ran an even older favourite, Sirkus. Somewhere in between we found ourselves at Hemmi og Valdi talking to some crazy Swiss cousins and ended up at Den Danske Kro where Berglind once worked. This last venue definitely seemed to be a guilty pleasure amongst locals who loudly and proudly sang along to live performances of Icelandic rock anthems. Luckily, they were interspersed with an inexplicable number of Kings of Leon tunes so I was able to join in every now and then.
At one stage, I remember looking at my watch then at the people packed into the place behaving as people do in clubs at 3.30am… only in broad daylight without the cloak of darkness that usually renders such behaviour acceptable – it was hilarious!
I started the day with a sense of loss but there's no denying that in response, Reykjavik gave me all it's got! I'm especially grateful to Halla and Berglind who have so instantly bestowed on me a friendship that I hope will live on into the future – thank you.