Trip in Iceland 2013 part 2/5
Far from the maddening clouds ~ Last night I dreamt of giant puffins, thousands of them. As I got closer, it turned out that they were just people in puffins suits… except for the ones that were genuinely giant puffins of course. It was lovely. It's not surprising that my mind is running rampant – today is a big day. Not to put too fine a point on it but this is day the whole trip is built around, or rather the night – tonight we go in search of the Northern Lights! By Patches McGee, aka Naomi Doyle.
I'm feeling very apprehensive about the fact that this is really the only night we have to try to see them. For all my hot air about the importance of this potential event, you'd think I'd have built in more buffer but then again, I don't feel like I've 'built' this trip terribly much at all, it's kind of evolved of its own free will and at this point, I have left myself little choice but to trust in its wisdom. Still, I'm nervous. The lights haven't been seen for days, the forecast is low (3 on a scale of 9), the weather relatively warm (7ºC) and the sky is full of clouds and clouds mean no visibility! None the less, Inga from Tiny Iceland, my resident Northern Lights Oracle, isn't worried. She has a good feeling and is confident that these clouds will burn off despite their thickness. My instincts are telling me to trust Inga's better instincts and so I've borrowed a cup full of her confidence to carry around with me for the day.
Mum and I started our day of distractions with breakfast at Reykjavik's longest running cafe, Prikið. From there we went back to visit the sisters at Gaga who'd promised to get in some bangles for Mum to look at but they were a little too rich for our blood. Still, it was good to get a couple more hugs in to build up our luck for tonight.
Next, to my favourite building in Reykjavik – Harpa Concert Hall. Only opened in 2011, it was lucky to be opened at all when construction ground to halt in the wake of the global financial crisis which kicked off here with the collapse of Iceland's three major banks. I tell ya, this place is powerful! Let's not forget that this tiny island also bought the world, or vast tracts of the Northern Hemisphere, to a standstill when the volcanic ash from the eruption of Eyjafjallajökull (go on, say it!) volcano grounded all flights. They may not have an army but they have other ways and means of defending themselves – don't mess with them!
But I digress, back to Harpa! It was designed in collaboration with Icelandic-Danish artist, Olafur Eliasson who has long been one of my favourite artists for his thought provoking and engaging work using 'light' as his subject and medium. It's little wonder then that Harpa stands on the shore like a work of art in itself, constantly changing with Reykjavik's unique quality of light. On an overcast day like today, its all glass and steel structure still fills the interior with light like a glorious cathedral to the arts and yet because the light is natural, only filtered by the prisms of the structure itself, the people inside are still engaged with the outside, still feeling elementally connected to landscape. I love it! I could spend days, weeks, months in there just watching it change. At night, it comes alive with an ever changing pattern of lights – spectacular! Mum and I explored it top to bottom.
Somewhere in the middle, we unexpectedly came across Inga. From where we stood, we couldn't even see the horizon, so misty were the clouds. She remained certain of her favourable forecast and sure enough, as we walked away from Harpa, they clouds started to lift. By the time we reached the Sun Voyager sculpture further along the sea wall, the rest of the shoreline became visible under a clearing sky. There's an old joke that goes: if you don't like the weather in Iceland, wait 10 minutes. It could be that… but I suspect Inga's working a little Icelandic magic! None the less, those clouds are still menacing and many. My cup of confidence is losing liquid… if I wait 10 minutes, it's likely to fill up with rain!
We cut back into the city centre and headed up the hill back towards Hallgrímskirkja. En route, we came across a lovely white house with colourful murals on its walls inviting passers by into the small craft shop being run in its front rooms. It was closed but a friendly sign instructed us to ring a door bell around the back for attention and so we did. I don't know exactly who we were expecting to open the door but it wasn't an older, husky-voiced lady with a grey mullet and cigarette hanging out of her mouth! I was immediately enthralled and intrigued to accept her invitation inside. It took only moments to look around the shop but we stayed easily for half and hour or so chatting with Auður, hearing all about her fascinating life and views on the world. She is a writer but also in her time has been a translator for film and TV. She struck me as being torturously intelligent and ruthlessly discerning. She loved the Australian soap "Flying Doctors" but hates all the others. She loves the movie "Babe" but not its sequel (which I have to say, I really liked). The most obvious word I could use to describe Auður is 'eccentric' but I'm hesitant to apply it because it seems too dismissive to suggest that her authenticity is a diversion from the norm.
From my time spent in Iceland over the years and it's abundance of 'eccentricity', I'm more inclined to think that it's a result of there just not being a 'norm' here, at least not in the same way as it exists in comparable affluent cultures. The staggering per capita creative output from Iceland is often attributed to its long, cold winters with nothing else to do but create soul wrenching music and inspirational art – but there's got to be more to it than that. I think there's something to be said for the small population – with only 330,000 people, there doesn't seem to be enough of any one archetype for people to really 'tribalise' as they do in bigger cities – you don't see hoards of clones hanging out together. Socialising here seems to be more eclectic and transcendent of the things that divide larger populations like age, gender, fashion and so on. That's not to say it doesn't happen and as tourist numbers continue to outstrip the local population, its probably on the increase but for now, conformity doesn't seem to be a pressure being exerted. Like gardening – plant massive crops of one kind of anything and you get plagues. Plant smaller, more diverse gardens and you'll create an ecosystem in balance where every plant has its place and its greatest strength is its point of difference.
Of course, there's nowhere better to see this metaphorical diversity on display than from the very top of Hallgrimskirkja. Mum and I caught the lift to the top of the church to gaze out over the multicoloured houses. Compared to Florence whose beauty comes from the iconic red of the rooftops, here it comes from no two houses being alike. Auður told us that as little as 20 years ago, all the houses were white and that she was amongst the first to take to walls with colour (although ironically her house is white today). From this vantage point, Reykjavik looks as enchanted as it feels. My favourite house is neon green – it seems to challenge the mere threat of the norm whilst upping the ante on that spirit of independence and individuality. The other thing we could clearly see from up there was the bank of stubborn clouds in every direction. My cup of confidence was quickly becoming a sieve!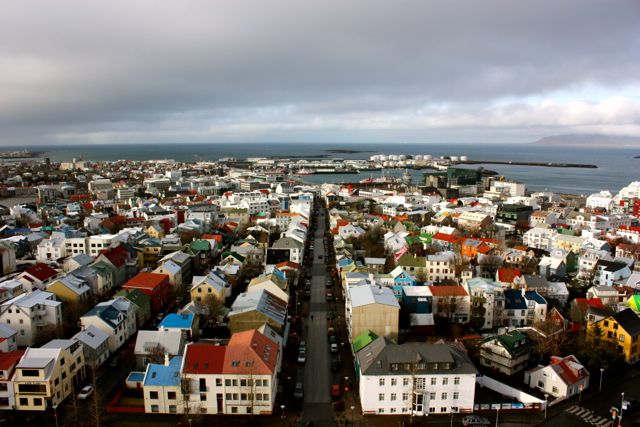 We sought refuge from the cold in cafe Mokka – a sentimental favourite of mine. I don't know why but of all the places I've revisited, this cafe still holds sadness for me. It's a gentle sadness evoked by memories of happy times spent in here with Matthew, like there's an echo of who he once was. Along one wall is a bench seat with tables and stools facing opposite. Along the other wall are few cosy booths. I've lost count of the number of times I've stepped over Mokka's threshold hoping for a booth but never getting one… until today. Just as we walked in, a booth became available. It was as though the cafe was offering me a new experience and a chance at a new perspective and I appreciated it. Having not eaten since breakfast, we decided to indulge in hot chocolates and warm waffles with jam and cream – just the thing to bring a smile back to my face!
By now the sun is well and truly setting behind the clouds still in the sky. None the less, word had come through from Inga that the forecast is improving and the tour is officially on. Back in our hotel we are making our preparations, not only for tonights adventure but for the arrival of an all important third member of our party…
TO BE CONTINUED..
Naomi Doyle, aka Patches McGee is a writer, traveller and phone-ographer. Thank you Naomi for sharing this wonderful post with us and stay tuned for her next guest post were she reveals if the Northern lights came out to play part 3 of 5. Check out Naomi's guest profile and follow her new journey here.
More photos from Naomi's day: