Road trip around Snæfellsnes Peninsula
[Guest Blog] What I'm about to describe should not be attempted ever again: The Snæfellsnes Peninsula in a day. It deserves a week at least, perhaps a year, probably a lifetime. To do it in a day is ridiculous but that's all we allowed ourselves in our dash around Iceland. Karina and I woke in total darkness at 8am, carb-loaded at the breakfast buffet, and then put on our essential Icelandic winter-gear – our swimsuits – under multiple warmer layers. We imagined ourselves stopping at hot springs around the way but when we cross referenced our research with the local knowledge of our host, it seemed we were out of luck. By Patches McGee, aka Naomi Doyle. (Nov 10th, 2015)
All the places on our list were either closed for winter or just closed. It was too late to change now, so armed with our Tiny Iceland Travel Tips, we headed off under heavy skies to see what we could see.
Our first task for the day was to give our SADcar a name. She is as much a part of the team as either of us so she deserves something more befitting than 'the car'. We threw a few ideas around before the perfect name emerged – Mrs Snuffleupagusgus – a homage to the Snæfellsnes Peninsula, Icelandic rock gods – Gus Gus, and of course, Sesame Street. Our GPS was christened 'Víky'.
Our first stop for the day was the little black church at Búðir. The church itself is quite striking set amongst the dramatic seaside and mountainous landscape but my favourite part is the story of the women who rebuilt it after the destruction of the original church built in 1703. Steinunn Sveinsdóttir lobbied the church to rebuild but they rejected her persistent requests. She ultimately rebuilt it herself with an inscription above the door that reads: "This church was built in 1848 without the support of the spiritual fathers." Stick it to 'em, Steinunn!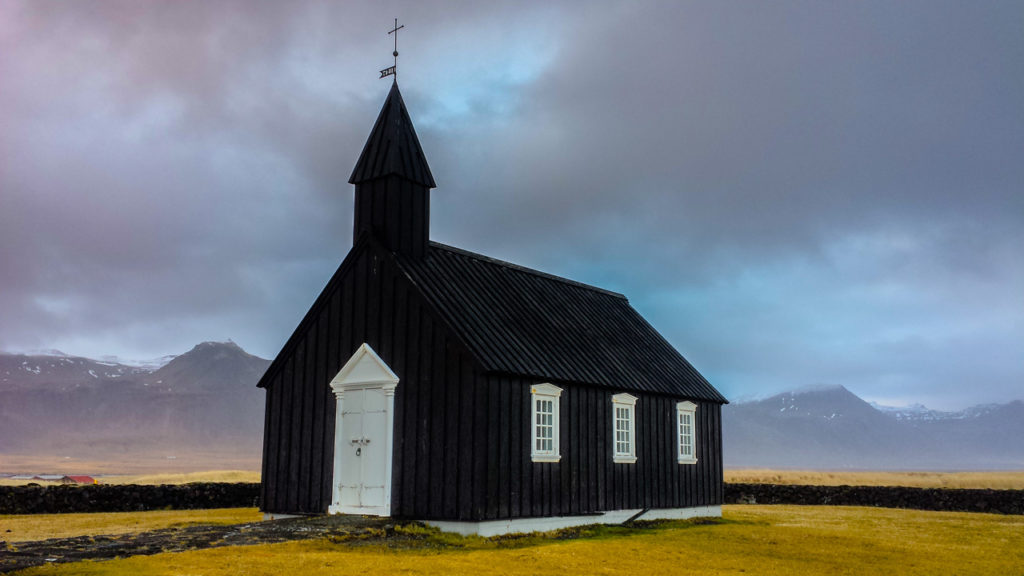 It started to rain as we drove on to our next pit stop. I'd like to tell you the name of it, I'm sure it has one, but we knew it only as 'that massive crack in a mountain that you can walk into'. We didn't walk into it though for a few reasons, not least of all that it appeared to be swarming with birds. Karina feels as phobic of birds as I am of fish – so we were satisfied to take in the magnitude of it from afar and get a description for the sisters from our guesthouse who were emerging from it.
We set course for the next town but made a detour to get a closer look at a dilapidated stone building decaying at the oceans edge, just too hauntingly beautiful not to explore. We were able to drive right up to it and climb up and around its bones, duly graffitied by many who'd been there before us. We later learned that the house is thought to be haunted by one time resident and axe-murderer, Axlar-Björn who was executed in 1596. At the time, we didn't even realise it was a point of interest but felt retrospectively brave for having survived it.
Next stop: The centre of the earth! At least according to Jules Verne musings about a fabled journey to it. Arnastapi is said to be the entry point through which we could have travelled all the way to Italy but we weren't done with Iceland yet so we contented ourselves to a drive around the picture perfect village in the now pouring-rain, pulling over occasionally to make a made dash with covered cameras to take our happy snaps.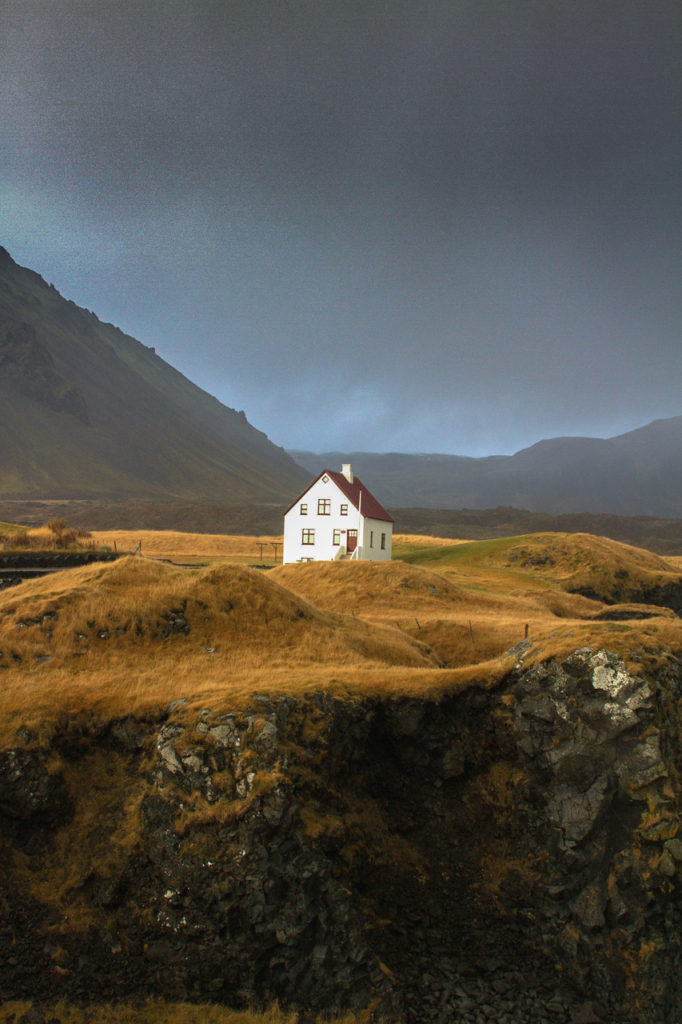 We stuck our noses into the even smaller fishing village at Hellnar before going in search of the basalt cliffs of Lóndragnar but the weather got the better of us. It was a tough call to make as we'd had the cliffs on our must-see list but with the pounding rain, the walk to find them was too grim to bear, even with our swimsuits on.
We cut our losses and headed to Malarrif, a basalt pebble beach that we had entirely to ourselves. Now this is my kind of beach – black, cold, tempestuous with water swirling in impossible shades of blue. It's the kind of scene that makes my heart beat a little faster with the raw emotional energy of it. In case you think I'm being melodramatic, I hasten to add that fun-and-sun loving Karina also had a very emotional response. If it hadn't already, I think it's safe to say that that was the moment that Iceland embedded itself in her soul in the same way it has mine – I know it'll keep calling her back as it does me, that every day away will feed a longing that is only cured, and deepened, by returning. Ok, now I'm being melodramatic!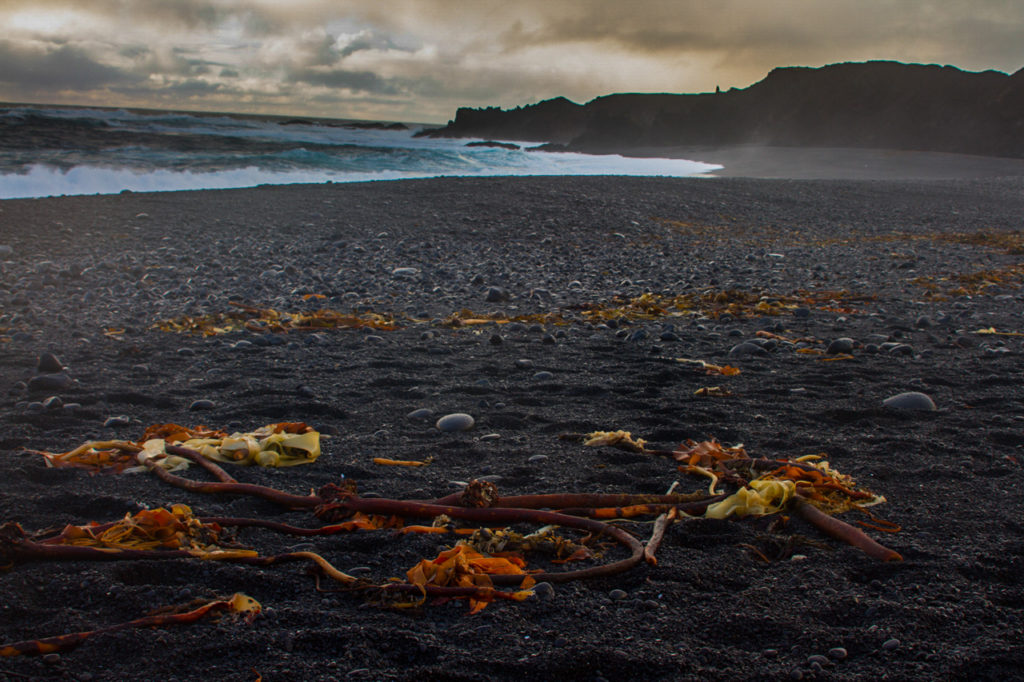 We had high expectations for our next stop – Djúpalónssandur and Dritivík – as Inga from Tiny Iceland claims it to be one of her favourite places in Iceland! We were not disappointed. It had all the drama of Malarrif with its black pebble beach strewn with ship wreckage, other marine debris and giant boulders once used in feats of Viking strength. Add to this that the beach is accessed by an easy climb over and through mossy rocks punctuated with hidey-holes that give way to eye-popping-blue pools whilst no doubt concealing entire colonies of trolls! The only regret was not having more time. The light was already starting to fade and we were only now at the tip of the peninsular with an entire other side to see.
As we drove, we marveled at the geologic wonders surrounding us on all sides and wished for the expert guidance of a geologist. Our musings soon gave rise to another character joining our merry band – my imaginary boyfriend, the Viking Geologist. He hasn't told me his name yet but he's very beautiful and is going to knit me a lopapeysa (traditional Icelandic woolen jumper) from his beard hair! He's so funny!
Onto Ólafsvik to see a lovely waterfall – Bæjarfoss – but alas, the water falling from the sky put a bit of a dampener on the experience so we kept on towards Grundarfjörður to see the what is heralded as the most beautiful, and certainly most photographed, mountain in Iceland – Kirkjufell. That's a bloody big claim given the extraordinary beauty of every inch of this place, in fact, we were worried we'd miss it but it was unmistakable – if not for the mountain itself, for the crowds of photographers with serious gear that made mine look like a toy. I must confess that my photos portray my intimidation and you should probably do an image search for 'Kirkjufell' to see what all the worthy fuss is about.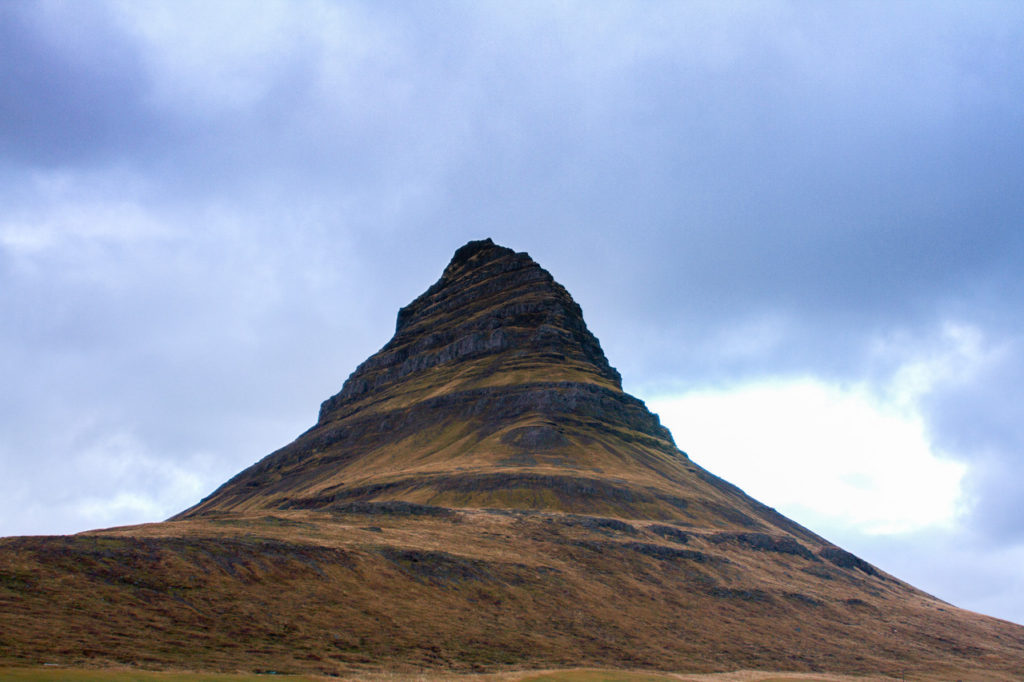 The last light of the day ushered us through more magnificent landscape and into Stykkishólmur before shining its last. It was apparent that whatever there was to see here was no longer visible and wouldn't be until late tomorrow morning when the sun saw fit to rise again. Rather than stay the night, we made the executive decision to push on to our next destination. We went online, booked a room and punched in the coordinates for our hotel in the West Fjords.
Karina heroically took the wheel and navigated us through some very hairy stretches of unpaved, deeply potholed roads, which www.road.is warned might be icy. Luckily we didn't slip or slide and soon enough returned to the sealed, lit section of Route 1, which delivered us to Hólmavík in just over two and half hours. At one point, the Northern Lights came out to play but there was no sign of them by the time we pulled up at Finna Hotel, both elated and exhausted by the day. Whilst Karina and I had undoubtedly been forever changed by the experience of the Snæfellsnes Peninsula, it was poor Mrs Snuffleupagusgus who showed the signs of it. Our beautiful white steed was barely recongisable covered in the black and brown of the road. Nonetheless, it made us proud to look upon her and see the extraordinary distance we'd covered – literally and metaphorically.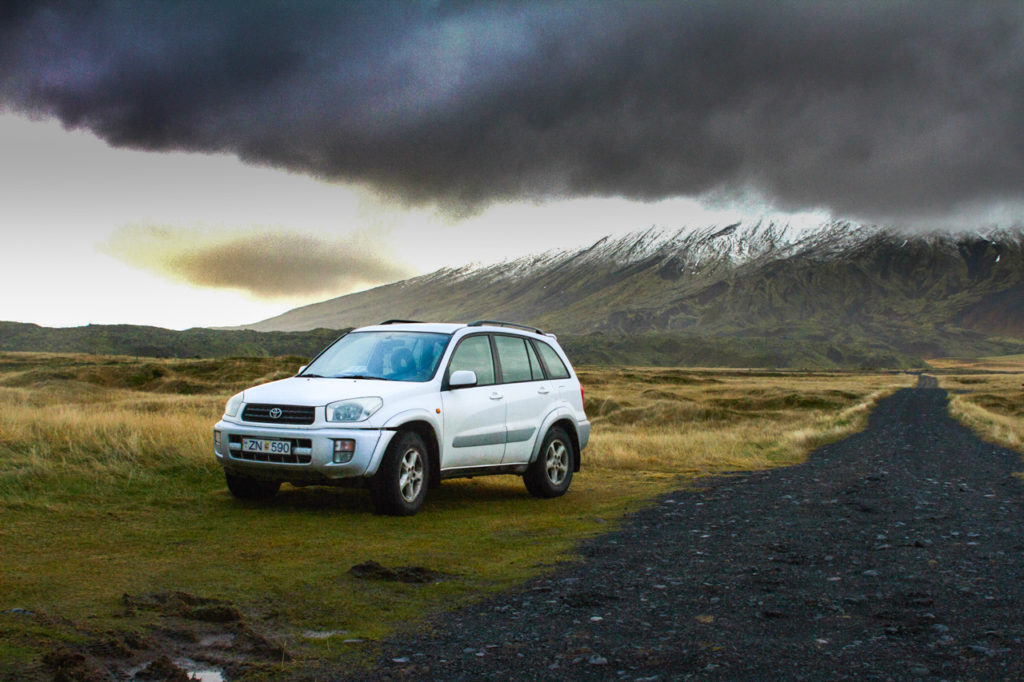 Naomi Doyle, also known as Patches McGee, is a Sydney-based writer and photographer who has travelled to over 50 countries – Iceland is her favourite of them all. Check out Naomi's guest profile and follow her journey here.
More photos from Naomi's road trip around Snæfellsnes Peninsula: