Trip in Iceland 2013 part 5/5
What should have been a sleep in actually had me awake at 7.30am tending to neglected trip admin and worrying about the whereabouts of my favorite hat in the world. I first noticed it missing yesterday morning when I went to put it on. I know I didn't wear it out the night before to see the Northern Lights (part 4/5) so it must have gone missing earlier that day because sadly, it is nowhere to be found.
By Patches McGee, aka Naomi Doyle. (March 3, 2013)
I can't tell you how much I love that hat – a sentimental favorite from Japan that always got me compliments whenever I wore it. I would have been buried in that hat I loved it so much. I'm trying to counsel myself that it's just a thing… a beautiful, one of a kind thing bound up with memories of times gone by. Sigh.
Luckily Mum and Bec managed to sleep through the upturning of the apartment, staying in bed until 9am before we made our way back to Laundromat cafe for breakfast. Afterwards, Mum headed back to Room With a View while I took Bec on an abridged tour of town. Being Sunday, most of the shops were closed which was just as well considering we didn't have all day. The time we did have was better spent marveling at Harpa (Reykjavík's concert hall) all lit up inside by the bright sunshine outside. We wend our way up to Hallgrímskirkja church and back down to our apartment, all the while keeping an eye out for my hat, to no avail.
We collected Mum and hopped on yet another bus straight out of town to my favourite spot on the planet – The Blue Lagoon. The Blue Lagoon, as the name suggests, is a lagoon filled with geothermal water made opaque and pale blue by the white clay that lines the basin. It's like swimming in a lake of warm milk and it is divine.
I tweeted ahead my request for snow, copying in Inga but the peerless blue sky assured me it was not to be. After about 40 minutes into our journey, thick, white steam swirling up out of the seemingly endless lava fields announced our final approach. I was giddy with excitement, not only to be back but to be back with my mum and sister!
I wanted to run up the path, such was my urgency for them to see and experience this most surreally beautiful place like nowhere on the planet… so unlike anywhere else on the planet in fact that you could almost be convinced you were on a different one. The pale blue, milky water peeked out between the rocks at the entrance. Upon seeing it, I think Mum and Bec's urgency to dive into the lagoon escalated to match my own!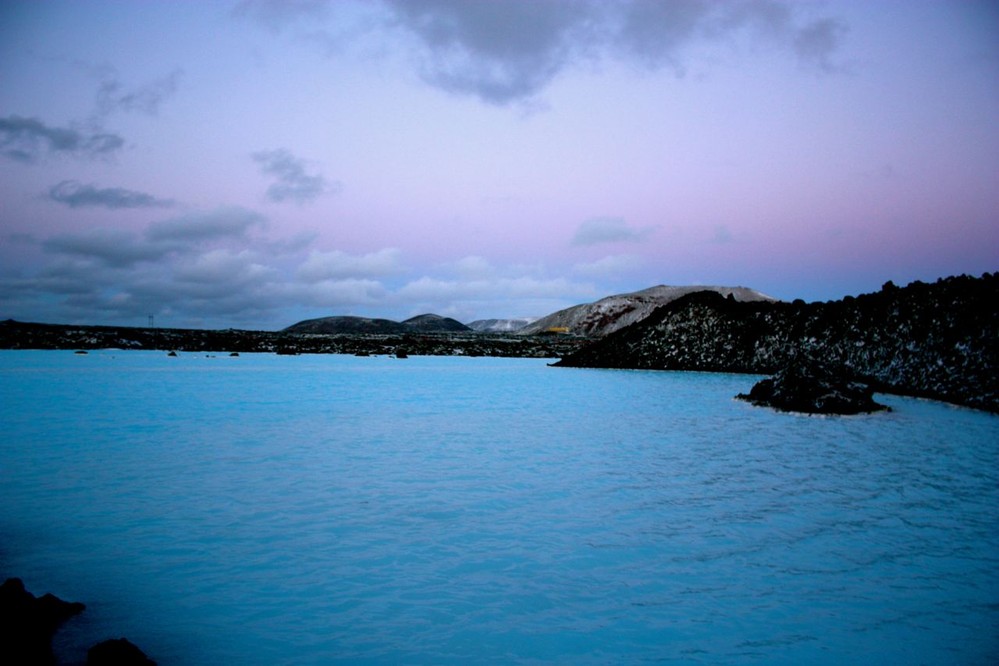 We changed as quickly as possible and stepped into the lagoon from the inside the super stylish building that houses the ever-expanding complex. Fully immersed in naturally warm water, we pushed through into the freezing air – the clash of sensations invigorated us all and made us squeal like school children. We made a bee-line for one of the tubs of white silica mud which lay dotted around the waters edge. The silica is renowned for its therapeutic effects on skin so in spite of it being ice-cold, we didn't hesitate to smear it all over our laughing faces.
Luckily, I remembered to bring the waterproof case I'd bought for my phone for just this occasion. Unluckily, it was a piece of crap that required quite a lot of convincing and swearing before it would let me take a photo. I managed to get a few good shots before I decided it was best to just put it away and enjoy my time with Mum and Bec. In the mere moments it took for me to paddle inside and put it in my locker, the scene outside changed completely!
The sun that had been blinding me only minutes before as it reflected off the surface of the lagoon was now obscured completely by a thick shroud of clouds. In concert with the steam rolling on the water, it looked for all the world like I was emerging into a liquid sky. As my eyes strained to make out Mum and Bec through the mist on the other side of the lagoon, I felt something touch my face… and then again… and again. I looked up to the actual sky… could it be? Yes it was… SNOW!!! I raced as fast as I could across the lagoon desperate to let Mum and Bec as though they didn't already. By the time I reached them, it was falling fast enough to be undeniable – it was snowing!!! (FYI – Naomi is from Sydney, so there is not much snow action going on there).
I could have burst with joy. This is my ultimate experience! For some people it may be skydiving or white water rafting or climbing a mountain but for me it's being in a hot spring in the snow, and not just any hotspring but the Blue f*#!ing Lagoon!!! Until today, I had only dreamed of it and here it was manifest with my Mum and my sister!!! The snow gathered pace and soon we were wearing a little hats fashioned from it.
Believe it or not, the best was yet to come! I had booked each of us in for an in-water massage. Mum and Bec went first, leaving me to contemplate the surrounding moonscape turning white and morphing into yet another planet before my eyes! The snow thickened even more to almost full white out. I don't mind telling you that I was a little frightened, not by the weather but by the thought that I may have called it into being by the pure creative power of my mind! It felt playful and mischievous like an unambiguous answer to a full hearted wish. I know that sounds crazy but here in this fantastical land where trolls and elves are more widely believed in than any God, I think it might just be possible. In fact, when it was time for my massage, I found my masseuse marvelling at the still blanketing snow. He said it hadn't snowed like that in ages. I sheepishly confessed that it might be my doing because I'd wanted it so badly. Without a trace of sarcasm, as if I'd just solved a mystery, he said 'Aha! That would be it. That's how these things happen' and in Iceland, if nowhere else on the planet, I do believe they do! And so began the most extraordinary massage of my life!
I was laid out, face up on a buoyant mattress and covered with a blanket warmed and weighted by the geothermal water. Expert hands massaged my shoulders, back, arms and legs beneath the water while snow from above froze the expression of bliss on my face. Every few minutes, my body was dunked under the water to keep me warm and assured that there was no place I'd rather have been. Every now and then, I opened my eyes to watch the snow fall and just revel in the experience of being in heaven on Earth!
After half an hour, I literally floated back to find Mum and Bec still looking euphoric after their own massages. We floated on together around the lagoon, stopping for some time in a particularly hot spot where steam billowed out with some force, enveloping us in thick, rolling clouds. With nothing but white all around us, it felt like we were flying amongst the clouds – I will always remember that particular moment as one of the most joyous in my life.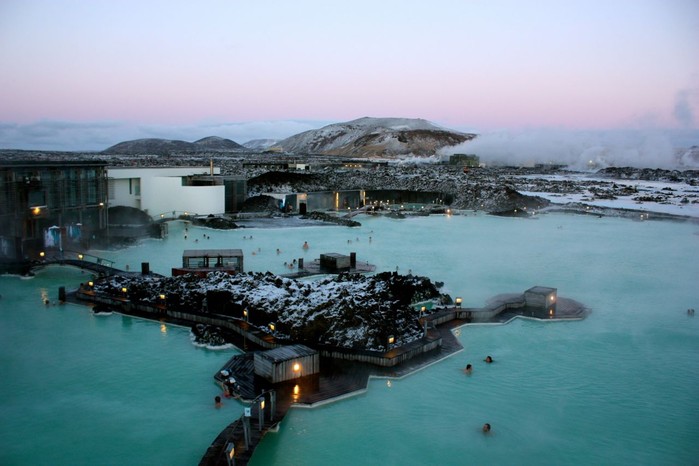 By the time we returned to Reykjavik, night had fallen and the snow had stopped. Our experience of the Blue Lagoon had not only gotten under our skin but also into our hair – the silica that is so good for your skin has a tendency to infuse a little troll into your tresses. Luckily we were all able to either tame or get away with it. We quickly changed back into our fancy pants and headed to the old part of town for a last supper.
We wanted to thank Inga from Tiny Iceland for her extraordinary hospitality so we decided to splurge at one of Reykjavik's most celebrated restaurants, Fiskmarkaðurinn (Fishmarket). I'm already on record as saying that no vegetarian ever came to Iceland to eat and I wasn't expecting tonight to prove me wrong. Seafood restaurants tend to be particularly tricky for the common misconception that some 'vegetarians' eat fish when quite simply, if you eat fish, you are NOT a vegetarian. By all means, eat fish, eat chicken, eat cats and dogs – whatever – my point here is one of definition. But I digress. We met Inga at the restaurant where we were presented with a set menu specially crafted with all Icelandic ingredient for the Food and Fun Festival. I told them I was vegetarian expecting to be accommodated with something akin to a bowl of pasta and salad but instead, quick as a flash, I was presented with the completely vegetarian set menu, as well considered and designed as the omnivores. In fact, as each of our five courses came out, I do believe that my dishes were the envy of the table. In light of this meal, I hereby revise my earlier statement and declare that vegetarians everywhere should flock to Iceland to eat at Fishmarket! (FYI – Naomi, next time you visit I (Inga) will show you all the great vegetarian restaurants. There are many good ones in Reykjavík so I guess they where just hiding when you visited.)
We took our time over the meal which we enjoyed with generously poured glasses of matching wine. We were the last to leave and reluctantly so because leaving meant parting ways with Inga. Mum and Bec said their farewells and got a taxi back to the apartment to pack. Inga and I pushed on in the hope of seeing the Northern Lights again. We didn't but I suppose that was just a pretext to delay our own inevitable goodbye.
I'm so sad to say goodbye this amazing woman who has become a dear friend in such a short time but I know we'll meet again and again and again. Without Inga, this trip would not have been half the adventure that it has been, not just in terms of the action packed itinerary but in the magic she weaved throughout it. I do believe that Inga is in league with the elves, if not the Head Elf!
Sometime around 1.30am, I walked home contemplating this trip within a trip that was too quickly drawing to a close. I don't know if I believe in the God of my Catholic upbringing but whenever I'm in Iceland, I do believe in magic. I have to stop and acknowledge that every extraordinary wish I had for this trip has come true. Some may call it luck, coincidence or perhaps even probable but I know there's more to it than that, something beyond my current comprehension. I choose to believe that this experiment I'm living from which this entire journey was born proves that we have the power to choose the life we want and the ability to bring it into being.
As for my hat, I choose to believe that somewhere out there, there are three cheeky, mischievous elves taking turns wearing it and all they had to do in exchange was turn on some lights and sprinkle some snow. Iceland has given me so much, surely I can give it my hat and call it a fair trade.
Naomi Doyle, aka Patches McGee is a writer, traveller and phone-ographer. Thank you Naomi for sharing this wonderful post and for all of your kind words! I feel blessed to have met you in Iceland and I can't wait to reunite again with you. Check out Naomi's guest profile and follow her new journey here.
Here are notes from Naomi's mom & sister:
Patches McMum: I had a rather restful morning while Bec and Naomi did the site seeing. When they returned, we ventured out the blue lagoon. The drive there in the bus was uneventful and the landscape would make a good science fiction movie set because it looks like another planet! After about 40 minutes we saw the blue lagoon area surrounded by steam – it looked out place in the stark landscape. We got into our swimmers without having to be naked in front of anyone (I had an english grandmother big on modesty). We got into the water and passed through a type of grotto to find ourselves in this amazing, milky blue hot water of 38 degrees but bloody freezing above! Like all good tourists we put the white silica mud all over our faces to become 20 years younger (with my two toddlers). It was just so beautiful to be in this warm water and swim through the steam – I imagine its like walking through clouds. And then suddenly, out of the blue, it snowed on us!!! It was magical!!! Also, I had the best massage ever in the water!!! It was the best!
With sadness we left as the bus wouldn't wait for us. On the drive home, the landscape had changed completely with glittering snow covering everything! After arriving home, we got all dressed up and Inga's brother kindly picked us up and drove us to dinner at Fish Market. What a dinner! It was a specially designed menu for the Food and Fun Festival with matching wines. The atmosphere in the place was beautiful as well and the conversation knowing that tomorrow we'd all be parting ways from this magical Iceland and each other. With sad farewells, Becky and I taxied home to pack while Naomi went out with Inga. What a wonderful day!!! Good company, good food and the Blue Lagoon!
Pretty Patches: Finally a chance for a little lay in with no bus to catch until the afternoon. We enjoyed a big breakfast at Naomi's favourite cafe / laundromat before going for a tour of the town. Since it is a Sunday a lot of the stores were closed which I didn't really mind since I am going to spend the better part of the next 2 weeks in shopping centres. It was lovely to be shown around Reykjavik by my sister and discovering why she loves this place so much, despite the cold it was a lovely and relatively mild day, we wandered around Harpa for a while and strolled along the shore line taking photos to be posted to Instagram when we have a moment and some wifi. Reykjavik feels European but it has its own personality and flair, I love the coloured buildings and the fact they have so much of their own industry despite such a small population.
A lovely as the city was the best part of the day was still ahead of us, we jumped on another bus and set out for the legendary Blue Lagoon. Naomi had 3 wishes for this trip; to see the Northern lights, check, for it to snow on the Golden Circle tour, check and for it to snow while we were in the Blue Lagoon, check! The Blue Lagoon is nothing short of spectacular – Naomi has often described it as her beach holiday to contrast my own preferred vacation to somewhere hot by the beach and I can now see why. The water is milky and opaque so no need to worry about having a great bikini body and its so warm that it is very easy to relax. The surroundings are surreal, it is like being on another planet and when it snowed it was unreal!
We finished the night and the weekend by taking Inga to a lovely dinner to thank her for her hospitality and generosity, Iceland should crown her the Ambassador of Iceland or at the very least the Minister for tourism.