South Iceland – What to See & Do – Part 2/3
I often get emails from people asking for informative tips on what to see & do while road tripping around South Iceland. The South coast is a popular route to drive throughout the year and I always recommend this area for travelers who only have a few days in Iceland.
I decided to make a three part post about South Iceland, from Reykjavik to Jökulsárlón. This is part 2 and I share my knowledge about e.g. Seljalandsfoss, Skógafoss, US navy plane wreck, Seljavallalaug, Dyrhólaey, VÍK and more. If you haven't read part 1 then click here
Places to see on the South coast from Selfoss to the town VÍK:
When you start driving towards the town VÍK you will see a stunning waterfall on the left in the distance. Seljalandsfoss, waterfall is unique because you can walk behind it and get a view like this!
Right next to Seljalandsfoss waterfall is Gljúfrabúi waterfall, only 2.min driving max! It's a secret waterfall and you walk underneath a little cave and are then basically inside the waterfall. If you are already stopping at Seljalandsfoss then you don't want to miss this one – it's one of my favorite spots in Iceland.
A secret cave, Paradísarhellir (e.Paradise cave), is hidden away in a cliff-wall between Seljalandsfoss and Skógar (marked Fit in the google map below). The story behind the cave is quite magical, a love folktale. A shepherd boy Hjalti had to hide in this cave in the 16th century because he was the lover of Anna from Stóru-Borg. Anna was a noblewoman and everybody was against them being together. In the end after Hjalti had been for many years in the cave + 8 kids he had given Anna, he was allowed to join the family and marry Anna. To find the route to the cave stop at Seljalandsrétt, a sheep hurdle, and from there it's a 600-800 m walk to the base of the cliff. There is a small walking path which you can follow and then it's a few meters vertical climb up to the opening of the cave. Chains have been installed to assist but I don't recommend you climb unless you have experience.
If you want to visit the oldest swimming pool in Iceland, Seljavallalaug, then it's on this route as well. It's between Skógafoss and Seljalandsfoss waterfall. The turn off for the pool is on your left after Seljalandsfoss onto road 242. You should see a sign for "Raufarfell." If you hit Skógafoss waterfall, you've gone too far! You drive the road all the way in until the road stops and you should see other cars (pool guests) and the trail to walk to the pool. It's about 15min walking inwards to the mountain. Detailed photos are in this post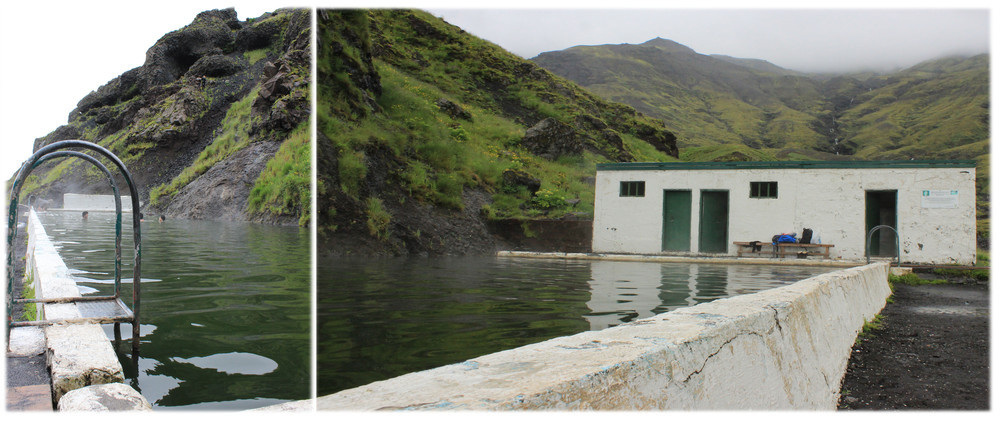 Skógafoss waterfall is next on the route and there's also a museum at Skógar, old turf house, church and more. I recommend you stop by and if you have more time you can do the "Fimmvörðuháls Hike", from Skógafoss to Þórsmörk in the highland area . A few kilometers from Skógafoss you can spot Eyjafjallajökull volcano from the road – great to stop for photos if it's a clear day.
You have propably seen photos or heard about the US navy plane wreck located on Sólheimasandur — I recommend you visit the site but make sure to be careful and its no longer available to drive to it. You must park the car and walk for 1 hour.
Here is a useful guide for finding the US navy plane wreck, Sólheimasandur, South Iceland.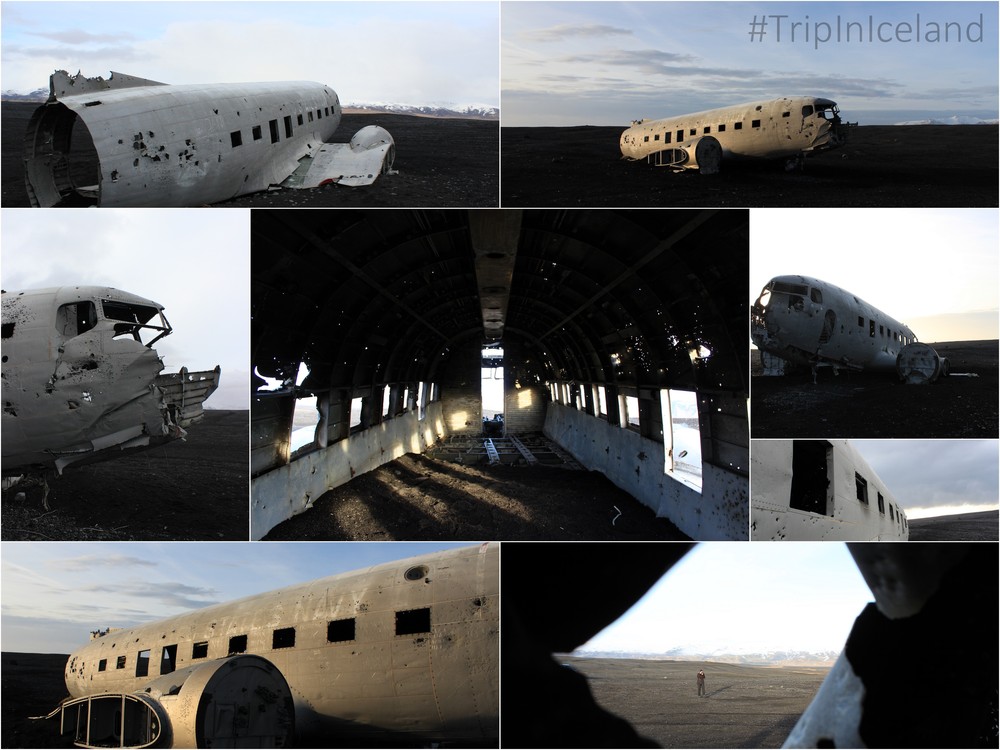 After exploring the US navy plane wreck drive straight to Dyrhólaey cliffs – take in the amazing view from the higher area where the lighthouse is located and on the viewing platform below you can spot the Reynisdrangar cliffs (aka the 3 trolls), as well the endless black beach is mesmerizing and photogenic. Dyrhólaey is also a large bird colony and you can spot the Atlantic puffin from April to August on the higher platform. Be aware when visiting during nesting season (May-June) there are time limits if visiting Dyrhólaey.
Right before VÍK there is a turn-off to the right for Reynishverfisvegur, pass a few farms and drive all the way to the end of the road. I could spend hours visiting this spot — Take the time to explore the Stuðlaberg (e. basalt columns), hidden caves, and watch the massive Atlantic Ocean waves! BUT make sure to be careful and don't go too close to the ocean – these waves are dangerous and many traveleres have lost their camera euipment daring to get closer!

It's coming to an end for this route and the final place to visit is Reynisdrangar. A basalt sea stacks situated under the mountain Reynisfjall. They are also called the three trolls, who were caught by the sunlight at dawn and which turned them into needles of rock. VÍK is a nice little town, but can get a little crowded, especially in the summertime as it is a pit stop for the big tour buses. Either way it's a great town to visit and make sure to drive up the hill where the church and graveyard are situated to get a good photo of the town.
Other things I recommend around this area:
Vestmannaeyjar – Westman Islands
Njál's saga center
Háifoss waterfall
Gluggafoss waterfall
Dynkur waterfall
Hjálparfoss waterfall
Þjóðveldisbærinn Stöng
Fljótshlíð
Do a tour with KatlaTrack – read my review here
"Life is a series of natural and spontaneous changes. Don't resist them – that only creates sorrow. Let reality be reality. Let things flow naturally forward in whatever way they like". ~ Lao Tzu