Laugarvatn & South Iceland
I'd like to say we kicked off our Iceland Challenge with a bang, but we woke up to ominous skies and the distinct possibility of a downpour. Nevertheless our spirits were high and our excitement mounting as we drove to Keflavik International Airport. Marika, who had studied Medieval Studies with Liz in college, arrived exhausted after flying almost 2000km from Portland, Oregon. I'd like to say we kicked off our Iceland Challenge with a bang, but we woke up to ominous skies and the distinct possibility of a downpour. Are you guys ready for this journey?!
Nevertheless our spirits were high and our excitement mounting as we drove to Keflavik International Airport. The gloom outside didn't deter any of our excitement as we waited for Liz to arrive to begin our seven day Icelandair stopover trip around the country. Liz arrived in the late afternoon on a short flight from London via Icelandair. She was all smiles and excited to hit the road! After a short detour to Sixt Iceland to sign up some additional drivers (which is only a few extra dollars and conveniently located a few steps from the airport – they offer a free shuttle bus for arrivals in the airport to their office), we were driving through the misty lava fields across the Reykjanes Peninsula. Our first stop was a surprise. Inga had guaranteed us exclusive access to Votmúli horse breeding farm where we got to stroke as many Icelandic horses as we pleased. Votmúli farm belongs to the family of one Inga's oldest friends and she happily gave us a tour of the stables, barn, and invited us for some hot coffee and Icelandic chocolate.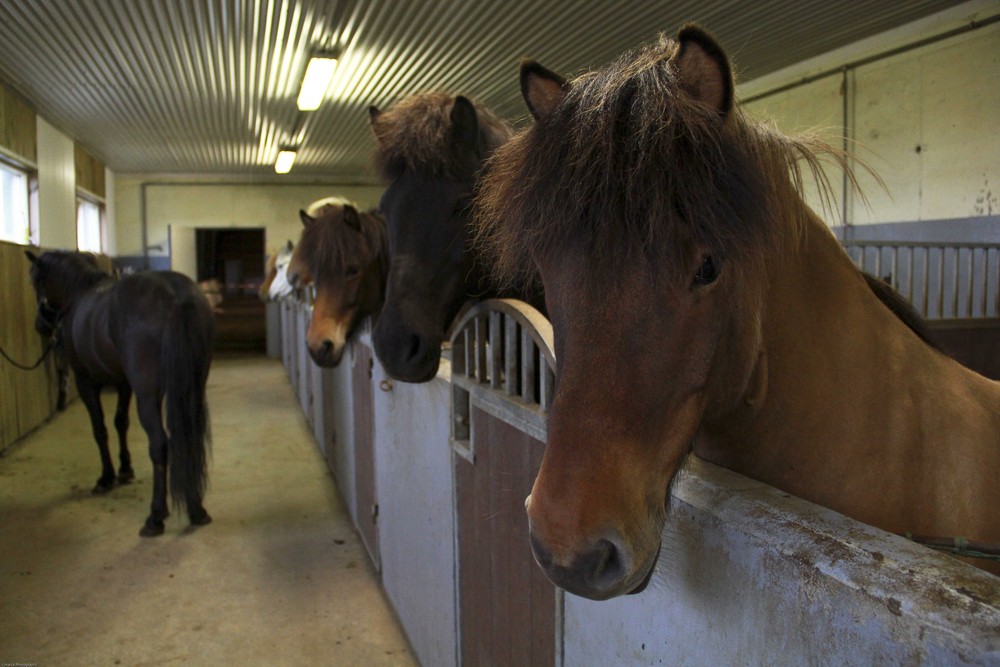 Continuing on our journey, we made a photo stop at Kerið—one of several crater lakes in the area. Easily missed, it's located off route 35 in the direction of Laugarvatn. The crater is filled with strikingly blue water and surrounded by red and purple lava rocks. Did you know the singer BJÖRK held a concert in the crater. She was floating on the water while guests enjoyed her music. Few concerts have been held here since then, according to Inga. It's definitely worth seeing, although they recently started charging a small fee (2 euro / 3 USD) to walk around the crater. Hope that doesn't discourage you from visiting and walking around the area!
At 6pm we checked into our rooms at the lovely Hotel Edda Íkí in the quaint town of Laugarvatn. We were warmly greeted by Hildur, the hotel manager during the summer who promised to sit down with us over breakfast the next morning. Another exciting surprise was the chance to meet up with Ashley—co-blogger for The Lazy Travelers —and her husband Jeff. They were making their way down to Reykjavik after a weeklong trip around the country. It just so happened that they had a free night to join us at Hotel Edda. Just our luck!
We had just enough time to drop our stuff and grab our swimsuits before heading to Laugarvatn Fontana Geothermal baths to relax. The spa has four baths of varying depth, size and temperature, as well as several steam rooms. Collectively called the Gufan, the three steam rooms are built over a natural hot spring that has been used since 1929. The smell of sulfur is profound—definitely a sign that it's all natural! The spa also has a Finnish-style sauna that falls somewhere between 80° C to 90° C. Now that's what I call HOT! If you think that's not enough, visitors can dip into Laugarvatn Lake to regenerate their skin and revitalize their body in the icy waters.
We slipped into the pools and didn't leave for another three or four hours. It was just so pleasant to lounge in the warm water. However, in the spirit of the Iceland Challenge, we challenged Liz to wade her way into cold waters of Laugarvatn Lake…just a little test of her stamina! She passed, but just barely 😉 Managing director Sigurður 'Siggi' Rafn Hilmarsson—a native of Laugarvatn—greeted us while we were lounging in the pools. He told us a little more about the area, the hot geyser underneath the steam baths and how the use of the geothermal water has evolved over the years.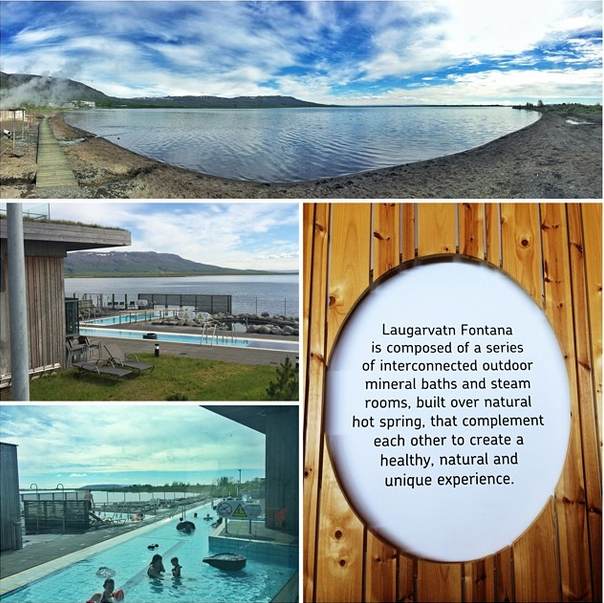 Siggi wanted to give us a taste of the Rye Bread Experience so after we dried off and changed back into our clothes, we followed him out into the pouring rain with a shovel thrown over his shoulder (suffice it to say, we all had a good laugh about the irony of this situation!). He led us down to the hot sand black beach and promptly began digging but thankfully, it wasn't for dead bodies! Instead, he produced some good old fashioned rye bread. Icelandic rye bread (known as "rúgbrauð" in Icelandic) is dark, dense and rather sweet. It's traditionally baked in a pot or steamed in wooden casks and buried near hot springs. Laugarvatn Fontana prefers the latter given the abundance of hot springs in the area, but instead of a wooden cask, it is wrapped securely in a plastic bag and left to bake for approximately 24 hours in the natural heat.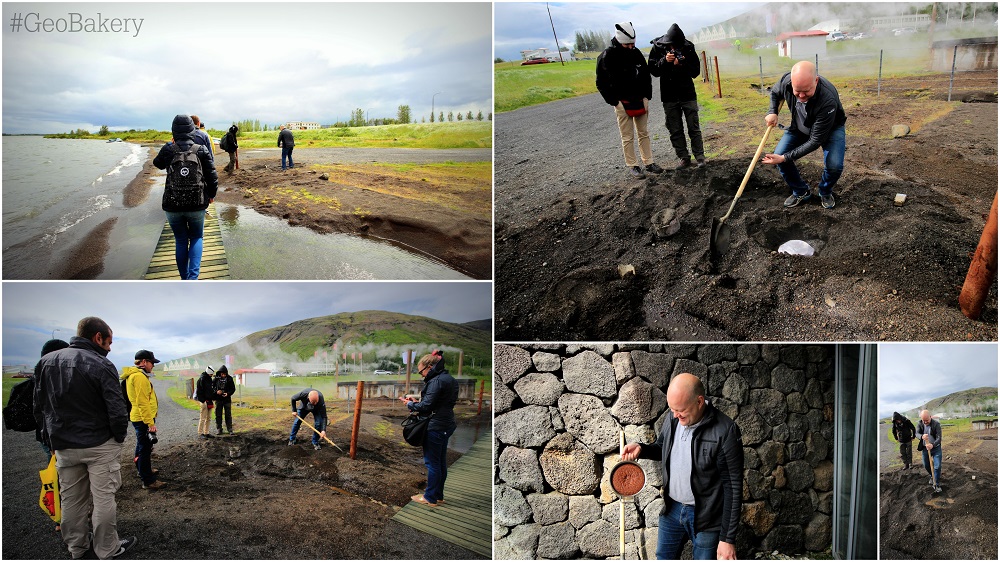 We returned to the café to try a slice of rye bread with smoked arctic char from the lake. It was delicious and made us realize how hungry we were. We ordered a few Panini for a late dinner before Fontana closed at 11pm. Finally it was time to hit our pillows after such a long day. Icelandic horses, a volcano crater, and lounging in geothermal waters—I'd say we were pretty successful for our first day.
© All photos taken by Laura & Inga via Tiny Iceland. Most photos from the Votmuli Farm are courtesy of Freyja, the owner.