Seljavallalaug & Dyrhólaey, South Iceland
Day two of the Iceland Challenge was probably one of our longest and most exciting days. We kept a fast pace, but always jumped at the opportunity to stop the car, wide-eyed with our cameras at what I can only describe as some of the most beautiful sites of the south coast.
Are you ready to chase waterfalls, soak in the oldest swimming pool in Iceland and explore the South coast with me?
That morning, the anticipation to get out on the open road was palpable. After a good night's rest and a delicious breakfast buffet at Hotel Edda ÍKÍ, we sat down for coffee with Hildur who is the hotel's summer manager. As a resident of Laugarvatn, she provided us with tips on what to see and explore in the area. Since we were crunched for time, we weren't able to see all the spots she named, but we did manage to stop at a newly opened homemade ice cream parlor. Now I don't know if you have heard, but ice cream in Iceland is somewhat of a thing. I have waited in endless lines in the freezing wind at all hours of the night to get my hands on a massive cup of the creamiest ice cream I've ever tasted. Yes, it was completely, 100 percent worth it. Try it, you won't be disappointed. So when Hildur mentioned that a new parlor opened up, we packed up the car and headed five kilometers down the road to Efsti-Dalur II farm to taste it for ourselves. The working farm offers accommodations, operates a restaurant and recently opened Íshlaðan which serves homemade ice cream. Íshlaðan (literally meaning 'ice cream barn') did more than deliver. They provided us with four ice cream cones and a tour of the restaurant and showed us the farm animals next door. Who doesn't love trying Icelandic "ís" at 9am!?
Hildur also mentioned Skálholt as a place of interest—the historical site of the first bishop. It was a pretty amazing to walk around an archaeological site that dates back to 1056. There was even a tunnel that connected to the ruins of the school next door. I was surprised it was still intact (and it was freezing inside, I might add. I don't know how Icelanders have been keeping themselves warm for centuries!)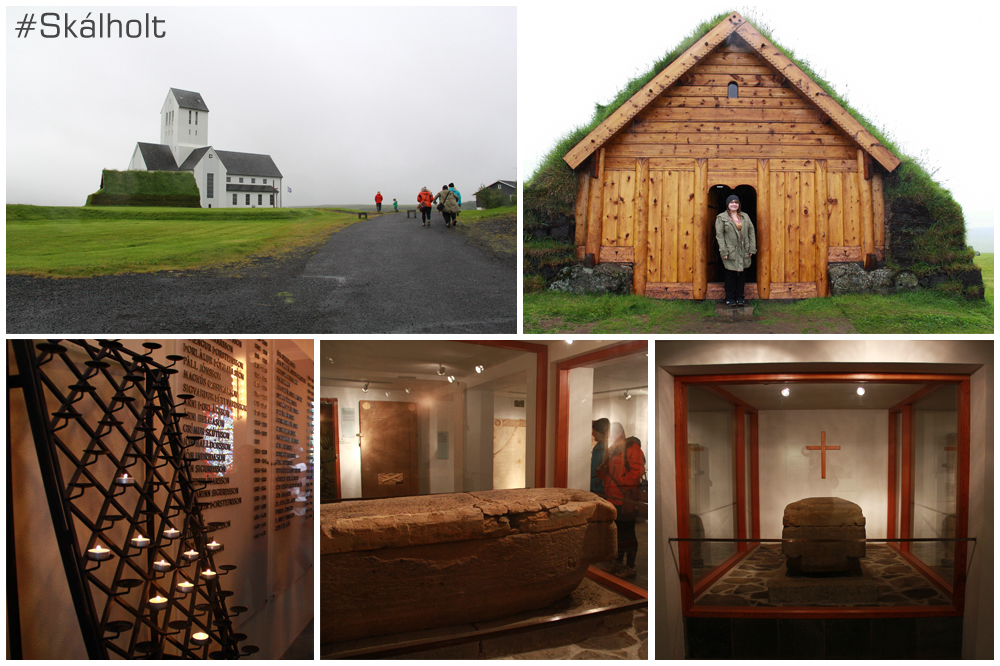 The weather was still pretty gloomy between stops, but the farther south we went, the better the weather became! Armed with our GoPro on the hood, we made our way southeast towards two very famous waterfalls. Seljalandsfoss was spectacular as usual, but I think it's the only waterfall you can walk behind (yes, you will get wet). I walked down with Marika and Liz to get some good shots, while Inga stayed near the car to hand out bottles of Icelandic Glacial Water to travelers.

Just a few minutes' walk from Seljalandsfoss on the left, there is an even cooler waterfall (or 'foss' in Icelandic) called Gljúfrabúi. Inga and I had never been to it before, so we were excited to explore it! It's slightly hidden to the naked eye because it's located inside a cavern, but it's pretty easy to get into. Once you're inside, look up and the view is absolutely incredible. But, yet again, prepare to get a little wet…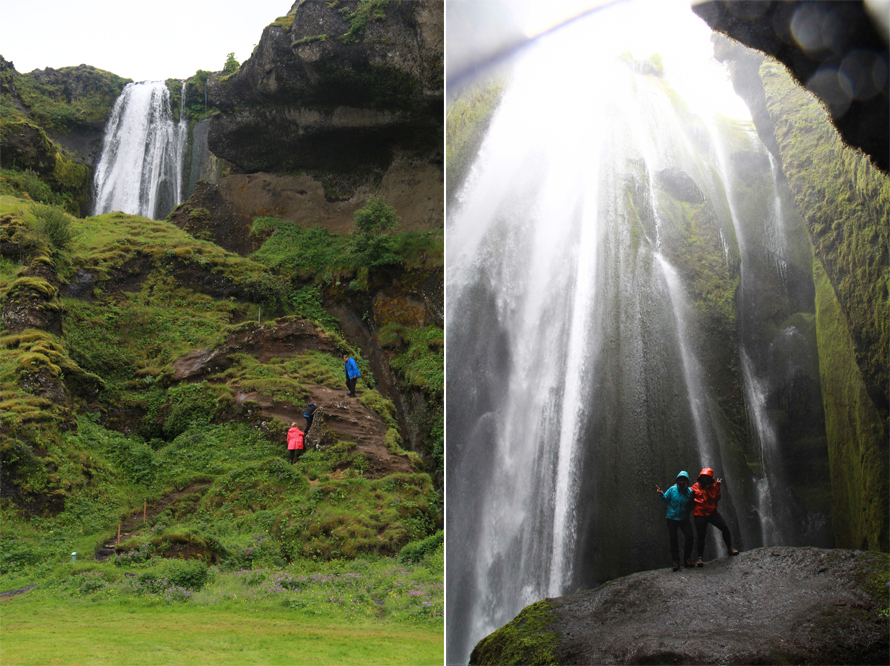 After Seljalandsfoss we drove past Eyjafjallajökull which became quite famous after its eruption in 2010. The smoke from the volcano shut down European air traffic for days. We couldn't see much of the volcano because of the cloud cover, but we stopped for photo op anyway. Soaked and chilly, we decided to warm up in the oldest swimming pool in Iceland—Seljavallalaug built in 1923 to teach young Icelanders to swim. The turn off for the pool is on your left after Seljalandsfoss onto road 242. You should see a sign for "Raufarfell." If you hit Skógafoss, you've gone too far! From there, it's about a 15-20 min hike into the valley along the sand path. There used to be a little bridge over the river stream, but it wasn't there this time which made for an interesting hike. Thankfully, we made it safely across! The valley was absolutely stunning and the clouds had descended over these brilliant green hills. I was quite literally captivated.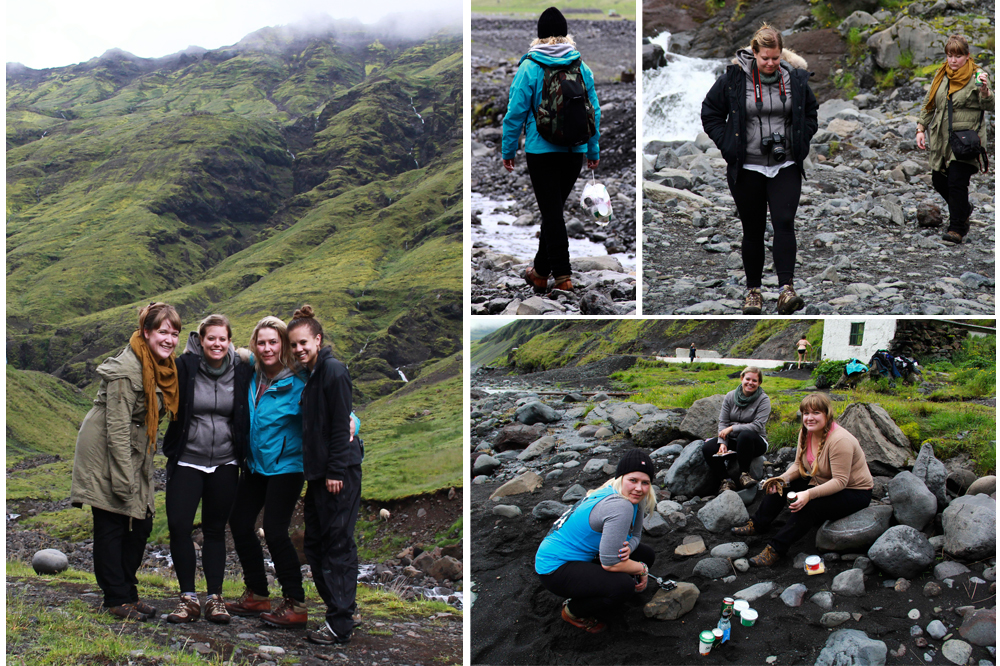 We decided this was a perfect spot for our picnic lunch of skyr (Icelandic yogurt), flatbread, cheese, chocolate and a few Tuborg Classics… just my kind of lunch. The pool is maintained by Icelanders that live in the area but they just check it every now and then. The changing room is pretty bare with a few hooks and a muddy floor. I preferred to change outside, thank you very much. The pool is a cross between natural and man-made. Although Icelanders built that actual structure, they harnessed the natural hot spring water that came down from the hills. It's a pretty unique experience, but be prepared to step on a slimy floor and to swim in green water! Traveler tip: the pool is open to everyone, but there are no trashcans in this area so whatever you bring with you, please take it with you when you leave.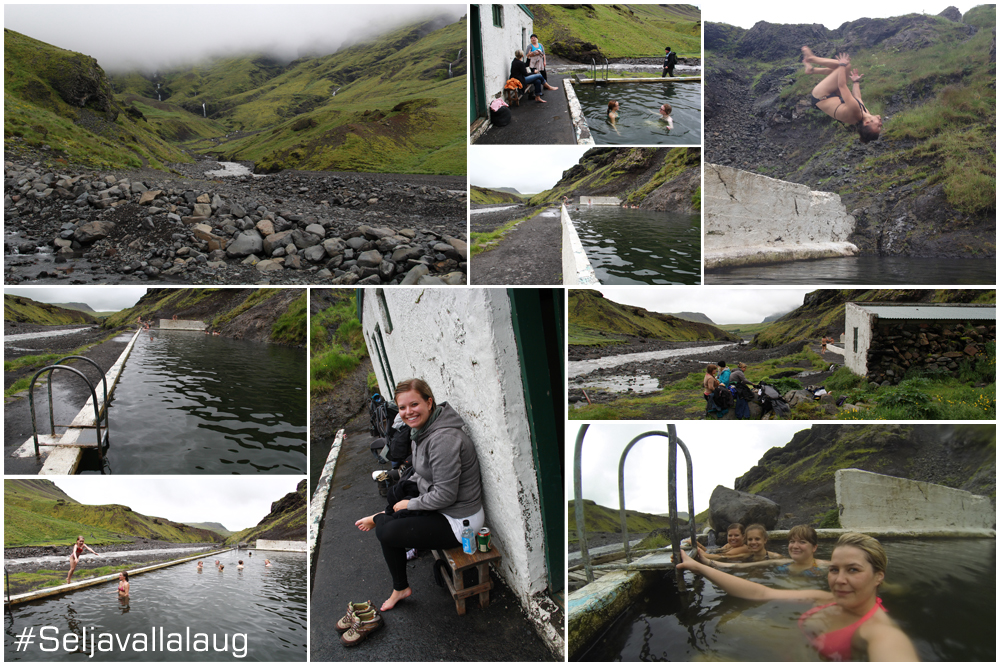 Although it would have been nice to just lounge in the warm water like we did the first day, we had to keep moving! Our next stop was Skógafoss, which was very crowded, so we decided to skip the hike up to the top since our goal was to explore places that were a less known to the general public. The hike is nice, if you have the time, but we were needed to keep moving in order to see everything we had planned. Our final stop for the day was Dyrhólaey which is a must-see all year round. We roamed around the basalt cliffs with great views of the black sand beach and I saw Reynisdrangar (aka the "three trolls") in the distance. It's a great way to experience the pure strength of the North Atlantic as waves crash 3-5 meters high. Traveler Tip: while visiting in the months of May and June, they sometimes close the access to Dyrhólaey early each day because of the bird nesting season. So be mindful! You may even have the chance to see puffins. They usually sit along the cliff just below the lighthouse.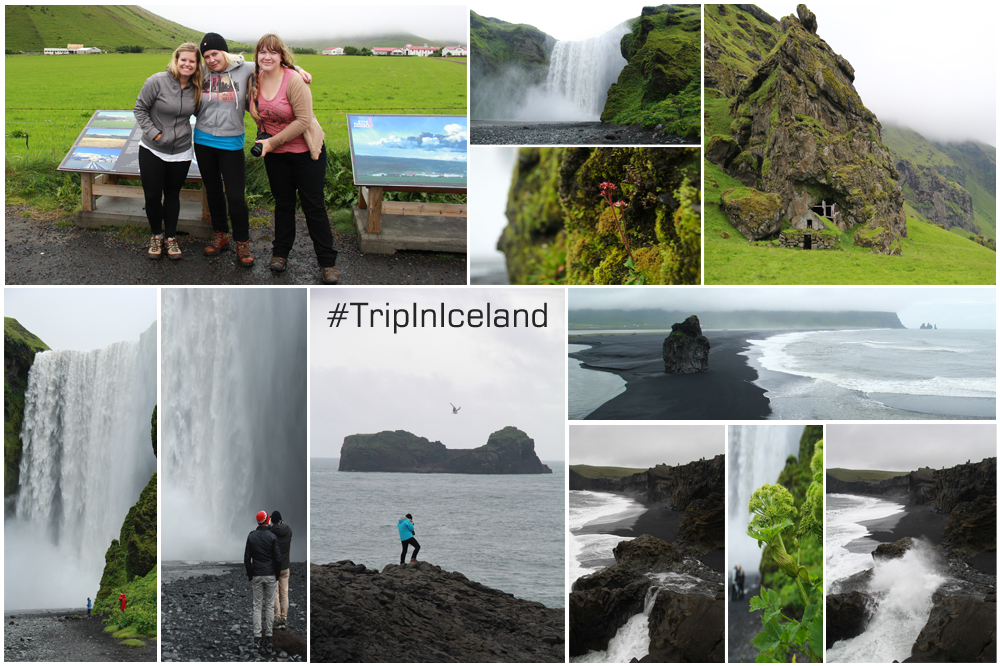 Up until this point, we had paid very little attention to the gas tank and slightly panicked when we realized that we were running on empty. We all crossed our fingers and urged the car to make the last 5km to the town of VÍK where would stay that night. We went through a full tank of gas and 600km in only 72 hours. The car we got from Sixt was an automatic, but it had a diesel engine so the gas mileage was really good for the price. We all heaved a sigh of relief when we rolled into the only gas station in town. This quickly turned to anger as a bus driver from Iceland Excursions almost ran us down in an effort to get to the pump before us. Whoa buddy, we can all share and not rear-end anyone's car in the process. Let's just say the gas station at VÍK can get a little crowded, especially in the summer time. Understandable so, which is why we recommend stopping at the next town, Kirkjubæjarklaustur to fill up your tank. It's a very quaint and relaxing town.
Our accommodations were right across the street from the gas station at Hótel Edda VÍK. We were greeted by a particularly friendly Icelander at the reception who showed us to our rooms and then informed us that Elías, the hotel manager had arranged a little surprise for us. He invited us for dinner at Ströndin Restaurant and then a private tour with Katlatrack, a local tour company that takes travelers on a super jeep tour of the area. Starving and feeling quite exhausted, we made our way over to the restaurant where we were greeted by Elías. Unfortunately, he couldn't join us because several of his employees had caught the flu so he was diligently helping the cooks in the back in order to satisfy the enormous flow of hungry travelers. Icelanders are hardworking Vikings!
Around 10pm, we were greeted by Elías' brother Guđjón who owns KatlaTrack, a local tour company that runs super jeep tours in the surrounding area. I had to skip the tour because I was feeling feverish and utterly drained. It was only the second day and I was worried about feeling sick the rest of the time, so I decided to sit this one out, but the girls raved about it the next day and I was sad I missed it. (Inga will be posting a blog article of their Katla adventure soon, so stay tuned!)
The girls didn't return until well after midnight utterly exhausted and probably as feverish as I felt. Who really said this challenge was going to be easy? It's a good thing no one was expecting to get good night's sleep on this trip…
P.S Since we couldn't find any puffins while exploring Dyrhólaey (mostly due to weather issues), here is an illustration from one of our team members. We managed to photograph some puffins in the East, but you'll have to wait until Day 5 to hear the story! Check out Marika's artwork.
© Most photos taken by Laura and a few by Inga & Liz.
Plus if you missed any of stories from the Iceland Challenge, click here for past blog articles.