Trip in Iceland 2013 part 1/5
My last trip to Reykjavik was a very personal and transformative one but this time, I have the pleasure of my Mum's company and so too the extraordinary honour of introducing her to this magical land. It was with a great deal of misplaced pride that I pulled back the curtains to give Mum her first glimpse of the city and she was suitably impressed, especially with the vibrancy of its colours which shine all the brighter for her following her successful cataract surgery. By Patches McGee, aka Naomi Doyle.
Despite my desperation to get out and show mum absolutely everything, the latest clean-undies-count suggested that washing was now a top priority (if I wasn't traveling with Mum, I reckon I could've stretched it out a few more days but you don't want to frighten your Mum too much with your budget-travel-tricks). We also had a very important and highly anticipated rendezvous we didn't want to be late for. Luckily, there's a place in town seemingly purpose built for just such an occasion – Laundromat Cafe.
We dragged our dirty laundry down Laugarvegur between our hotel and the cafe. Although it's not far at all, we traversed a good chunk of the main thoroughfare, passing from the newer part of the city to the older side. I provided Mum with a running commentary of all the significant sights along the way in terms of both Reykjavik's and my own personal history. Once there, we put on a load of washing and ordered (the most delicious) breakfast whilst we waited for our dates to arrive.
I've already made much ado in this and other blogs about the photo-sharing social media app, Instagram and the fortuitous (and addictive) effect it's had on my life. Never has that been truer than this morning when in walked two lovely ladies I'd hitherto known as @tinyiceland and @gr82chat. I was worried that I wouldn't recognise them but there was no mistaking who either of them were when they walked through the door. This was the first time they were meeting each other as well and far from being awkward, our little insta-meet kicked off with warms hugs and feelings of friendship that quickly transformed the virtual into reality. Inga is the founder of Tiny Iceland and ambassador extraordinaire for her native homeland. She is gorgeous and humble despite her obvious brilliance. Inga and I started following each other way back when I was posting photos from my last trip to Iceland. She invited me to guest blog for Tiny Iceland which I was extremely honoured to do. It is through our resulting correspondence that a friendship formed and this meeting (and in no small part, this trip!) has come to pass. Tara (@gr82chat) caught my attention on Instagram through her stunning photography of Iceland but turned me part-stalker when I saw on her profile that she was an Australian living in Iceland – I had questions to which she had answers… unfortunately they didn't contain instructions on how to achieve my own dream of living here for a time, at least not without a strategic marriage proposal. None the less, Tara was even more delightful and engaging than her photos and it was an absolute pleasure to put a personality to the talent behind them.
After breakfast, I rushed our clean washing back to the hotel and met Mum back at the cafe to start her official introductory tour of Reykjavik. We strolled around the old part of the city built up around the harbour. We walked amongst the colourful houses and browsed in the authentically Icelandic design shops.
Next stop was my favourite shop in Reykjavik, Friða Frænka (*unfortunately from 2016 this shop has closed down) – a veritable treasure trove spread over two overflowing floors of every kind of crazy-crap you can imagine – scary dolls, furniture, dead stock wallpaper, vintage kitchenware, jewelry and the finest collection of circa 1960 plastic and melamine children's ephemera. Unfortunately, it's also prohibitively expensive and on this occassion, the service quite surly so we treated it more as a museum than shop. We kept on around towards the waterfront so Mum could enjoy a hotdog from the iconic hotdog stand, Bæjarins beztu pylsur, which has been operating on the site since 1937! I always stop by but until they start serving veggie dogs, this vicarious experience was good enough for me.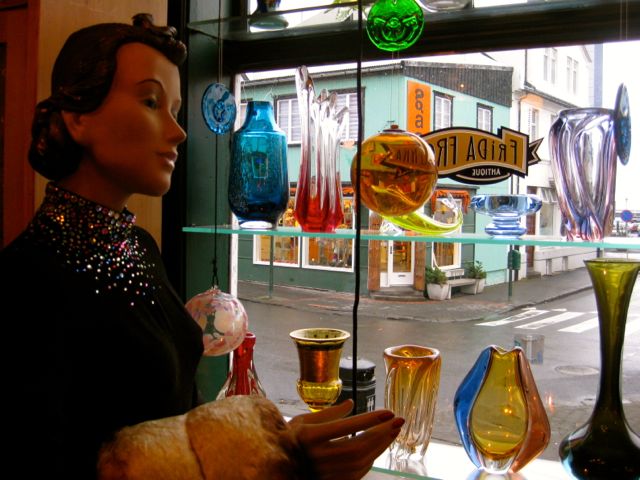 Before crossing back over to the newer side of town, we paid a quick visit to Tjörnin, a small lake in the centre of town with an abundance of bird life and the modern city hall built on its bank where avail ourselves of their lovely, clean facilities! Refreshed and alleviated, there was no more time for mucking around – we crossed over and up to the city's most prominent landmark – Hallgrímskirkja. The 244ft church was commissioned the same year as the hotdog stand and was designed to resemble basalt columns though it's almost universally agreed that it looks more like a rocket. This fact alone makes it one of the coolest churches in the world!
Before arriving in Iceland, I had warned Mum that no one ever came to Iceland to eat. Over breakfast this morning, my ignorance was very quickly exposed and corrected by both Inga and Tara who enlightened us to the fact that Iceland is actually world renowned for its seafood (also their biggest export) and their free-range, organic-herb-munching lamb. Furthermore, as luck would have it, we've arrived just in time for Inspired by Iceland's Annual Food and Fun Festival. With that in mind, Mum and I decided to check out Vegamót restaurant right around the corner from our hotel. The menu was long and lavish with all manner of sumptuous looking meals made with uniquely Icelandic ingredients. Mum had her pick from a seemingly endless offering of seafood and meat dishes… I had 2 choices – burrito or pizza – I begrudgingly chose pizza. When our meals arrived, it looked like they came out of two different restaurants – whereas Mum's looked decadent and divine, mine just looked disappointing and defrosted (especially considering we've just come from Italy!). In light of this meal, I hearby revise my earlier statement – no vegetarian ever came to Iceland to eat! Still, the week is young and with all this food and fun around, I may yet have to eat some delicious humble pie and make further revisions! Besides, we had a lovely evening made better by the sampling of a few local brews (FYI: beer was only made legal in Iceland in 1989!)
We took our time and saw the fine diners morph into a younger, drinking crowd as the venue changed gear from restaurant to bar as so many place along the main strip do. Mum was ready to call it a night so I walked her back around the corner to our hotel then shifted gear myself. I tweeted ahead my order for a White Russian which I found waiting for me with Inga and her beautiful bestie, Tóta, in the Lebowski Bar! As the name suggests, the bar is based entirely on the cult film classic The Big Lebowski and is every bit as cool. It's new since I was last in town though it felt immediately familiar from its many appearances in my Instagram feed! The White Russians kept coming as did the conversation and a constant stream of people coming up to chat to Inga. Iceland has a population of 330,000 – I think she knows them all!
At some point, Inga had a spin of the prize wheel behind the bar which 'magically' landed on the maximum prize of 10 beers. Already full of milk, vodka and Kahlua, we had our work cut out for us but you have to bear in mind that I was drinking with Vikings who, in the context of their long history, were just developing a taste for beer and there I was, a representative of my own proud beer-swilling nation. And so we pushed on, brave and strong, until the beer was gone and the ugly-lights came on.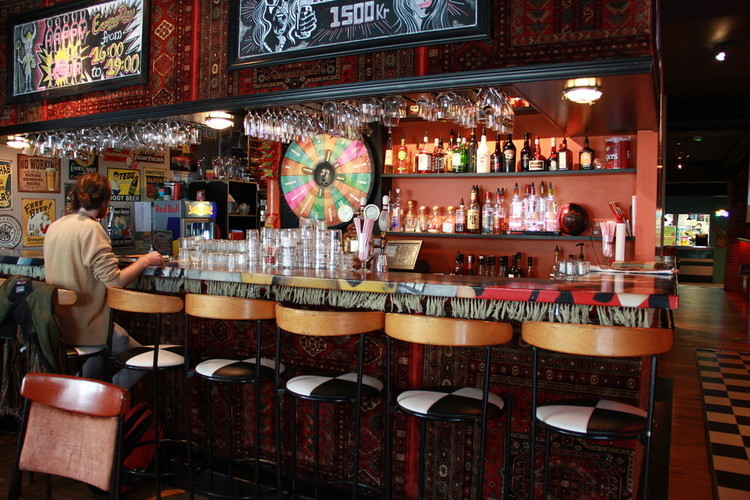 Tóta went home, the crowds dispersed but Inga and I stuck around for a good long while propping up the outside of my hotel, engrossed in beer-soaked conversation. It seems unfathomable that we only met this morning because it already feels like we've already known each other our whole lives. Eventually, she climbed into a taxi and headed for home and I did the same… it's good to be home.
Naomi Doyle, aka Patches McGee is a writer, traveller and phone-ographer. Thank you Naomi for sharing this wonderful post with us and stay tuned for her next guest post were she reveals if the Northern lights came out to play part 3 of 5. Check out Naomi's guest profile and follow her new journey here.
More photos from Naomi's day: