South Iceland – What to See & Do – Part 3/3
I often get emails from people asking for informative tips on what to see & do while road tripping around South Iceland. The South coast is a popular route to drive throughout the year and I always recommend this area for travelers who only have a few days in Iceland.
So I decided to make a three part post about South Iceland, from Reykjavik to Jökulsárlón. This is part 3 where I share my knowledge about e.g. VÍK, Kirkjubæjarklaustur, Hjörleifshöfði, Fjaðrárgljúfur, Fjallsárlón, Jökulsárlón, Þakgil and more.
If you haven't read part one or two then I recommend you read them as well. I left off in part 2 talking about the town of VÍK. If you are waking in VÍK and haven't had the time to explore the town then I recommend you do so. For example walking to the black beach and to view Reynisdrangar (the three troll's sea stacks), dine at Ströndin restaurant, do an adventure tour with Katlatrack, shop for wool at Ice wear and drive/walk up to the church and view the town from a top of a hill. Accommodations in the area I recommend Hotel Edda VÍK, Icelandair Hotel VÍK and Puffin Hostel.
Check out my short video from my tour with Katlatrack! The scenery is mesmerizing
If you are a backpacker, hiker or traveling on a campervan or a 4×4 and have extra time to explore then I recommend you visit Þakgil canyon. The turn off for Þakgil is "Höfðabrekkuheiði", about 20km (40 min) driving from VÍK. There is a camping area and multiple hiking trails around the canyon to explore. More information here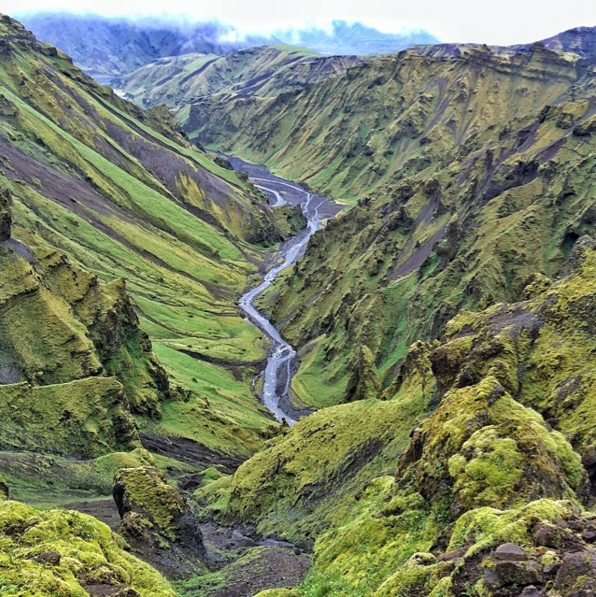 When you start driving from VÍK you will see in the distant a mountain on the right. This is the famous Hjörleifshöfði, named after Hjörleifur, the brother of the first settler in Iceland, Ingólfur Arnarson who settled in Iceland in 874. It's one of my favorite places on the South coast, especially during summer. The rumor of 'supernatural beings' has played a big part in Hjörleifshöfði's history. People have encountered a lot of unexplained phenomena and many claimed to have been strongly affected by the place. If you drive all the way to the end of the mountain you will see a big cave which is pretty cool!
'Hjörleifshöfði' is deserted today and Hjörleifur is buried on the highest point of the mountain known as "Hjörleifshaugur. So I highly recommend you hike up to the top and sign your name in the guest book. The view from there is amazing! Check out my video below from the time I hiked up there during the #IcelandChallenge trip – If you're not up for a hike then check out the cave at least.
The next village after VÍK is Kirkjubæjarklaustur (… try to pronounce the name…, in english it means church-town-monastery) but before you come to the village, I recommend you stop at Fjaðrárgljúfur canyon which is located just a few kilometers West of Kirkjubæjarklaustur (by the F-206 road a short detour from the ring road 1). Fjaðrárgljúfur is a spectacular canyon, about 100 meters deep and 2 kilometers long and the river, Fjaðrá flows through it. I recommend you follow the walking path and enjoy the view! It's a great spot to take a selfie.
There are about 120 Icelanders who live in Kirkjubæjarklaustur and in my opinion it's a hidden gem on the South coast. All of the surroundings is complete lava covered with moss. It's magical and for some it may look like a Hobbit hole!
If traveling via tour bus then they most often stop for lunch in VÍK so I recommend to people driving on their own to stop in Kirkjubæjarklaustur. There is a little restaurant, Systrakaffi, which I always stop at to have a bite to eat and if I'm in a hurry then a hotdog at the gas station is enough. A few things I recommend you explore around this area:
There is a cool basalt column formation called the church floor "kirkjugólfið". Kirkjugólfið is in a meadow just east of Kirkjubæjarklaustur and not far from Hildishaugur (Viking tomb). It's an approx 80 m² expanse of columnar basalt, eroded and shaped by glaciers and waves. If you are up for a little hike then walk to Systravatn Lake (Sisters Lake). You can start either at the waterfall Systrafoss (Sisters waterfall) or close to church floor. Up on the mountain the path is marked. The Sister's waterfall tumbles down into the town Kirkjubæjarklaustur. There are two waterfalls, Rauðárfoss and Stjórnarfoss just a few minutes from the main gas station.
Next stop is at Skaftafell national park. From there is a hiking trail to Svartifoss waterfall. It's about 1.8km (11 miles) long and should take about 45min one way. If you are not in a rush then enjoy some other sites on the hike e.g. Eystragil, Hundafoss, Magnúsarfoss and have a picnic in the wilderness. If you're visiting during winter please be careful because the path can be slippery in rain/frost.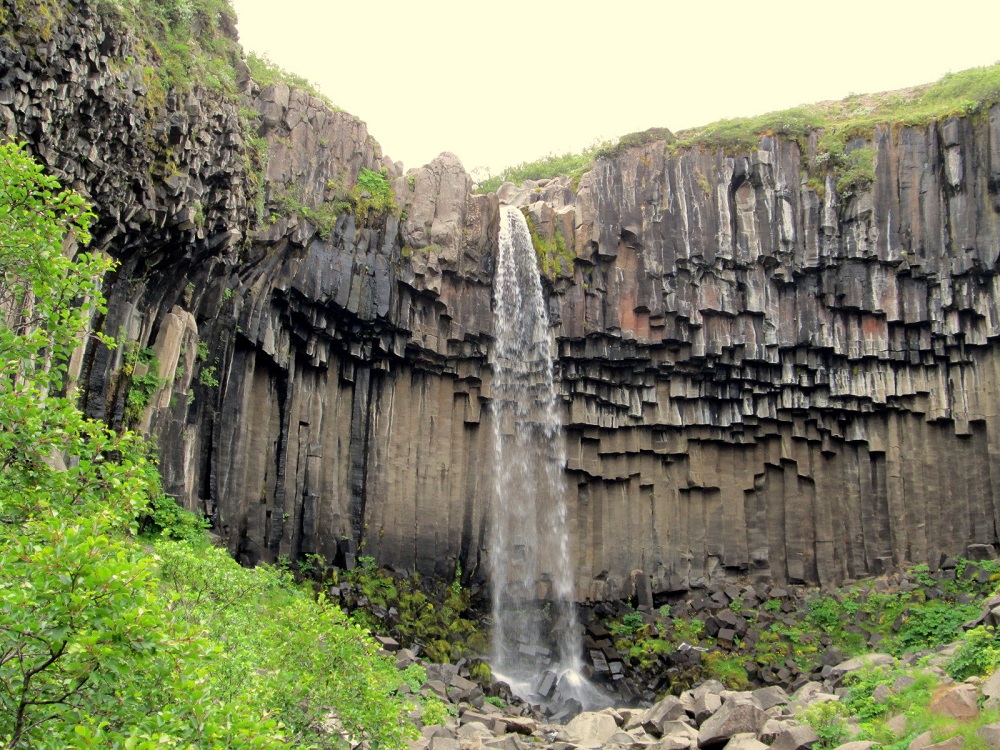 The road tripping around South Iceland is coming to an end and the final destination is Jökulsárlón, glacier lagoon. Only a few minutes before arriving at the glacier lagoon make sure to stop at Fjallsárlón (I called it the mini glacier lagoon and much more secluded).
When arriving to the glacier lagoon go across the bridge and make a right to the glacier beach where icebergs flush up on shore. You might even spot seals in the lagoon or at the beach. You can take a boat tour around Jökulsárlón and I highly recommend it if you have time.
Other things I recommend around this area:
Lómagnúpur
Núpsstaður
Álftaversgígar
Laufskálavarða
Tröllshylur
Systrastapi
Eldgjá
Lakagígar and Láki
Fagrifoss waterfall
Dverghamrar
Hoffell glacier
Ófærufoss waterfall