Tales of Borgarfjörður Eystri Part II
Are you ready to read about elves and puffins in Borgafjörður Eystri part II? It's often called the elf capital of Iceland and I could not have been more excited to spend a whole day there.
Everyone visiting Iceland always asks if the elves are true and if I believe in them. Read along and you'll find out my answer. Cheers, Inga
We had an epic start in Borgafjörður Eystri as Laura wrote about in Part I. We spent the morning at Blábjörg Spa, jumped into the freezing Atlantic Ocean and had a magically warm soup at Elf Café. As you already know Iceland is "tiny" and being an Icelander you usually know someone. So through a family friend, I got in contact with a lovely elderly lady named Sessa who owns a farm called Desjamýri. She and her husband are retired farmers but still live there while their son and his family take care of the farming.
The farm is just a few minutes outside the town and when driving to her house I told the girls not to expect her to speak English very well. But I sure hoped they would love the experience of visiting an Icelander in a town so remote! (Only about 300 people live in Borgarfjörður and they are busy during summer but you can imagine how quiet the winter is when you have to make across the mountain road to get here.) We had a plan to meet her for coffee, listen to some stories from the area and ask her about elves. Sessa greeted us and as soon as walked into her home, it was obvious that this was going to be an interesting experience. Her living room was filled with old paintings, photos from her life in the Eastern fjords and other delicate stuff. We sat down and she told us a few elf stories and that this town is enchanted by elves since the city of elves "Álfaborg" lies just a few kilometers up the road! Finally I asked her the big question, "do you believe in elves?" She told us that Borgarfjörður Eystri and other places in Iceland are enchanted by something magical she calls elves and I couldn't agree more!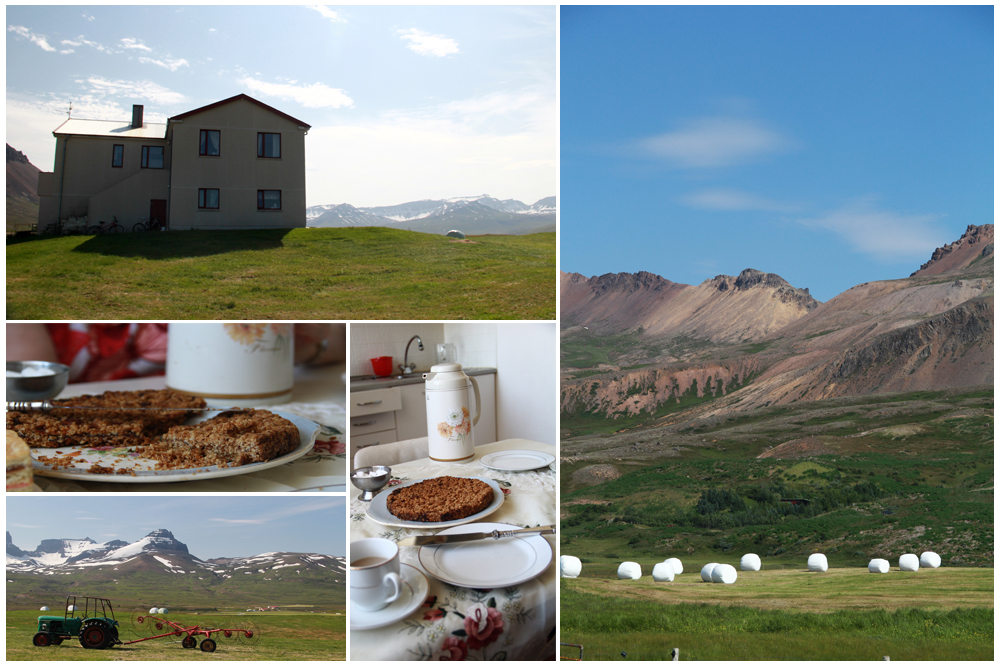 We didn't want to take up too much of her time but when visiting an Icelandic farm, it's customary to sit for a cup of coffee and some homemade delicacies. Sessa offered us some Hjónabandssæla (happy marriage cake), kleinur (Icelandic donut) and the conversation turned from elves to reminiscing of the days I spent working on a farm. I spent a few summers as a kid helping out in a farm called Vorsabær in the South of Iceland. My main job was helping out during early summer season (May) when the lambs are born. So after a nice chat, we had to continue our challenge, but I told Sessa that if she ever needed help on the farm I'm just a phone call away!
Next up after visiting the farm was to drive to the edge of the town to view and photograph a puffin colony. Since we had no luck in the South due to bad weather I was hoping this would be the day when I could get up close and personal with the puffins! About 8 – 10 million Atlantic puffins arrive in Iceland every year and they spread around to every part of the island to mate. The puffins arrive in Iceland in April and they can be seen up until the end of August. They can be seen at the puffin island (near Reykjavik), and in the Westfjords. The biggest colony is resides at Látrabjarg cliffs. Driving the South coast puffins can be seen on Dýrhólaey and Ingólfshöfði. In the Westman Islands you can view them too. It used to host the biggest colony but due to bad weather conditions they haven't been able to breed as they did 10-20 years ago.
Although it is a pretty controversial subject in Iceland, puffin meat is available on the menu in many places around the country, but I could never have such a cute creature for dinner. I've been a puffin lover since I started rescuing pufflings (baby puffins) in the Westman Islands (Vestmannaeyjar). It was a tradition in my family to go each August because my dad is from Heimaey (the only island inhabited by Icelanders). For generations, this has been a tradition for the people of Heimaey and many more to help.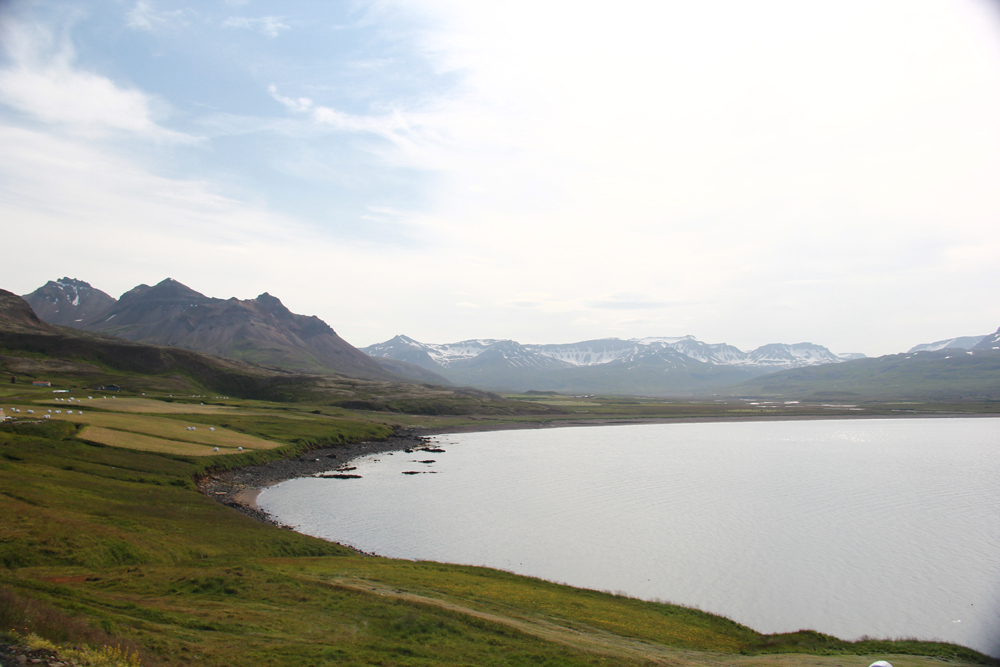 So how does a baby puffin rescue work?!?!
When the baby puffin is supposed to leave the nest and fly out to sea they get distracted by city lights and fly straight into the city. Each night residents of the island and other volunteers (usually families) would come together and run around town with flashlights to capture them. The morning after you would take the baby puffins (usually kept in a paper box) and drive to the cape Höfði. From there you needed to lift them in the air or even throw them out to sea so they would continue their journey. I have so many fond memories of experiencing this as a kid and I always looked forward to doing it again. Unfortunately, like I said before, the puffins have not been breeding well in Vestmannaeyjar because there is not enough fish prey. Some baby puffins do not survive after they leave the nest so rescuing baby puffins isn't the same as it used to be 10-20 years ago.
Below is a Baby Puffin rescue video made by National Geographic
We spent at least 1-2 hours viewing the puffins as they took turns guarding their nest and flying out to the sea for food. There are two great viewing platforms so you will definitely get a good look at them. On this particular coast there are about 10-15,000 puffins that call Borgafjörður Eystri their home.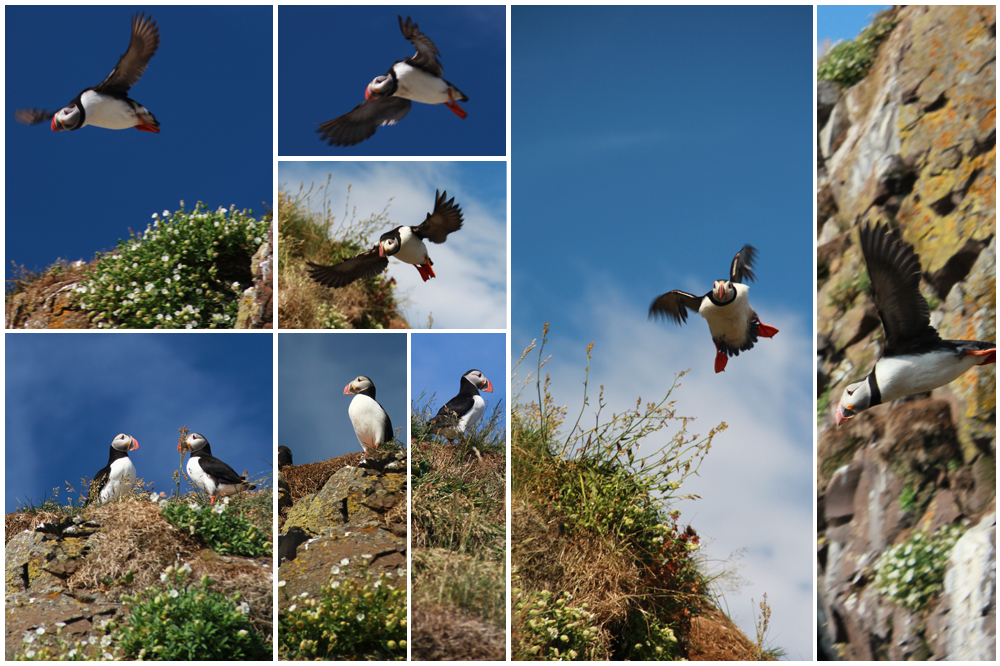 After an amazing experience viewing and taking too many puffin photos, it was time to head back into town. In the middle of Borgarfjörður Eystri is a big rock formation called Álfaborg. Álfaborg means "City of elves" but its original name "Borg" explains how the fjord got its name Borgarfjörður. The rock and the surrounding area are all part of the national park. It's located right next to the campground and there is a trail where you can walk to the top of the rock. Remember as long as you respect the area, the elves will respect you! At the high top of Álfaborg is a sun dial and it was there that we sat down to discuss the stories Sessa told us about and the reason I believe in elves. The story I translated to the girls was about Borghildur the elf lady and the girl who married into Álfaborg. (We did buy a CD as well with more stories from the area at the local hotel. You can also click here to read more stories about the city of elves). Another good story which I recommend you read is from my friends Jenna & Micah @WanderTheMap. Let's just say a teasing elf named Gobby made their trip in Iceland unique — Elf Encounters in Iceland.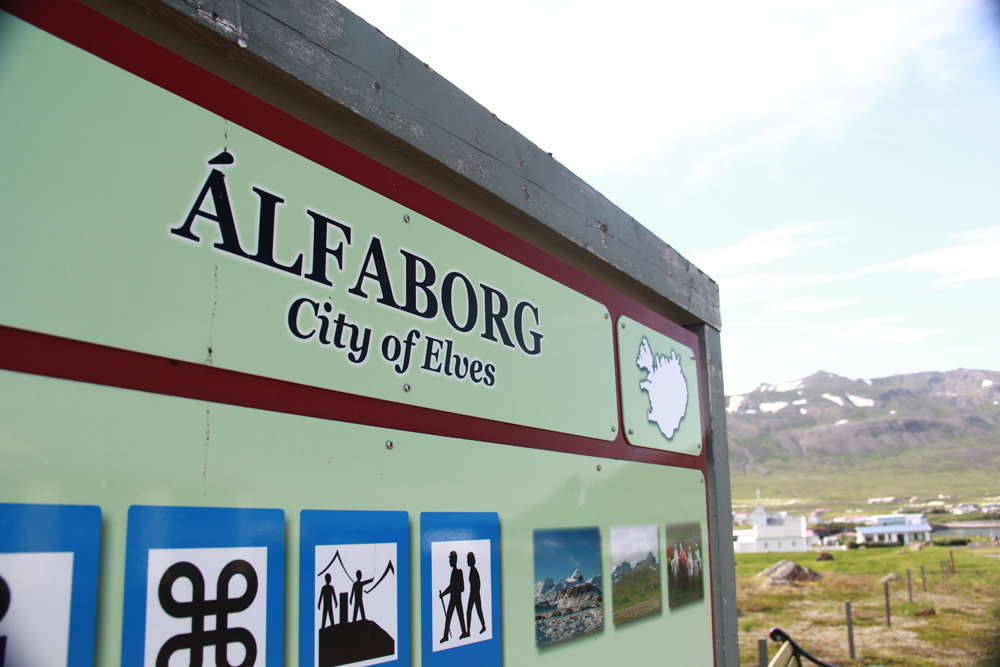 I've never seen an elf but I've had a few occasions where I want to think elves where involved. One time was when I was about 8 years old working on a farm and I heard lambs crying. The sheep stable was far away from the actual farm so there was no way I could hear noise coming from the stable. Being a young Viking in training I started running to the sheep stable and behind there was a ditch filled with muddy water. I saw two baby lambs that were sinking in the mud! Immediately I crawled and stood on some old wood in the ditch and managed to pull them out of it. When the farmer lady I was staying with asked me how on earth I heard them from this distance I said: ,,I believe it was the elves".
Another thing I told the girls was that whenever I'm sitting on a rock that I think could be a home to elves I knock on it few times. So there we all sat knocking on Álfaborg and quietly whispering our best regards. So when you visit Iceland and see a funny rock that could be home to an elf, take 5min to knock on it and you never know what might happen.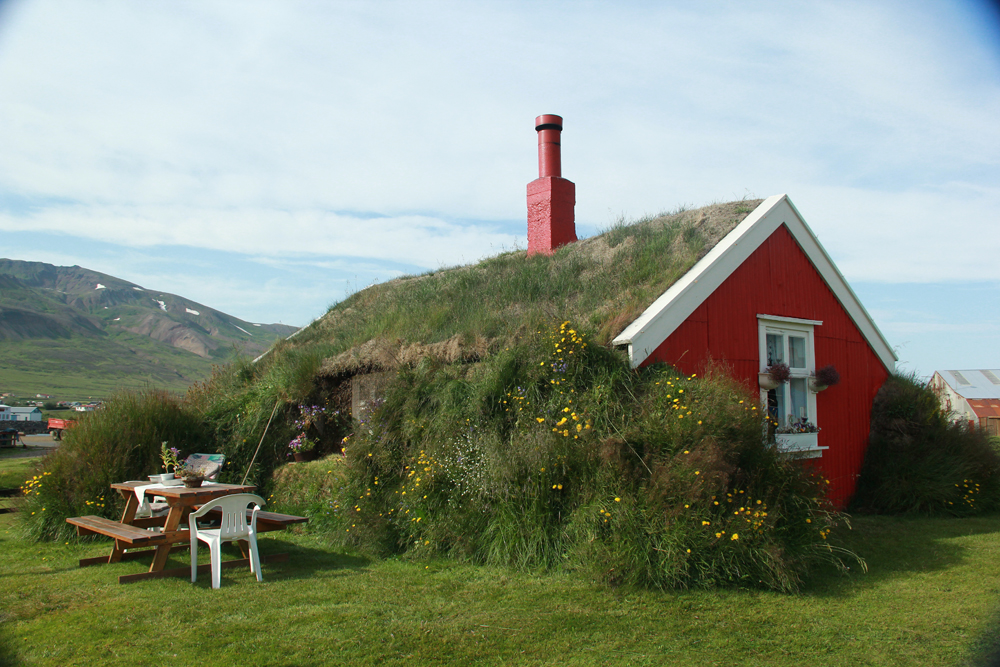 We had to start heading back, but before driving out of town we made one final stop at Lindabakki which is a little old house dates back to 1899. It is now owned by an elderly lady named Elísabet. It has been her summer escape for over the last 30 years. She kindly welcomed us in for a little chat and gave us a tour around the tiny house. It looks very magical from the outside and when driving the main road in town it's hard to miss! Inside was filled with memorable things and after a little chat Elísabet opens up a latch in the kitchen which led to a very small cellar containing a well. We took turns going down there to see it – such a cool surprise! After that we said our goodbyes to Borgarfjörður Eystri.
During the drive back we were all little bit tired after such a long day exploring but the day wasn't over just yet because Icelandair Hotel Hérað had invited us to dinner. We arrived just in time for happy hour and enjoyed sipping on Kaldi beer before starting dinner. Greeted by the hotel manager, Auður, we all sat down for a chat.
The menu choices were excellent. I chose a reindeer steak since that is a major delicacy in the east. It is fairly common to see reindeers roam the hills and moorland in the winter, but in the summer they spend their days hidden in the highlands. Our waitress assured us that a local butchery delivers all their meats and their produce comes from local farms. It was an excellent meal and the perfect way to end our adventures in the east. After we finished our meal, Auður told us a little bit of her career and admitted the real reason she chose to stay in the east (instead of moving back to Reykjavik): the beautiful countryside and the sunshine in the summer! I have to agree with her. We had two days of fabulous sunshine! I just might move here!
I feel like Iceland is an island full of magic and I know many travelers that have visited feel similarly about their experience here. Is it elves, hidden people, Yule lads or just plain Mother Nature messing with us? I will never know! But I will say this: "YES, I'm Icelandic and I believe in ELVES".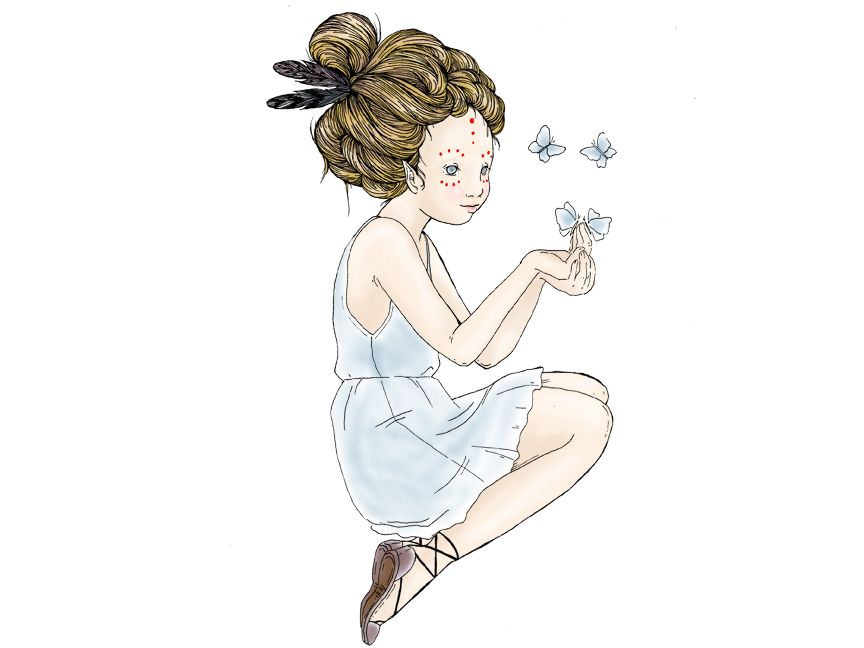 The elf illustration was made by one of our team members, Marika. Check out Marika's art for more of her wonderful artwork.
Have you ever been to Borgarfjörður Eystri? What do you know about elf stories? Do you believe in elves?
© All photos taken by Laura Hundersmarck
Plus if you missed any of stories from the Iceland Challenge, click here for past blog articles.