[Review] Hotel Edda Höfn, East Iceland
Hótel Edda Höfn is located by the harbor with a fantastic view of the bay. On a cloudy day, there is a certain mystical charm as the fog hovers over the bay (similar to the day we arrived!).
The hotel is open from late May to late September. There are 36 rooms with en-suite bathrooms and wifi is available for a small service fee in public areas. The rooms are extremely well lit and comfortable.
Let's not forget the wonderful selection of breakfast buffet items served daily. During our stay, we were especially excited to eat homemade flatbread (flatkökur) and happy marriage cake (Hjónabandssæla), a traditional favorite that brings luck to newlyweds. They also had an array of wholesome breads, fresh fruits, yogurt, cereal, coffee and tea. The perfect start to any day!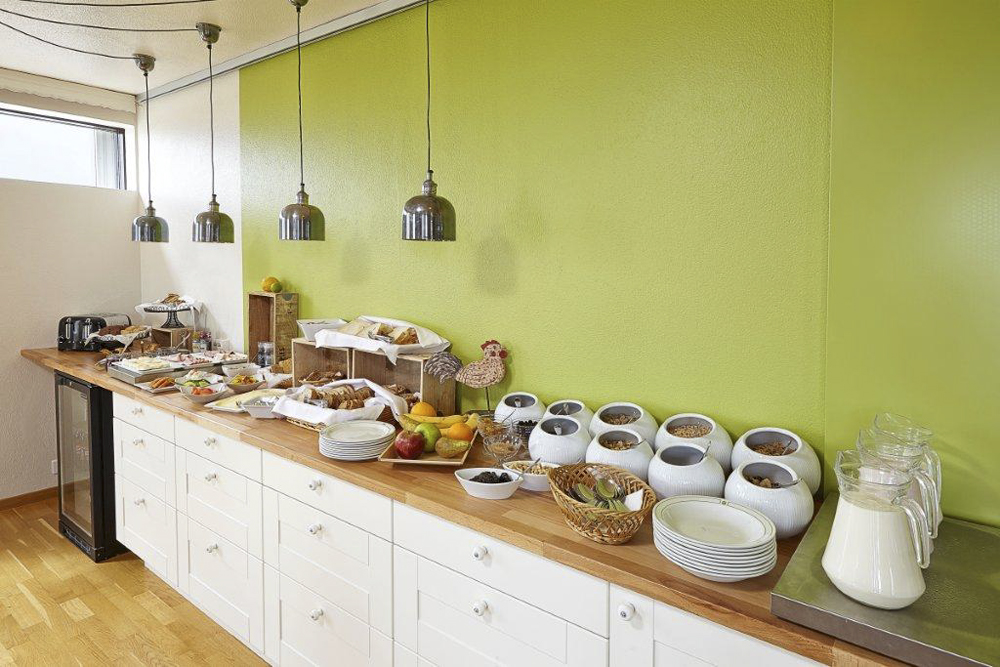 Iceland's largest glacier dominates the activities around the hotel. It is only an hour from Jökulsárlón and a little bit farther from Skaftafell National Park.
After a day of hiking, snowmobiling or driving on the glacier, we recommend stopping by Kaffi Hornið for a bowl of their fabulous lobster soup. It can get a bit crowded during the summer months, but it is well worth the wait. The area is has a reputation for the best lobster dishes in Iceland.
Our favorite part of staying at Hotel Edda Höfn was the spacious room and comfy beds! It felt like heaven after a day of glacier exploring!
Cheers, Inga and Laura
All information was gathered from our own experience and some lines are quoted or paraphrased with approval from the hotel.
If you have any further questions about the hotel, click here and you can find them on Tripadvisor / Facebook / Twitter.
© All photos taken by Laura via Tiny Iceland