Exploring Katla volcano, South Iceland
After a hectic day exploring the South coast, we had a surprise waiting for us when we reached VÍK. Elías the manager of Hótel Edda VÍK had organized a super jeep tour for us with KatlaTrack. We were picked up by Guðjón, the owner of the tour company around 10pm. Guðjón was born and raised in Mýrdalur and since he's a local, he knew so much about the history and geography of the area. After a little chat, it was time for Liz, Marika and I to hop into the super jeep and buckle up! We had no idea what was in store for us, but we were ready for anything.
During summer in Iceland, there is almost continuous daylight so starting a private tour at 10pm is no problem. It was just a little bit surreal since we had been exploring for more than 12 hours already. But off we went from VÍK to one of the largest volcanoes in Iceland: Katla. I had never been up close and personal with Katla, but I had been wanting to ever since I learned about the eruption in 1918, so I was super psyched!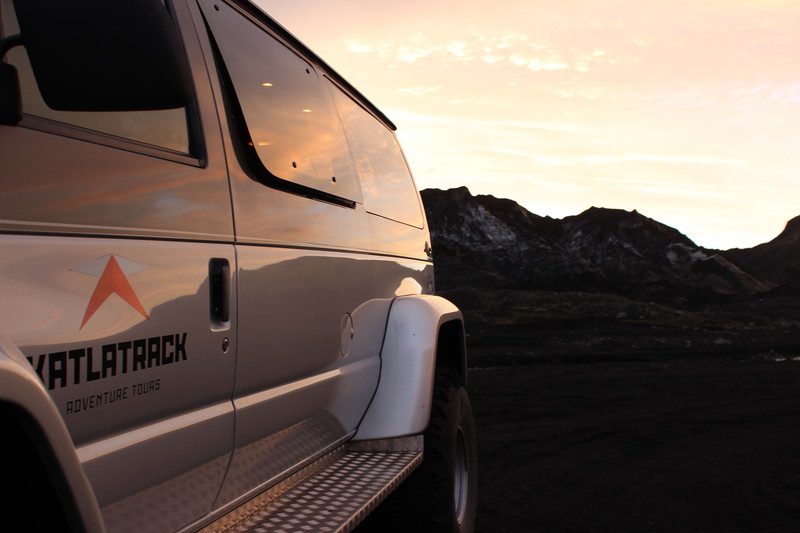 The drive to Katla was very scenic passing large field of bluebonnets (in Icelandic: Lúpína) and endless black sands. Guðjón entertained us with stories about how Katla got its name and the danger that another big eruption would cause. To top it off, he put on the song "High way to Hell by AC/DC" a couple of minutes before arriving to get us all going! We all just laughed; the moment felt so surreal. In front of us, covered by thick glaciers, we saw Katla volcano. The midnight sun was bursting in orange as we drove over black sand hills trying to get closer to "HELL" (aka the result if Katla would wake up at any moment.) Of course, the volcano is monitored so we weren't in any actual danger. Also you should know that it's not possible to drive this route without a guide.
Katla normally erupts every 40-80 years, but scientists believe that a small eruption happened after Eyjafjallajökull erupted in 2010. So Guðjón told us that the people of VÍK are still waiting for a BIG Katla eruption. It's not a question of 'if,' but 'when' which is why scientists and citizens are always on alert. Katla is buried under thick ice so if a similar eruption to the one in 1918 will occur, it will create a tsunami that could devastate VÍK.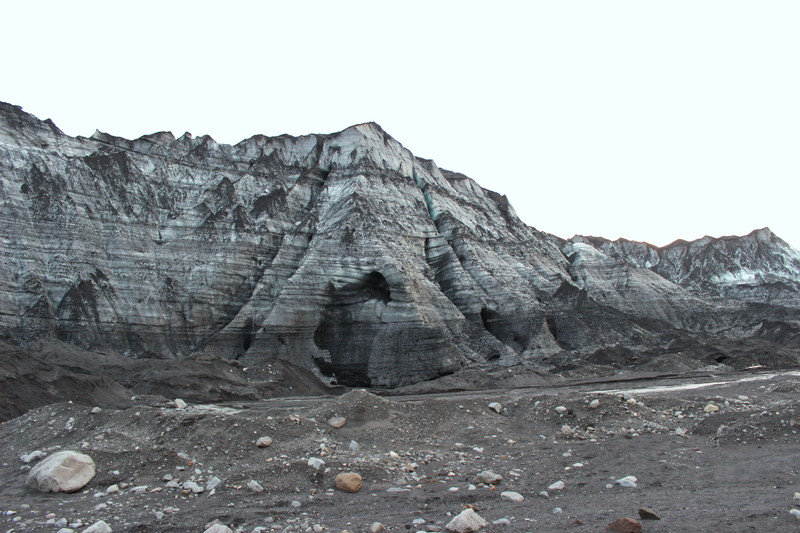 After we walked around the area, Guðjón drove a different route back and showed us a safe house. It was a creepy house as you can see in the photo below and we were all pretty sure it was haunted. To tell you the truth, if the midnight sun wasn't out, I would have stayed in the car!
Even though we were all a bit spooked by the house, we sat down for a cup of coffee and Guðjón told us some more stories about the area. It was already well past midnight, but we still had one more spot on our list: Hjörleifshöfði cave named after Hjörleifur Hróðmarsson. Brother of the famous Viking Ingólfur Arnarson (the first Nordic settler), Hjörleifur settled here in the year 874.
A year later, Hjörleifur was brutally murdered by two of his slaves and his brother made sure to seek revenge for his brother's death. 'Hjörleifshöfði' is deserted today and both brothers are buried on the highest point of the mountain. Long after Hjörleifur was killed no one dared to settle here believing the place to be haunted by supernatural beings. People have encountered a lot of unexplainable phenomena and many have been strongly affected by the place.
We wrote more about Hjörleifshöfði in the post #IcelandChallenge Day 3 – The day we hiked up to the brother's tomb "Hjörleifshaugur".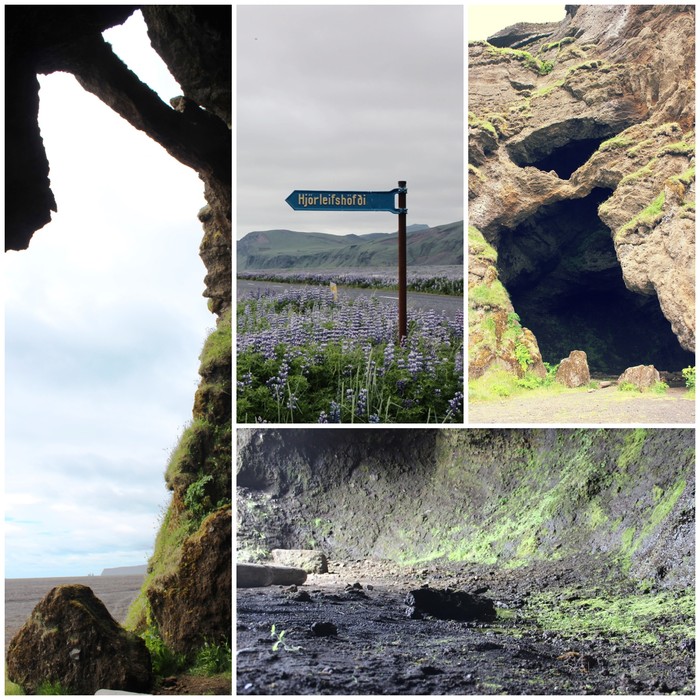 The night ended with a bang! Guðjón convinced us to sing Icelandic songs in the cave to ward off the ghost of Hjörleifur and of course we did it! It was a magical night and after an adventurous three hour tour, it was finally time to head back to Hótel Edda VÍK to get some sleep. What a hell of a surprise! We want to say a big thank you to Katlatrack and Elías from Hótel Edda VÍK for organizing our private tour of Katla volcano; we loved it! TAKK FYRIR // Thank you
Cheers, Inga
Shout out to Lovisa Lay Low for giving Tiny Iceland permission to use her song By and By. Check out her music at laylow.is/
Plus if you missed any of stories from the Iceland Challenge, click here for past blog articles.