Trip in Iceland 2013 part 4/5
After all the excitement of last night (part 3/5), you'd have thought we'd earned a sleep in, but no. It was with great trepidation that I put my Holiday Bootcamp cap back on blew the whistle at 7am to rouse my jet lagged sister and sick mother. It was still dark outside and although they wanted nothing more than to stay in bed, I knew what wonders were awaiting them. I gently insisted they get up and get ready. By Patches McGee, aka Naomi Doyle. (March 2, 2013)
We made the short walk from Room with a View to the Iceland Excursions head office under a sky turning intensely pink with the rising sun. We were met there by Inga from Tiny Iceland who boarded the bus with us for the Golden Circle Classic Tour. This tour is a must for first-time visitors to Iceland, especially if you're short on time. It's a perfect 'Best of Iceland' compilation tour!
We first made our way to Þingvellir National Park to watch the sun rising over the plains protected by UNESCO for their historical, cultural and geological significance. The name Þingvellir translates into "parliament meadow", so named as it is the founding site for democracy in Iceland. It also happens to straddle the line of continental drift between the North American and Eurasian Tectonic Plates. We were let off the coach on Eurasian side, walked through the space in between passing waterfalls, pristine glacier fed fissures and lakes still frozen with winter to re-board on the North American side (or was it vice versa? I'm not sure).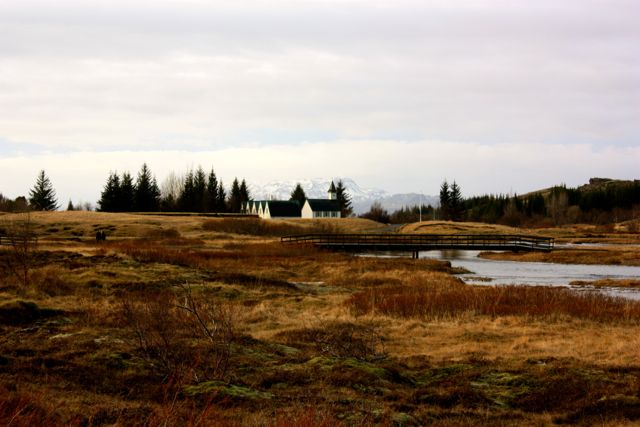 Back on the warm bus, we drove onto to Gullfoss – the Golden Waterfall – which thunders with the power of 109 cubic metres per second! It is nothing short of majestic and on such a cold day, the spray from the falls seems to crystalise in the air… and on the ground making it a tad slippery. Bec and I got a good hold on Mum and carefully, very carefully, inched our way down the steps to the edge of the falls. I had a sudden flashback to the first time I did this tour many years ago – it was a very similar day – chilly and surrounded by little frozen puddles with surfaces cracked by the eager heels of tourists. As I went to make my own mark with my too-thin-boots, I saw clearly in my minds eye the image of Matthew doing the same with his camera around his neck, tucked into his old buttoned-up coat to protect it from the spray and himself from the cold. It is an image of him I love so dearly because he seemed so happy. I looked down at the lump under my own old coat made by the camera that is slung around my own neck these days. It was a strange transposition that gave rise to mixed emotions of sadness that he is gone and pride that I have found the wherewithal to make up for his lack in so many ways. Mum and Bec retreated to the warmth of the restaurant and gift shop while Inga and I explored a little more. We joined them soon after for a hearty soup lunch before having a little poke around the shop. For as long as I've been coming to Iceland, I've had my heart set on buying a knitted Icelandic wool dress. There's been no shortage of them, knitting seems to be a national pastime here, but for one reason or another, I never have… until today! This one caught my eye – it's certainly not as crazy as some I've seen, in fact it's a fairly sensible charcoal grey but it's as cute as all get out! Left to my own devices, I probably would have looked and left but Mum and Bec convinced me to try it on and seeing how sweet it was with its little elfin hood, twisted my arm into buying it. I'm glad they did!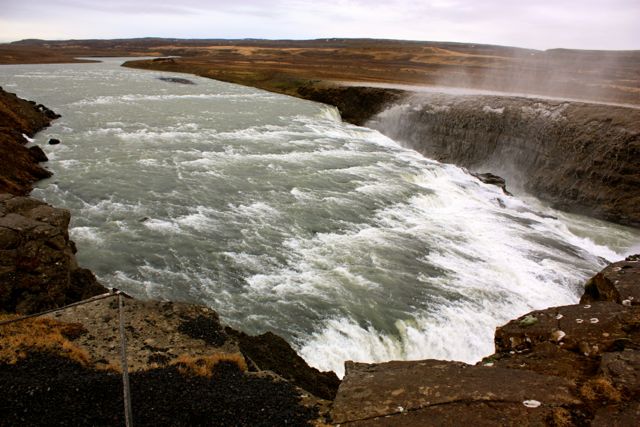 Our next stop was the Haukadalur geothermal area, home to Geysir, the first geyser ever described in print. In fact, the word geyser comes from the Icelandic 'geysir' meaning 'to gush'. Sadly, it is now dormant but it's little brother, Strokkur, still erupts every 5 minutes or so, shooting geothermal water 30 meters up into the air with volcanic force. It is awesome in the the most literal sense of the word. Obviously we could see it at a distance but it's something else entirely to stand up close and personal, watching and waiting for it to blow with such tremendous power. We did that for some time, trying to catch the split second moment of eruption on camera. When I was satisfied that I'd done the best I could, we wandered around the surrounding field which looks for all the world like the surface of a far flung planet with its mud pools, fumaroles, algal deposits and other smaller geysers (including Litli Geysir – how cute is that name?!).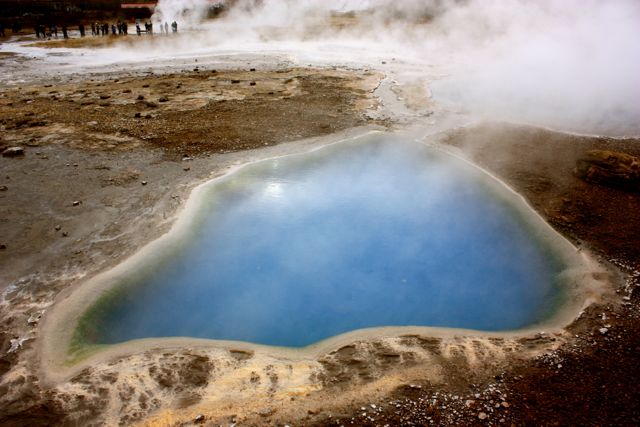 Having now visited the three major landmarks of the Golden Circle tour, I expected that we'd now be headed for home but our guide and driver decided to add an extra stop for good behaviour. We pulled in at the lesser known Faxifoss or Horse Mane Waterfall where not even Inga had been before. What delighted me most though wasn't the waterfall but the snow fall that started the moment we stepped off the bus and continued to our next unscheduled stop at Kerið – a red volcanic crater containing an aquamarine lake in fresh white snow!!! Apparently Björk once performed a concert from a raft in the lake – talk about 'emotional landscape', I was so overwhelmed and excited that I could've puked! Mum watched on from the bus while Bec and I danced around in the snow. Growing up in the hot outer suburbs of Sydney, 'snow' was as fanciful a notion as 'volcanoes' or a place called 'Iceland' and yet whenever I see snow fall, I feel the infantile joy of a five year old. Having my big sister with me who, with a look, I could tell was experiencing the same sense of wonder, made the moment infinitely more magical.
The snow continued to fall apace. We drove on in driving snow and watched the world turn white as we went. By the time we reached Skálholt, the ancient seat of the church in Iceland, the snow had lightened to few rogue flakes. We had a look around the cathedral and the smaller adjoining grass chapel before hopping back aboard to thaw out again. Just when we were almost out of steam, we arrived at a place full of it – our last stop – the Hellisheiði Power Station which is the largest geothermal power station in Iceland and the world. It is impressive by any standard but especially in the almost imperceptible carbon footprint in allows Iceland to make. The sun set as we made our way back to Reykjavik with our tireless guide still keeping us thoroughly informed and entertained. Throughout the day, she regaled us with stories tall and true from Iceland's colourful past through to its impressive modern day status as the best country for gender equality in politics, education, employment and health. With every fact and figure she quoted, I fell more in love with this Utopia. We even had a fairytale about the Ptarmigan read to us as we made our final approach. But it was no bedtime story, not by a long shot! The night was just getting started!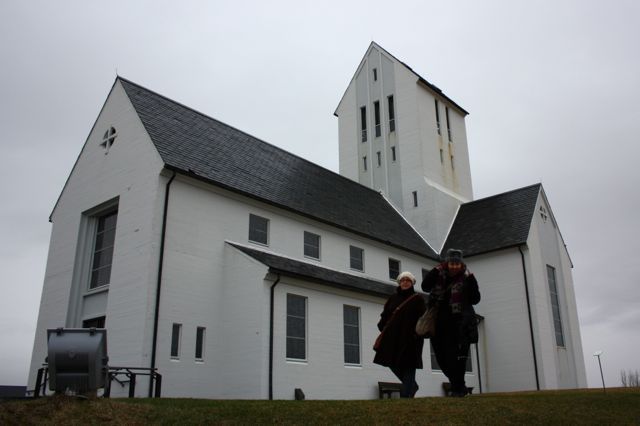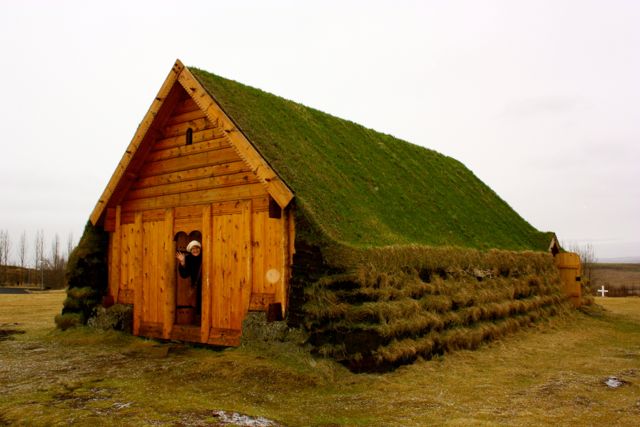 Naomi Doyle, aka Patches McGee is a writer, traveller and phone-ographer. Thank you Naomi for sharing this exciting post. Check out Naomi's guest profile.
Here are notes from Naomi's mom & sister:
Patches McMum: Our Golden Circle day started quite early after our late night. We went to the Þingvellir National Park where parliament started in Iceland. We saw the most amazing waterfalls, glaciers and glacier fed streams, we walked in the space between the earth's tectonic plates, we saw geysers, boiling running hot water and ice on the ground that crunched when you walked across it (without falling over too which was a miracle). What impressed me was the landscape and the wonderful folk lore (including the story of the 'axe in the river' which got there when a troll, who was known for eating tourists, was attacked by the locals who axed him in the back. The Troll removed the axe and threw it in the river, hence the name of the river). We also had a beautiful lunch at a travel centre with the best meat-soup (Kjötsúpa) in Iceland. At night we headed off to the world's biggest secret supper club. We were allocated seats apart from each other but I was near Bec. My biggest fear was that I'd be seated next to a young man who could only speak Icelandic so mentally I was brushing up on my charades. But luckily he spoke perfect English and wanted to know all about Australia so I was fine. The supper was wonderful, beautiful presentation – the NZ think they have the best lamb, the Icelandic people think they have but we know we do! The food was absolutely melt in your mouth beautiful. The Icelandic Men's Choir reminded me of The Sound of Music with its old world charm. The people we sat with were very charming, friendly and we had wonderful conversations about work, life etc. Good night, another beaut day in Iceland!
Pretty Patches: After a 40+ hour day all I needed was a good sleep in to get the weekend off to a great start. Unfortunately today was not going to be that day. Naomi had a day planned full of adventure that meant dragging my tired body out of a very comfortable bed, putting every piece of clothing I packed back on and facing a very early and very cold morning. Today we were doing the Golden Circle tour, I was pretty sure I was going to sleep through most of it but I'm sure from all that Naomi has written you can see how that wasn't possible. Today was an amazing day touring a place unlike any other I have ever seen, we were more than expertly guided through the country side while being educated on the history of Iceland and some bloke called Denis King, he had a starring role in the tales we were being told. I later learnt that Denis was actually the Danish King, which makes a lot more sense. Naomi has more than described our fantastic day, for me I loved the landscape, the frozen puddles of water and of course being snowed on all of which is endlessly amusing for 3 Australians who only need a jacket or a jumper for a few months of the year.