Tales of Borgarfjörður Eystri Part I
Off to an elf town to hear folklore tales and relax in an outdoor hot tub overlooking the North Atlantic! Have you ever been to the remote town of Borgarfjörður Eystri? If not, read on to hear about the first half of our day in this beautiful spot.
I woke up energized after a good night's sleep and psyched to spend the entire day in one place. We planned to drive an hour and half to the remote town of Borgarfjörður Eystri (not to be confused with Borgarfjörður located in the west – 'eystri' means east). Borgarfjörður Eystri is located in the valley of the northernmost fjord in the east. It is incredibly secluded and the main road is known to close down in the winter due to dangerous driving conditions.
We started the day with an excellent breakfast at Icelandair Hotel Hérað complete with Skyr, granola, bread, cheeses and even Nutella to satisfy my slight chocolate obsession. We threw back a few more gel caps of Lýsi to keep our energy up…still not used to the flavor, but I wasn't going to deny a kick to my immune system!
Bryndís, the lovely concierge, had made special plans for us to start our day at the newly opened Blábjörg Guesthouse and Spa in Borgarfjörður Eystri. At 9am and in shocking 20 degree weather, we piled into the car in sleeveless shirts and shorts. An elf's blessing? We think so. The road to Borgarfjörður Eystri is mostly gravel, so it's a good idea to buy gravel protection if you are planning to drive to this route. Inga is a master driver on gravel roads and saved us from hitting a sheep that literally dashed across the road out of nowhere! This was what I had been afraid of the other day driving through the mist and in broad daylight we almost smashed into a runaway sheep. How ironic is that?
Transport by land to Borgarfjörður Eystri has always been troublesome. It involves driving over a mountain and following a precarious shoreline road along the cliff. The area is known for avalanches in the winter and mudslides during heavy rain. Fortunately we didn't have to deal with either, so at the top we stopped for a second to enjoy the magnificent view. It seemed like the perfect spot for Liz to complete the next Iceland Challenge: drink from an Icelandic river. It really is something everyone should try. Since most of the water comes from glaciers and melted snow, the water is startlingly clean. Just ask Liz!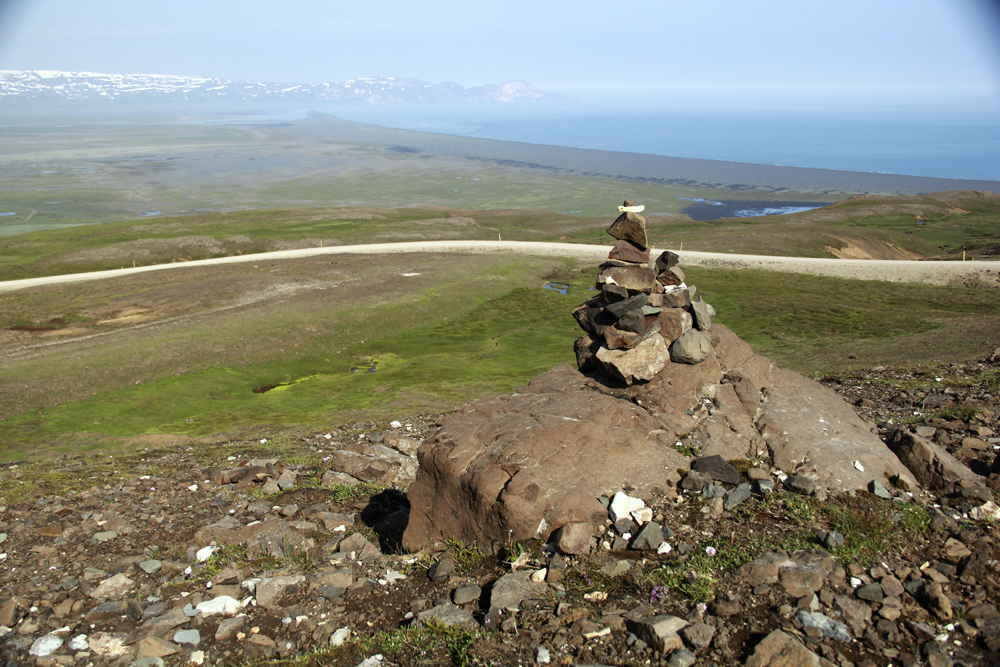 The shoreline passage is the more treacherous road of the two. In the past, this passage has claimed many lives due treacherous weather conditions. The locals will tell you it's the work of a mischievous monster named Naddi who made Njarðvíkurskriður his home for centuries. Naddi was described as having the lower body of a man and upper body of a beast. He lived in the gully (which has since been called Naddagil) and attacked travelers after dark. Legend has it that late one autumn evening a son of Björn Skafinn named Jón was eager to cross Narðvíkurskriður on his way to Njarðvík. It was reaching darkness and people on the farm begged him to wait until daylight, but he was reluctant to change his travel plans. He set off into the night and encountered a vicious Naddi just outside the infamous gully. They fought long and fierce, until Naddi escaped and dragged himself out to sea. Jón survived, but arrived heavily injured in Njarðvík and lived to tell the tale. A cross—known as Naddakross—was erected to mark the spot of the battle. The cross still remains and is known to provide safe passage to all travelers passing through Narðvíkurskriður.
Thankfully, we didn't encounter Naddi on our way through Narðvíkurskriður, but the road is clearly dangerous and it is important to proceed with caution to avoid veering off the cliff. We had our first glimpse of Borgarfjörður Eystri after we rounded the fjord. A tiny little town of about 300 inhabitants came into view surrounded by the most magnificent mountains.
We arrived at Blábörg Guesthouse and Spa around 10am and were greeted by the owner, Helgi. He escorted us downstairs to the wellness area which has two indoor/outdoor saunas as well as two indoor/outdoor hot pots. This place was absolutely magical. It was right on the coast of the North Atlantic with a fantastic view of the mountains surrounding the town. We lounged in the hot tub for a little marveling at our luck before we agreed on our next challenge for Liz, the Young Adventuress: jumping into the North Atlantic ocean. Challenge accepted. The water is a frigid 12°C (53°F) and let me tell you, it really does hit you "like a thousand knives stabbing you all over your body" (props to whoever likes Titanic as much as me). It was so exhilrating despite the cold! I felt refreshed and you can't even feel the cold once you get out of the water…granted it was 25°C (77°F) degrees out!
I can't tell you how nice it was to lay out in the sun and soak in the hot tub after that. I wasn't cold in the slightest. I never thought I would say this, but yes, I sun bathed in Iceland. Who would have thought? I sure as hell didn't. This was the best weather I had seen all summer and we stayed there all morning enjoying it. It wasn't until a newlywed couple showed up that we felt it was time to go. Ah, what a way to start married life! On behalf of our Iceland Challenge crew, I want to say a big thank you to the owners of Blábjörg Guesthouse and Spa for their outstanding hospitality! We couldn't asked for a more enjoyable atmosphere!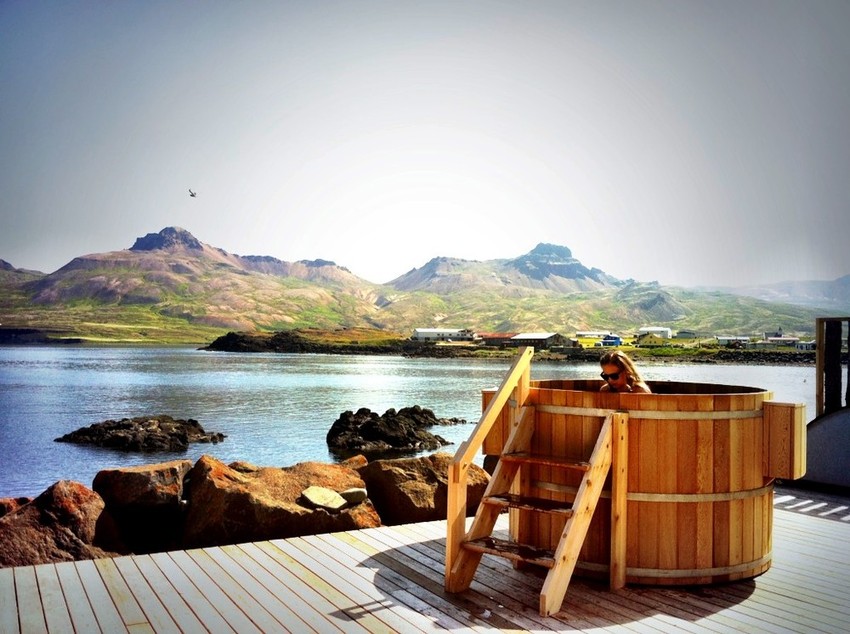 Our next stop was Álfakaffi (translated as 'elf café') for a bite to eat. Opened in 2005, the café is a short distance from Blábjörg. They offer a fabulous all-you-can-eat fish soup among other traditional Icelandic dishes. The café seems to draw a fair amount of locals, but they have a few souvenirs for sale for the tourists.
In the afternoon we had a few special events planned. We planned to listen to elf stories from a local, photograph puffins, climb to the top of Álfabjörg (home of the Queen of the Elves!) and visit a traditional turf house. Read Tales of Borgarfjörður Eystri Part II by clicking here.
© All photos taken by Laura Hundersmarck
Plus if you missed any of stories from the Iceland Challenge, click here for past blog articles.