Heading South to Reykjavík ~ #IcelandChallenge Day 7
On our last day, we traveled from Akureyri to Reykjavik which takes about 5 hours. We spent the time exchanging good music, enjoying the scenery and discussing our favorite parts of the trip. I don't recommend making this trip in such a short time, but we were excited to get to Reykjavik to enjoy a night on the town!
Before we said goodbye to Sigrún at Icelandair Hotel Akureyri, we had the pleasure of hearing the story behind a huge photograph that hangs on the wall in the lobby of the hotel. It's a historical photograph of a group of scientists from the Danish Meteorological Institute. In the year 1900, they hiked to the top of the mountain Súlur (4000 feet) and constructed a research lab to study the weather patterns and document the Northern Lights. The Danish painter, Harald Viggo Moltke was the resident artist in charge of documenting the Aurora Borealis and revealing their beauty on his canvas. The photograph shows four men and two women celebrating on top of the mountain pouring champagne. The most interesting aspect of the photograph is the clothing of the men and women. They are donned in their finest attire (even though it was probably freezing up there) and the women even wore heels! Can you imagine climbing 4000ft in heels? I'm so happy I didn't live in the 1900s.
Sigrún laughed and told us that later that summer she and a few friends were going to hike up Súlur to recreate the photograph on the wall—20th century clothing and all! We asked her to send us a picture and as you can see below, they made it!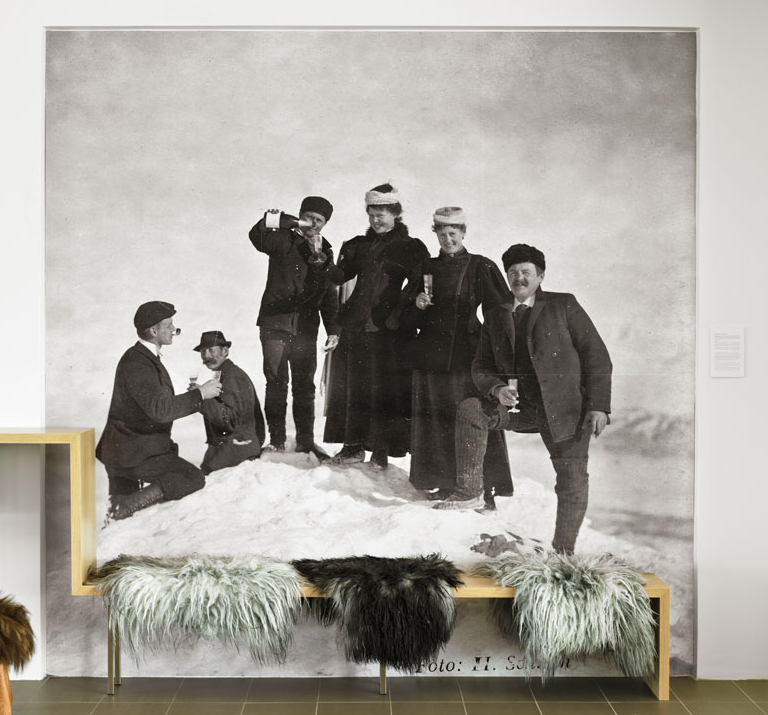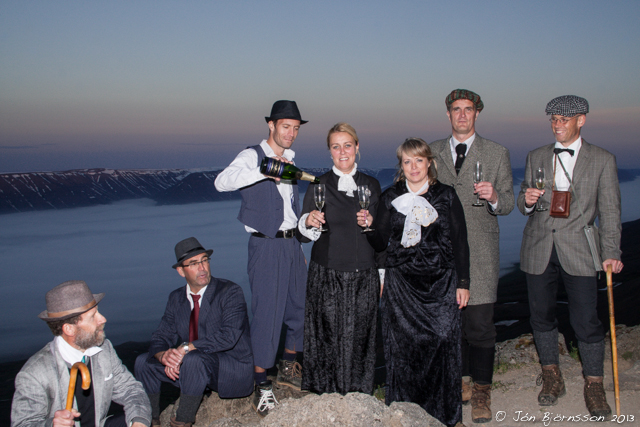 If there is one thing Akureyri is known for, it is a local ice cream parlor called Brynja. It is absolutely incredible and although it was still quite early in the morning, I made everyone try it. It is rumored to be the best ice cream shop in the country. The reason people find their ice cream so good is probably because they use milk, instead of cream. Don't get me wrong, I like my ice cream creamy, but Brynja's recipe is excellent. It's located in the old part of town close to the Botanical Gardens, which are worth a visit as well. I'm pretty sure I finished everyone's ice creams for them on top of my own. I can eat ice cream all day, every day.
With our ice creams in hand, we walked around the old town which was extremely pleasant. There are signs every way pointing out the former uses of buildings and the story behind them.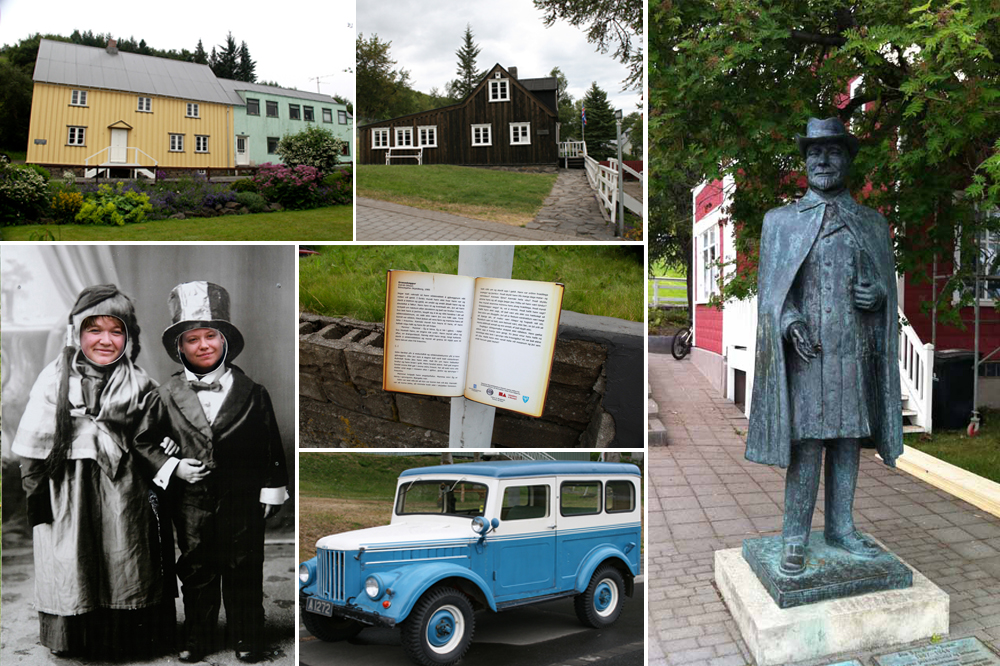 We wandered to the end of town towards the Akureyri Museum. They had an exhibition showcasing the town in the 1900s.  Like Sigrún told us the night before, the people of Akureyri have always been very independent and were never tied down by well-being of Reykjavik. They were a thriving trading post for the North and maintained a prosperous fishing industry which allowed them to be largely independent. For more information on the subject, click here. We walked upstairs for the Northern Lights Exhibition to see Moltke's oil paintings and some recent photographs of the Aurora. It was pretty incredible how he captured the dancing streaks. From the caption, we learned that he made initial sketches of the auroras in pencil strokes since the light was too faint for painting. The next morning, he would paint based on his notes of their color and his sketches.
Driving from Akureyri to Reykjavik is about 386km (5-5.5hrs). Since we planned a fancy dinner and pub crawl, we had to get on the road by noon at the latest. It was our longest drive in one stretch throughout the entire Iceland Challenge so each of us took turns driving and resting. We didn't have time to do much sightseeing on the way, but we stopped at a few gloomy rest stops. When we hit Borgarfjörður (the one in the West), the clouds opened up, the sun started to shine and it was a clear skies all the way into Reykjavik—a great welcome home, if I do say so myself.
We rolled into town a little after 5pm and dropped Marika off at the Icelandic Phallological Museum, also known as the Penis Museum. Yup, you read that right. Perhaps your friends who have been to Iceland conveniently forgot to mention their little trip to this museum out of embarrassment, or better yet, they were probably just giggling too hard that you almost didn't hear them. Yes, Reykjavik is the proud home of probably the only museum in the world containing a collection of phallic specimens belonging to various mammals. Marika heard about the museum back in Portland and told us it was the one thing she had to see just because it sounded so ridiculous. I'm pretty sure she enjoyed herself.
We dropped Liz off at Icelandair Hotel Reykjavik Natura to check in and Inga and I went home to drop off our stuff and change for dinner. Liz knew two other travel bloggers were in Iceland through the stopover program, so Inga managed to get them two seats at our table for our Iceland Challenge Farewell dinner! Nicole Blaess-Smith, who documents her travels on "Bitten by the Travel Bug" and Dylan Lowe who runs "The Travelling Editor" were happy to join us. It happened to be Dylan's 25th birthday, so of course we had a night of celebration ahead of us. Inga also invited her friend Davíð who runs a food blog known as "The Food Perv" so we had quite the get together.
Inga chose one of her favorite restaurants for our dinner: Vegamót. We started the night with a platter of Tapas a la Vegamót and everyone got to know each other a bit better. Liz had been traveling earlier in the summer with Nicole and Dylan on a press trip in Italy and Davíð is a major food buff, so the conversation turned to food and our mutual love of traveling. Davíð wrote a post about our lovely dinner which I highly recommend you read: http://www.thefoodperv.com/2013/restaurant-review/vegamot/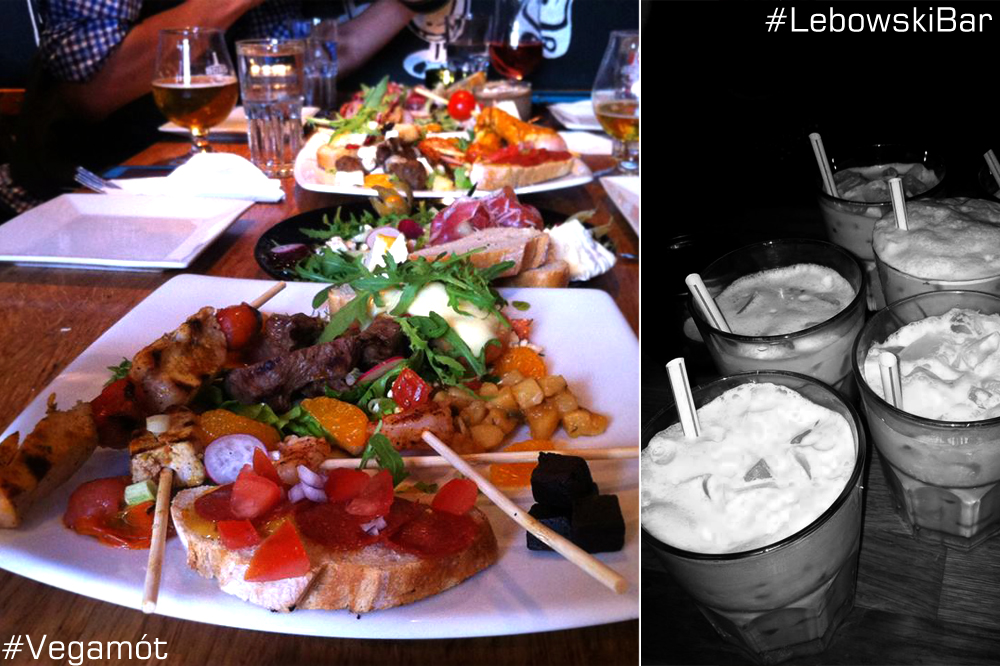 After an excellent dinner, it was time to get the party started. Our first stop was at Den Danske Kro which is a Danish-themed pub with a variety of beers and live music every night. We all started trying different beers, laughing and singing along to the band. I swear they only play songs that everyone knows; it's great! The next thing we know, Inga's ordering a round of Brennivín and Topaz (licorice-flavored shots, what else?) for everyone to try. Although, I had quite a few of those already after spending the entire summer there, I still threw one back.
A night on the town wouldn't be complete without heading up the street to Lebowski Bar. The bar is decorated and themed from the cult movie "The Big Lebowski" and they are known for the best White Russians in Reykjavik. I believe they have fifteen kinds on their menu and during the day they have a full 50s style diner in the back with awesome milkshakes! 😉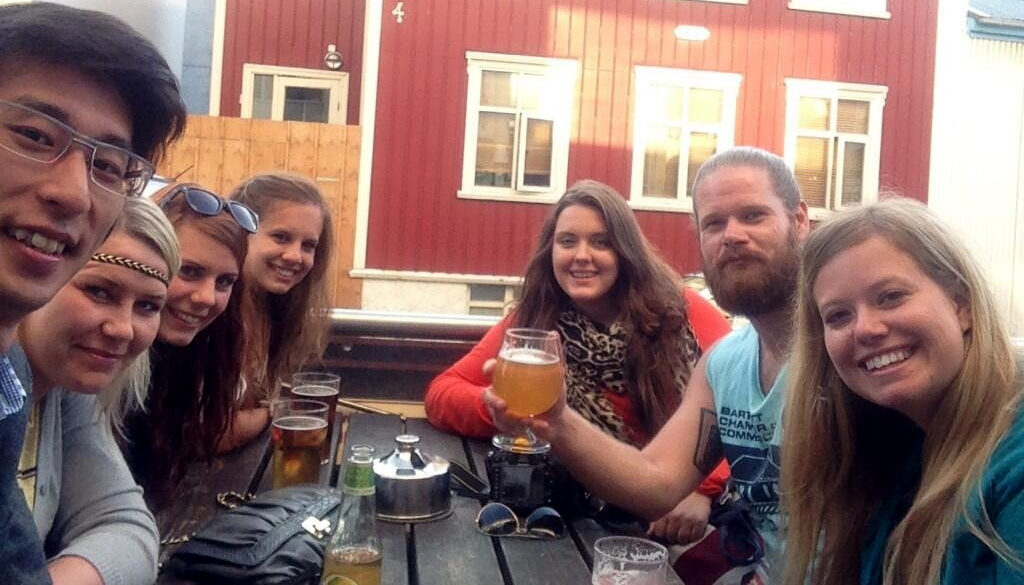 It was a great night with wonderful people and I think we all realized what a hell of an Iceland Challenge these past 7 days had been. We were constantly moving, pushing ourselves to see more, experience more and still appreciate all the beauty around us. Although, I do recommend coming to Iceland for seven days through Icelandair's Stopover Program, I guarantee that you'll be back for more! Once you get your first taste of Iceland, there's nothing quite like it.
What do you think? Are you thinking about doing your own Iceland Challenge? What are you favorite spots from our trip? And if we missed a spot, where would you recommend other travelers to go?
For our Iceland Challenge, Sixt Car Rental generously provided us with a car so we highly recommend you check them out when planning an Icelandic road trip.
Plus if you missed any of stories from the Iceland Challenge, click here for past blog articles. 
Love from Iceland,
Laura and Inga
© All photos taken by Laura Hundersmarck 
For more photos from the #IcelandChallenge click here and get wonderfully lost.