The Icelandic Yule Lads bear little similarity to the world-famous Santa Claus. In contrast, the Icelandic Yule Lads are descended from trolls and their original role was to strike fear in the hearts of children. The thirteen brothers are the sons of two of the most hideous ogres ever known in Iceland, Grýla and Leppalúði. Follow the journey of the Yule Lads brothers with Tiny Iceland.
No doubt most children would have wanted to avoid the Icelandic Yule Lads in the old days, since they were used by parents to frighten their children into behaving – just as Grýla and Leppalúði are today.
Grýla and Leppalúði have been known for beeing bloodthirsty child-eating trolls. (As you can see in the photo below Grýla has something in her bag)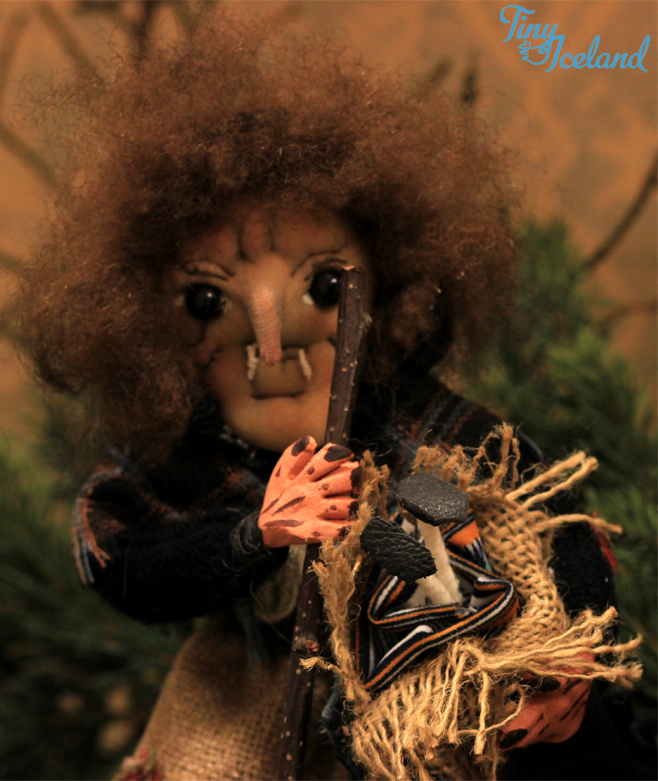 In the 20th century, the Icelandic Yule Lads became strongly influenced by their foreign colleagues, both in terms of conduct and appearance. They began wearing red garments on special occasions, similar to the Santa Claus. They also developed an unprecedented kindness towards children, to the point where they started depositing gifts.
Even though the Yule Lads took on the role of Santa Claus by his appearance and bringing gifts to children their number stayed unchanged (13). Icelanders are proud of the Yule Lads folklore so their names have been the same all this time. If the Yule Lads have a show to attend in Iceland they would always introduce themselves with their Santa Claus name (e.g. Kertasníkir – Candle Stealer). So nowadays the brothers put gifts (or potato if the child has misbehaved) into shoes placed by children on their window sill. This tradition has become very popular in Iceland in recent years and almost every child participates with their family last thirteen nights before Christmas Eve.
| | |
| --- | --- |
| | |
It's also common that children give the Yule Lads gifts. You might be thinking cookies and milk but that is not the tradition in Iceland. Many children give every Yule Lads a gift that resembles their names. Let's say Kertasníkir (Candle Stealer) would be arriving tonight a child would place a candle by their shoe hoping it might put a smile on the Yule Lad and in return they will get a bigger present in the shoe.
I (Inga, Tiny Iceland) visited an elderly woman the other day who owns a special collection of the Yule Lads. This collection was made by Helga & Þórunn Egilsson (sisters), modern craftswomen who were inspired by a traditional folklore to create a charming walnut-headed, woolen-clad & pint-sized Yule Lads. It took the sisters quite some time to make the collection (e.g. they knitted all the sweaters, hats and gloves themselves) and only a small production was made every year. This Yule Lads collection had me so fascinated that I'm on the hunt now to buy my own. Stay tuned for more charming walnut-headed Yule Lads!
The last Yule Lad "Kertasníkir" (Candle Stealer) arrives on Christmas Eve Day, Dec 23th. In former times, candles were the brightest lights available to people. They were so rare and precious that all children longed to have their very own candle for Christmas. And poor Candle Stealer – well, he also longed for a candle.
The thirteenth was Candle Beggar
- 'twas cold, I believe,
if he was not the last
of the lot on Christmas Eve.
He trailed after the little ones
who, like happy sprites,
ran about the farm with
their fine tallow lights.
Þorláksmessa (Mass of St. Thorlac), Dec 23th, is the day of "Ketkrókur" (Meat Hook) arrival. Meat Hook was crazy about meat. In the old days he would lower a long stick through the chimney and snag a smoked leg of lamb hanging from the rafters, or a piece of smoked lamb from the pot. In those days the smoked lamb, which is traditional Icelandic Christmas fare, was cooked on St. Thorlák's Day. In modern times many Icelanders have fermented skate for dinner. (If you thought fermented Hákarl smelled bad this is ten times worse).
Meat Hook, the twelfth one,
his talent would display
as soon as he arrived
on Saint Thorlak's Day.
He snagged himself a morsel
of meet of any sort,
although his hook at times was
a tiny bit short.
"Gáttaþefur" (Door Sniffer) came to town Dec 22th He is easily recognised by his huge nose. He loved the smell of cakes and laufabrauð (lace bread/leaf bread) when they were being prepared for Christmas, and always tried to steal one or two.
Eleventh was Door Sniffer,
a doltish lad and gross.
He never got a cold, yet had
a huge, sensitive nose.
He caught the scent of lace bread
while leagues away still
and ran toward it weightless
as wind over dale and hill.
Dec 21th "Gluggagægir" (Window Peeper) arrived and this Lad was not as greedy as some of his Yule Lads brothers. He just likes to peep through windows and sometimes steals the toys that he sees.
The tenth was Window Peeper,
a weird little twit,
who stepped up to the window
and stole a peek through it.
And whatever was inside
to which his eye was drawn,
he most likely attempted
to take later on.
Photo: MS Iceland Dairies
Dec 20th "Bjúgnakrækir" (Sausage Swiper) came strolling into Reykjavik from the mountains. His favorite thing is to eat sausages and steal them whenever he has a chance.
The ninth was Sausage Swiper,
a shifty pilferer.
He climbed up to the rafters
and raided food from there.
Sitting on a crossbeam
in soot and in smoke,
he fed himself on sausage
fit for gentlefolk.
Dec 19th we welcome the Yule Lad called "Skyrgámur" (Skyr Gobbler). His favourite is an Icelandic dairy product called skyr, which is similar to yogurt. He likes it so much that he used to sneak into the pantry and gobble all the skyr out of the skyr tub.
Skyr Gobbler, the eighth,
was an awful stupid bloke.
He lambasted the skyr tub
till the lid on it broke.
Then he stood there gobbling
- his greed was well known -
until, about to burst,
he would bleat, howl and groan.
"Hurðaskellir" (Door Slammer) comes to town on Dec 18th. He always made a lot of noise when he walked around, slamming doors and such, so people could hardly get any rest.
The seventh was Door Slammer,
a sorry, vulgar chap:
When people in the twilight
would take a little nap,
he was happy as a lark
with the havoc he could wreak,
slamming doors and hearing
the hinges on them squeak.
Photo: MS Iceland Dairies
"Askasleikir" (Bowl Licker) comes to town on Dec 17th. In the past, Icelanders ate from lidded wooden bowls that they sometimes kept under the bed or on the floor. Bowl Licker would hide under the bed, and if someone put their bowl on the floor he grabbed it and licked the inside clean.
Bowl Licker, the sixth one,
was shockingly ill bred.
From underneath the bedsteads
he stuck his ugly head.
And when the bowls were left
to be licked by dog or cat,
he snatched them for himself
- he was sure good at that!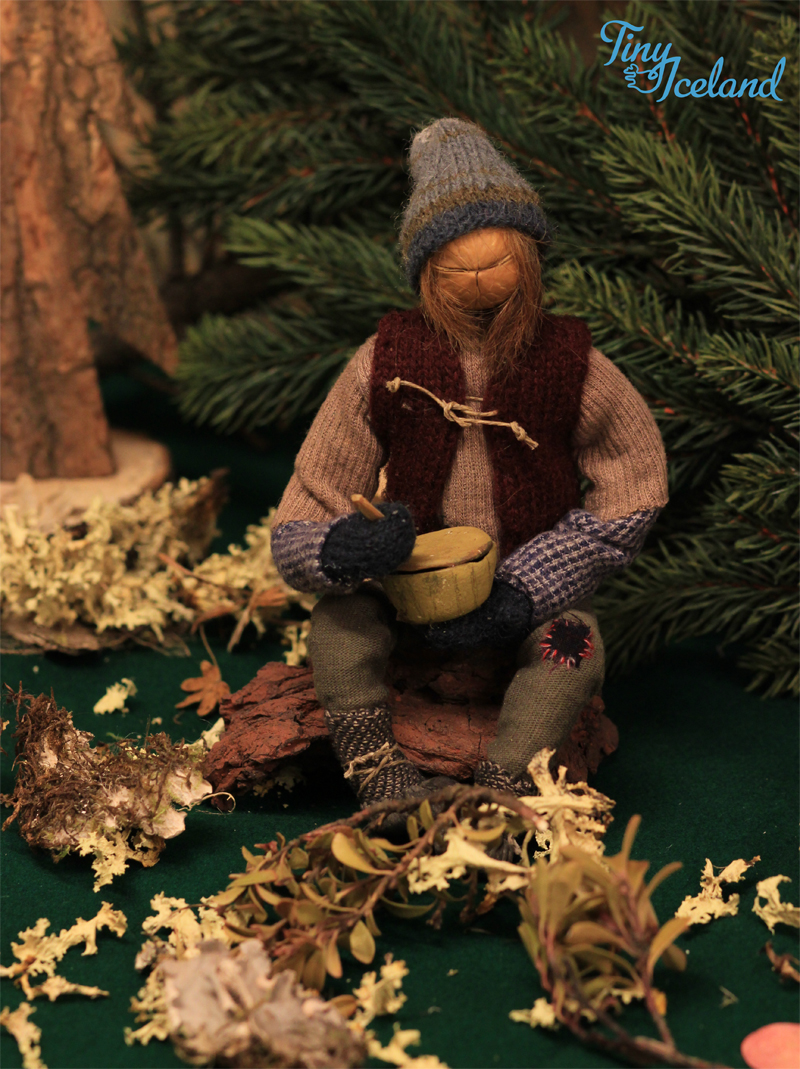 "Pottaskefill" (Pot Scraper) arrived lurking around Iceland Dec 16th. He is also sometimes called Pot Licker since in the old days he waited to snatch away the pots that had not been washed and licked the food remains from the insides.
Pot Scraper, the fifth one,
was a funny sort of chap.
When kids were given scrapings,
he'd come to the door and tap.
And they would rush to see
if there really was a guest.
Then he hurried to the pot
and had a scrapingfest.
"Þvörusleikir" (Spoon Licker) comes down from the mountains on 15 December. In the past he would sneak into the houses and lick the wooden spoon used to scrape the pots.
The fourth was Spoon Licker;
like spindle he was thin.
He felt himself in clover
when the cook wasn't in.
Then stepping up, he grappled
the stirring spoon with glee,
holding it with both hands
for it was slippery.
The Yule Lad who arrives on 14 December is called "Stubbur" (Stubby). He is a little, shall we say, vertically challenged. He is also known as Pan Scraper because in the old days he used to try snatching bits of food from the frying pan.
Stubby was the third called,
a stunted little man,
who watched for every chance
to whisk off a pan.
And scurrying away with it,
he scraped off the bits
that stuck to the bottom
and brims - his favorites.
On Dec 13th.it is "Giljaguar" (Gully Gawk) turn to lurk around the city. He Hides in small valleys waiting for an opportunity to sneak into the cowshed and steal milk.
The second was Gully Gawk,
gray his head and mien.
He snuck into the cow barn
from his craggy ravine.
Hiding in the stalls,
he would steal the milk, while
the milkmaid gave the cowherd
a meaningful smile.
Since Gully Gawk was not in the walnut-headed collection, I wanted to share with you the photo here below (left). It is printed on all milk cartons over the holiday season along with all his Yule Lad brothers.
If any milk is missing from your fridge this morning just send Gully Gawk a letter asking him to be nice and in return to give you a 6pack of the new Christmas beer Giljagaur. The brewery Borg made this barleywine beer specially for the holidays 2012. So if you are visiting Iceland over the holidays make sure to try some of the Christmas beer! We have over 15 brands and it's growing every year. If you go on the "Taste The Saga" tour you will get a taste of this beer. I haven't still tasted this new beer but stay tuned for a full report.
The first of the Yule Lads brothers arrived into town Dec 12th.
His name is "STEKKJASTAUR" (Sheep-Cote Clod): His favorite thing is harassing the sheeps, but is impaired by his stiff peg-legs.
The first of them was Sheep-Cote Clod.
He came stiff as wood,
to prey upon the farmer's sheep
as far as he could.
He wished to suck the ewes,
but it was no accident
he couldn't; he had stiff knees
- not to convenient.
Video below is from Inspired By Iceland of the "13 Yule Lads"
The journey of the Yule Lads brothers with Tiny Iceland. Comment below if you have any questions or thoughts
Some of the reference materials in this blog post is from National Museum of Iceland
The Poem is The Yuletide Lads by Jóhannes úr Kötlum. English translation by Hallberg Hallmundsson.