The lovely couple behind Pure Adirondacks, Evan & Hilary Williams contacted me to help them plan an 10-day road trip around Iceland. They drove around the island, hiked mountains, explored, and took some amazing footage. Here is their official blog post filled with ideas what to see & do while road tripping around Iceland. "In early June 2013, after months of excitedly researching and planning our trip, Evan and I finally landed in Iceland. Our friend Morgan had flown in earlier in the day, picked up our trusty rental car and camping gear, and made his way back to the airport to rendezvous with us."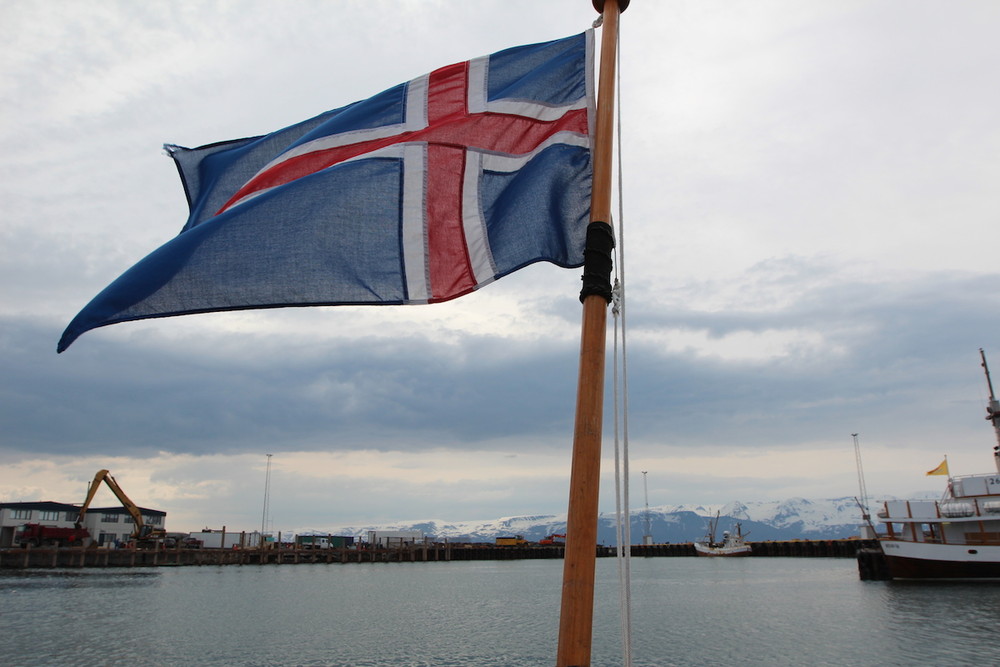 Day 1 (June 6th):
Since we decided to camp for the duration of our stay in Iceland, upon arrival we headed straight to a "Bonus" grocery store to stock up on food. After finding a place in our car full of gear for our provisions, we officially began our adventure around the country. First stop: Þingvellir to check out the continental rift and the rift valley. This area of Iceland is one of the few places on Earth where you can see the sea-floor spreading. After exploring Þingvellir for a while, we ventured on to the Geysir Hot Spring Area where we made dinner and set up our tents for the night at a campsite directly adjacent to the spouting geysers.
Day 2 (June 7th):
After allowing ourselves to sleep in a bit, we caught several eruptions of the Strokkur (Icelandic for "churn") fountain geyser; a very reliable geyser that erupts every 6 minutes! Our next stop for the day was Gullfoss, a large and powerful waterfall. Definitely make sure to stop in for some lamb soup at the Gullfoss visitor's center! Continuing down the southern coast, Seljalandsfoss was our next target, a waterfall that drops 60 meters (200 ft) over the cliffs of the former coastline. A hidden geothermal pool was next – Seljavallalaug – built in 1923, it takes a 20-minute hike to reach this pool in a valley surrounded by great peaks. Our final destination for the day was the waterfall Skógafoss, on the South coast of Iceland at the cliffs of the former coastline.
Day 3 (June 8th):
Our third day abroad led us to a vast expanse of beach on the hunt for a United States Navy plane crash. Sólheimasandur, where the plane wreck is located, is a black, volcanic sand wasteland in the south coast of Iceland, near Vik. After exploring the plane shell, we headed toward Fjaðrárgljúfur, a beautiful canyon in southeast Iceland which is up to 300 ft. deep, with the Fjaðrá river flowing through it. Our campsite for the night was at Skaftafell, a part of the Vatnajökull National Park, also in southeast Iceland.
Day 4 (June 9th):
The next morning began with an incredible hike with Glacier Guides on the Falljökull glacier. The views back down the glacial tongue looking at the morraines and the ocean were second only to the view of the cascade of ice coming down from the Vatnajökull ice cap. After returning from the glacial hike, we followed a trail from the campground to Svartifoss – a waterfall surrounded by columnar basalt resulting from cooling lava. Later in the afternoon, we packed up and traveled to Jökulsárlón (literally Icelandic for glacial river lagoon), on the borders of Vatnajökull National Park. While the weather was iffy, we were still able to see the icebergs in the lagoon that will drift about for up to 5 years before melting and heading out to the ocean. On a clear day, you can see hundreds of icebergs at the glacier from which the cleave. Because of the rain, we decided to stay in a guesthouse in Höfn - a small fishing village on the southeastern coast of Iceland. Make sure you try the lobster bisque if you travel through Höfn!
Day 5 (June 10th):
Day 5 was a day full of driving. We encountered our first fjord on the Eastern shoreline and then wound our way northward to Dettifoss in Vatnajökull National Park, in northeast Iceland – reportedly the most powerful waterfall in Europe. Journeying on, we reached Lake Mývatn, a shallow lake situated in an area of active volcanism in the north of Iceland and our camping destination for the night. After a dinner of delicious pasta, we decided to visit the Mývatn Nature Baths (Jardbodin vid Mývatn), some incredible geothermal mineral pools that refreshed and relaxed us.
Day 6 (June 11th):
Our first stop of the day was Viti Crater in the Krafla volcanic area, where in the Martian landscape we saw sulfur deposits and steam vents, along with some bubbling and boiling mud pots. On the way out of Mývatn, we sidetracked to Sigurgeirs Bird Museum where we saw some all sorts of native birds and Marimo algae balls which are only found in two lakes in the world. Traveling on, we made our way to Húsavík on the north coast. A quaint little fishing town and our location for the night, Húsavík is well known for whale watching. We booked our tour with North Sailing and enjoyed an amazing three hours out in the Greenland Sea where we observed a bunch of humpback whales, puffins, and white-beaked dolphins. A dinner at Gamli Baukkur – a wonderful restaurant owned by North Sailing was a great way to top off the day.
Day 7 (June 12th):
Today was another day full of scenic driving. We drove from Húsavík to Akureyri, and then on to Laugar on the west coast. A notable stop along the way was Goðafoss, or the waterfall of the gods, in north-central Iceland. In the year 999 or 1000 the Lawspeaker made Christianity the official religion of Iceland. After his conversion it is said the Lawspeaker threw his statues of the pagan Norse gods into the waterfall, hence the name!
Day 8 (June 13th):
Waking up to another beautiful day, we were excited for another day of exploration. We started out by visiting the small fishing town of Stykkishólmur in northwestern Iceland. Between the unique lighthouse and the charmingly modern church, the town couldn't get more picturesque! Next stop was the Bjarnarhöfn shark-museum, where we learned all about Greenland sharks and the traditional Icelandic fermentation process to make the meat edible… certainly interesting and not entirely awful tasting. Following our shark taste test, we drove to Kirkjufell which was actually the inspiration for our trip to Iceland. After enjoying the scenery for a long while, we moseyed on to the Snæfellsnes peninsula in Western Iceland, where we ended up in Arnarstapi for the night.
Day 9 (June 14th):
We woke up to fog surrounding us in Arnarstapi, but we decided to head upward in elevation to Snæfellsjökull - a 700,000 year old stratovolcano with a glacier covering its summit to see if the clouds would clear. We lucked out and found the sun at the top so we played in the snow and spent some quality time resting in some moss beds that were as comfortable as mattresses. Wanting to try to find a place to horseback ride, we decided to move on. We eventually happened upon Lýsuhóll, still on the Snæfellsnes peninsula, where we made friends with some Icelandic horses for the afternoon and rode on a beach. To finish off the day, we completed our circle of Iceland and ended up back in the Reykjavík area to experience the wonders of the geothermal Blue Lagoon. The warm waters are rich in minerals like silica and sulphur and the spa provides guests with these silica clay masks to help exfoliate your skin while you relax.
Day 10 (June 15th):
Day 10 – our last full day in Iceland was spent exploring its capital and largest city – Reykjavík. From Hallgrímskirkja, a Lutheran parish church, to the Harpa conference center, and the shops to the yarn covered bicycles, Reykjavík has a style and culture that is incredibly unique and inviting. It was a lot of fun to explore and experience. Later in the evening we met up with Inga, who acted as a gracious host for the rest of the night, taking us to a wonderful dinner spot and showing us how fun Icelandic night life can be. Our Iceland trip ended greatly, with awesome live music and beer tastings at Den Danske Kro followed by dancing and plentiful White Russians at the Lebowski Bar. Returning to our hotel room in the small hours of the morning, we set our alarm for an early wake-up call to begin our journey back to the U.S.
Traveling around Iceland is an experience that we will never forget. The scenery is breathtaking and unique at every turn in the road, and the people are incredibly friendly and so willing to go out of their way to show you what Iceland means to them. Hardly had we boarded the plane when we were already looking forward to our next visit to "Tiny Iceland".
Tiny Iceland thanks Evan & Hilary, Pure ADK, for sharing their experience in Iceland! Great tips and beautiful photos which I enjoyed.
Check out their guest profile and follow their journey at Pure ADK'.