[Review] Bjórböðin, the Icelandic Beer Spa
The newly opened Bjórböðin (english: beer baths) is something that you must try out if you're driving in the North and want to relax in style. The baths are located in Árskógssandur just outside of Dalvík where the microbrewery Kaldi is also located. See their location below in google maps.
There live about 130 people in Árskógssandur, a small village situated in Eyjafjörður, North Iceland. The beer spa Bjórböðin was opened June 1st this year (2017) so everything was new and the owners obviously thought of everything, from design to atmosphere. The plus is that there's also a restaurant there that's perfect for when you finish your beer spa treatment. The kitchen only uses ingredients from local farmers – Have a look at their menu here.
All bath tubs are made from Kambala wood and are 7 in total and each one can fit two people, perfect for a couple or just good friends. The water in the tubs is warm and consists of beer from Kaldi, hops, yeast, and of course pure Icelandic water.
There's also an outside area with two big tubs that take 8-10 people each and the best part is that you get a great view over Hrísey island and its surroundings. On site is also an Infra-Red sauna and a traditional sauna for guests to enjoy.
Bathing in beer and yeast may sound strange but you won't regret it. Beer yeast is very benefitting for both your body and hair as it both cleanses your skin and has a very good effect on your health in general.
Tiny Iceland's review
I (Inga) plus a few friends visited Bjórböðin in July 2017 while driving around North Iceland. We arrived around noon and were greeted by employees of the beer spa. They inform us with knowledge about the baths and handed us a robe before entering the changing room. After we showered and changed into our swimsuit, a spa therapist awaits to show you to your beer bath room.
The beer tub is ready to dip in and we relaxed in it for about 25 minutes. You have a drought of Icelandic beer Kaldi next to the tub and can sip on some amazing local beer while enjoying the warm bath.
After enjoying the bath, we were taken to the relaxing room located on the second floor to lay down for another 25 minutes. The spa therapist recommends you don't shower after the beer spa and let the nutrition's stay on your skin for the next 3-5 hours. Of course, we did that and I must say, my skin was extremely soft, a thing that I was not expecting.
What does a Beer Bath do for you?
The Brewers yeast which is used in the baths is very rich of almost the whole Vitamin-B scale, which has great effect on skin and hair.
In the bath, you bathe in young beer, brewer's yeast, hops and Icelandic fresh mountain water. The staff at Bjórböðin recommend you don't shower after the bath for about three to five hours. It will have very revitalizing and softening effect on the skin and hair – I recommend you try it! The hops that are used in the baths are great for your body as they area rich of antioxidants and alpha acids.
Opening hours
SPA:
Monday to Wednesday from 11AM – 8PM
Thursday to Sunday from 11AM – 9PM
Restaurant:
Sunday to Wednesday from 11AM – 8PM
Thursday to Saturday from 11AM – 9PM
The Bar:
Sunday to Thursday from 11AM – 9PM
Friday to Saturday from 11AM – 11PM
Contact information:
Phone: +354-414-2828
Email: bjorbodin@bjorbodin.is
Address:
Bjórböðin Beer Spa & Restaurant
Ægisgata 31
621 Árskógssandur
Follow them on social media: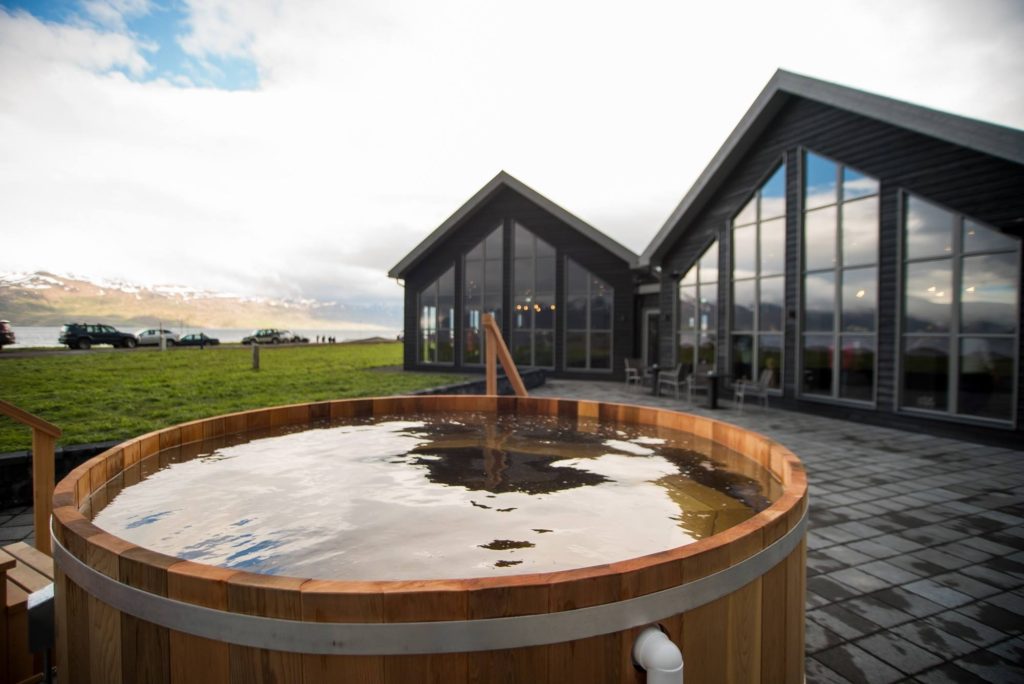 Don't forget to follow Tiny Iceland via social media for frequent updates. Twitter, Instagram, Facebook, and Tiny Iceland's Pinterest profile is filled with boards and pins to get more ideas what to see & do when planning your Trip in Iceland. Tag using Tiny Iceland's official hashtag #TripInIceland. Cheers and happy travels, Inga, founder of TinyIceland.