Iceland has many natural baths or hot springs. The reason for it is because Iceland is situated on a "hot spot" with a lot of geothermal activity. This activity results in many hot springs around the country. Some of them are to hot for people to bathe in but others have just the perfect temperature to bathe in.
In this blog post you will find information about hot springs all around the island. Where is it located? How to get there? How much does it cost and so on.
Reykjavik and surroundings
In walking distance from downtown Reykjavik you can find the manmade beach "Nauthólsvík" that has a heated ocean as well as hot tubs, an outdoor shower and toilets. This geothermal beach that opened in 2000 is packed on hot summer days with Icelanders! So be aware of that. During the summer it is open throughout the day and access is free! Opening hours 15th May - 15th August, every day from 10.00 - 19.00.
Location: Nauthólsvegi, 101 Reykjavík - N 64°07'17 W -21°55'41
Next up I would like to share with you the most famous natural bath in Iceland the Blue Lagoon! The unique and popular Blue Lagoon is one of the 25 wonders of the world according to National Geographic. Guests enjoy bathing and relaxing in Blue Lagoon's geothermal seawater, known for its positive effects on the skin. The Blue Lagoon is one of Iceland's most visited sites with more than 400.000 visitors annually. The bathing lagoon is 5000 m2. At each time the lagoon holds six million liters of geothermal seawater all of which is renewed every 40 hours. Blue Lagoon's guests actually bathe between two continents as the Euro-Asian and the North American tectonic plates meet at the Blue Lagoon.
The Blue Lagoon is not far from Keflavik Airport and about 45min driving from Reykjavik. The blue lagoon offer several packages, all the way from basic tickets to more luxurios ones whom include spa and massages. The Blue Lagoon is a must visit while in Iceland. For more information we recommend bluelagoon.com (ATTENTION, as of 2015 the Blue Lagoon requires guest to pre-book before their arrival since the lagoon gets more busy everyday they need to make sure to be able to accommodate everyone)
Location: Svartsengi, 240 Grindavík, N 63°52'52 W -22°27'11.214
South Iceland:
In Southern Iceland you find three hot springs. There is one in Haukadalur called Marteinslaug, another in Hveragerði called Rjúpnabrekkur and the third one is Seljavallalaug in Seljavellir. Access to the pools is free.
Marteinslaug: The size of it is quite small and only about 3-5 people can bathe in it. The area around the pool is very delicate so be aware of that. This spring is only 2km away from the famous Geysir. GPS: N 64°19.605 W-20°16.92'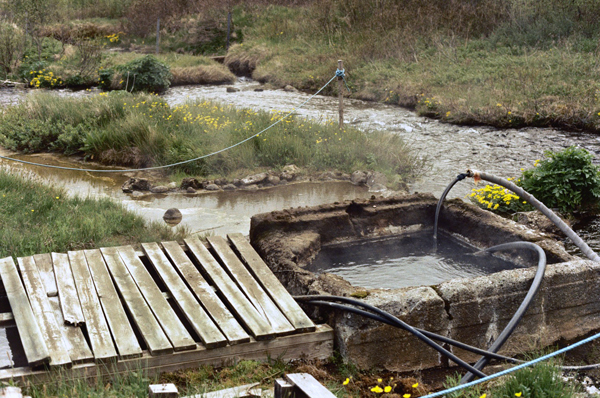 Photo by Throb via Los Angeles Swimmin
Reykjadalsá: Located in Hveragerði. To get there then drive through the town of Hveragerði, pass the horse stable district and then drive as far as the road reaches (should be a small parking lot, located next to the river Varmá). You need to hike up Reykjadalur valley, the trail is called Rjúpnabrekkur which leads to Reykjadalsá River. The place is located where the cold river, Reykjadalsá, emerges with hot geothermal water creating a nice pure natural Icelandic hot pool. GPS: 64°01'26.9"N 21°12'47.9"W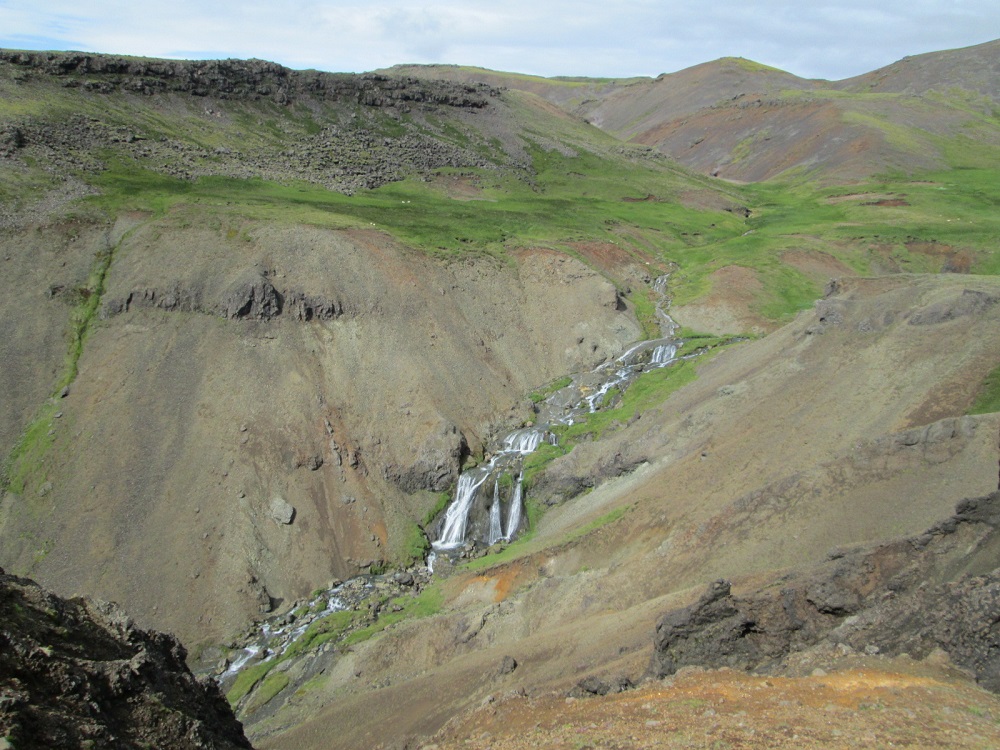 Seljavallalaug: One of the oldest swimming pool in Iceland built in 1923. The pool is 25 meters long and it is located near Seljavellir. In 2010 during the Eyjafjallajökull eruption the pool was filled with ash but the next year a group of volunteers gathered and cleaned the pool. The pool is free of charge and it offers old dressing rooms but without showers. Be aware that the pool might be colder than you believe. How to get there: It's between Skógafoss and Seljalandsfoss waterfall. The turn off for the pool is on your left after Seljalandsfoss onto road 242. You should see a sign for "Raufarfell." If you hit Skógafoss waterfall, you've gone too far! You drive the road all the way in until the road stops and you should see other cars (pool guests) and the trail to walk to the pool. It's about 15min walking inwards to the mountain. GPS N 63 34.013 W -19 36.379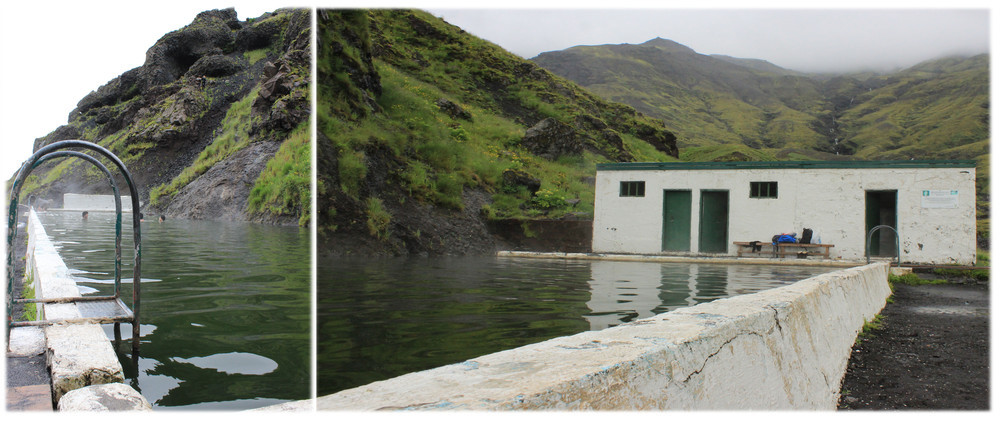 Laugarvatn Fontana Geothermal baths is one of my favorite pools after going there a few times every year since it opened in 2010. Fontana spa offers four baths with varying depths, size and temperature, as well as several steam rooms plus obviously the Laugarvatn lake. It's located in Laugarvatn (only a one hour from Reykjavik) and it is the perfect stop while touring / road tripping the Golden Circle. It's not free to enter but well worth it! It's open throughout the day and they even offer more exlusive packages, geothermal bakery tour, food and more for those who want to maximize their experience. GPS: 64°12'52.6"N -20°43'49.9"W
West Iceland:
There are a few hot springs available in West Iceland. The most famous one is Snorralaug in Reykholt, Borgarfirði. The pool doesn't allow bathing because it was protected by law in 1817.
In Reykjadalur you can find Grafarlaug which is free of charge. This small hot spring is 26°C so it is not that warm. They have dressing rooms there but without showers. GPS: N 64°57.652 W -21°30.986
Landbrotarlaug is a hot pool which lies north of Eldborg crater in Snæfellsnes. It's easy to miss this tiny hot pool while road tripping around the West Iceland but use these GPS coordinates and you will find it N 64°49.933 W 22°19.110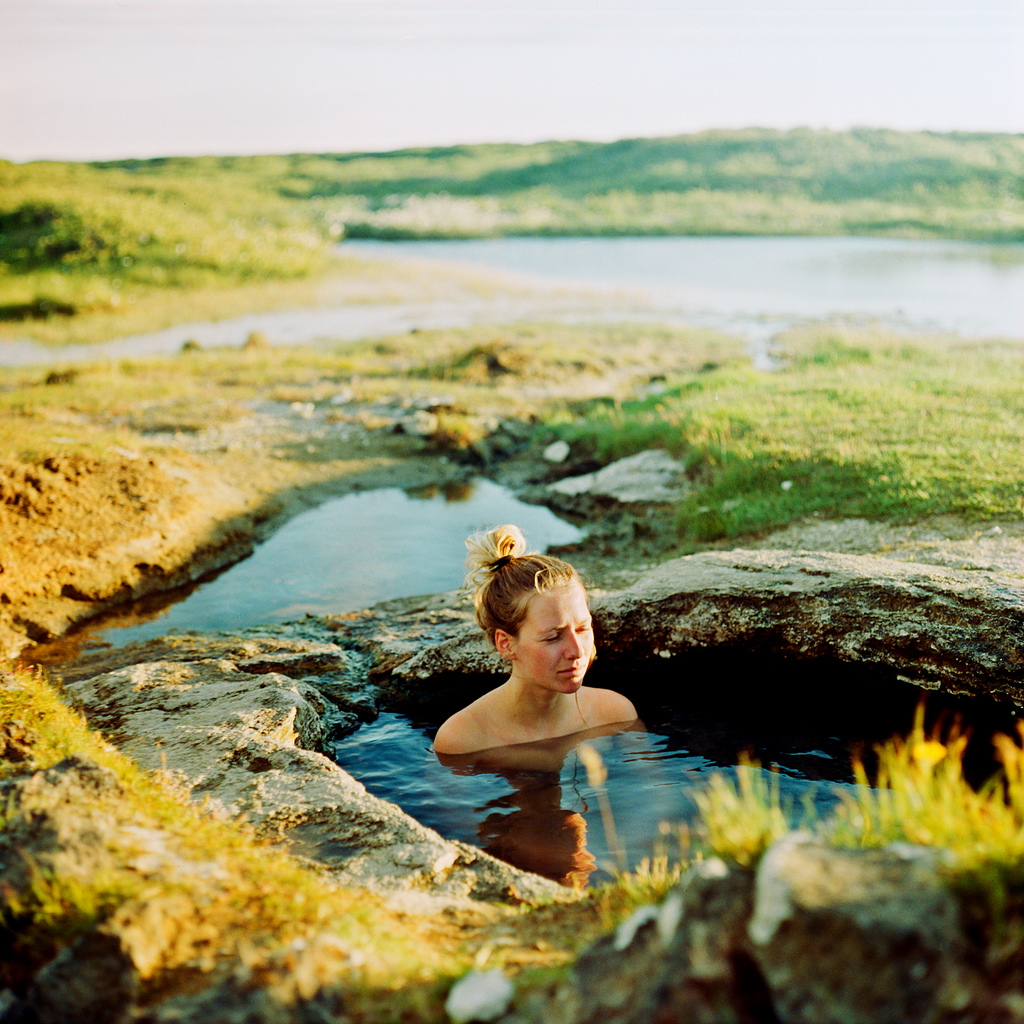 Photo by Kaspar Bossers via Flickr
Guðrúnarlaug, is a reconstructed geothermal pool situated in Laugar of Sælingsdalur valley in the Western part of Iceland. According to the Icelandic Saga Laxdæla, Gudrun Osvifursdóttir, one of the greatest woman in the Sagas, used to dwell by a similar natural pool in the area. The pool is open for everyone to dip in and relax like Vikings. Located right next to the cozy country Hotel Edda Laugar in Sælingsdalur. GPS: N65° 14' 50.677" W21° 48' 25.852"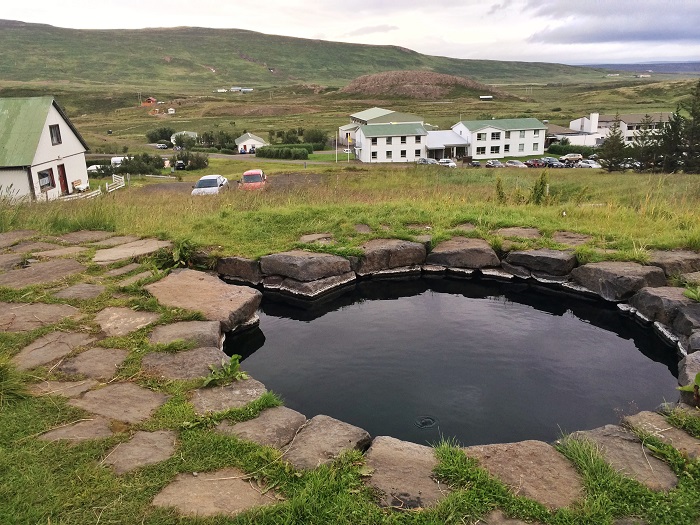 The Westfjords of Iceland:
In the Westfjords there are several hot springs and they are all free to use! Here below you can read about some of those.
Heydalur: This pool is in a walking distance from the country hotel Heydalur. The temperature is around 40°C depending on the outside temperature. It is the perfect spot to observe northern lights without getting cold in the winter. It is definately worth trying plus it's free of charge. GPS: N65° 50.383 W-22° 40.666
Hellulaug: This geothermal pool is sitting right by the beach. It is 60cm deep and the water is 38°C just perfect! GPS: N 65° 34' 36.661 W -23° 9' 48.289
Hörghlíðarlaug: This water in this pool comes from three houses but one of the houses only has cold water so that one is used to cool it down. It has the perfect temperature 40°C and on the side of the pool there are dressing rooms. Be aware that this pool is owned by the farmers who live there so just ask for permission before you dip in! GPS: N 65° 49.864 W-22° 37.728
Pollurinn: Pollurinn or in English "The Puddle" is located just outside of Tálknafjörður. This pool is popular both with locals and traveler. There a three pools all different in depth and size. They even have dressing rooms with showers. GPS: N 65 38.971 W -23 53.656
I would also like to tell you about "Nauteyri" hot spring in Súðavík and "Pottarnir" in Drangsnes. Those two are also very popular amongst travelers and locals.
North Iceland:
I want to tell you about one hot spring in Northern Iceland. It's located just 25 minutes from the town of Sauðárkrókur and about 40km from the ringroad (1). Grettislaug is named after the Icelander Grettir the strong, whom rested in this pool after his famous swim Drangeyjarsund. The pool has natural heated water at a temperature of 40°C. However a couple of years ago a new pool was built so now there are two pools at this territory! Please take note that there is an entrance fee $4 per person. GPS: N 65 º 52.934 W -19 º 44.171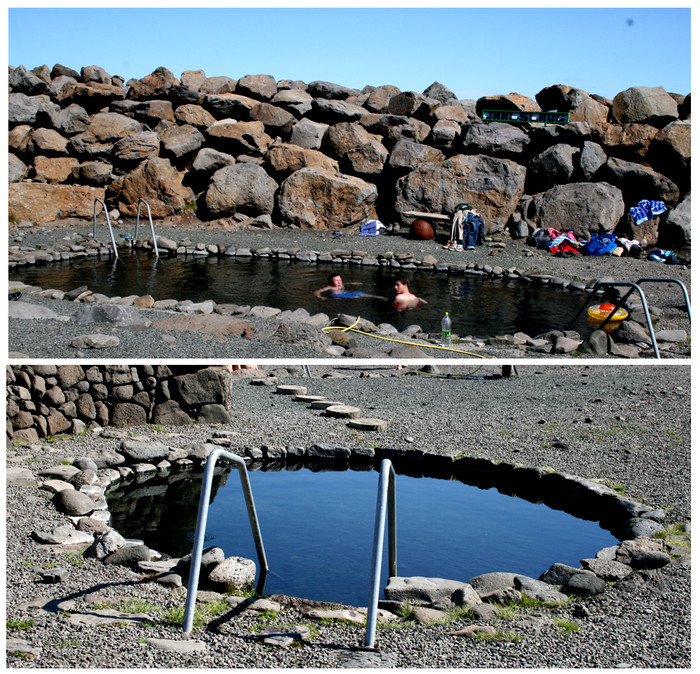 North-East Iceland:
If you are roadtripping around the North East then you must stop at Mývatn Nature baths! It offers something for everyone and the architectural design of the facility is unique and guests can relax in the blue water of the lagoon or in the natural steam baths. It's often called the Blue Lagoon of the North-East. For more information click here GPS: N 65 37.500 W -16 50.520
The Highland
The Highland of Iceland has several great hot springs. To name a few I would like to recommend these here below:
Laugafellslaug: This pool is located in the Nort-East of Hofsjökull. The water in the pool is around 35°C and the pool's depth ranges from 50cm-150cm. The pool is cleaned 2-3 times a year for maintenance and it costs about $4 to use it. GPS: N65 01.648-W18 19.920 WGS 84
Hveragil: There are several hot springs around Hveragil and all of them free to use but be careful because some of them are way to hot to dip in. GPS: N64 41.677-W16 30.387
Landmannalaugar: The hot springs in Landmannalaugar have a combination of hot and cold waters due to the boiling hot flows from the volcanic activity and the freezing water of the surrounding glaciers. So these hot springs are just perfect for those who want to relax and energize the body. GPS: 63°59.600 19°03.660
So these are the most common hot springs around Iceland. However if you are just looking for a quick swim or to relax the body in modern hot tubs then finding a swimming pool shouldn't be a problem. Iceland is packed with swimming pools all over the country. The most standard prize for one adult is 500-700 ISK. For more information go to http://www.swimminginiceland.com/