I want to introduce a better way to explore Iceland when using the stopover program. I get a lot of emails from people who want to visit Iceland and often they only have a few days to spend in Iceland, so the big question is what to see & do! I teamed up with Icelandair, Sixt car rental, Hotel Edda, Icelandair Hotel and Fontana Spa to enjoy 5 days roaming around West Iceland. Joining me for the trip was the travel blogger Lola, who runs the blog Where in the world is Lola. Traveling from the US to Europe or vice versa you can stop in Iceland for up to 7 days when flying with Icelandair without any extra flight cost.
Click here to read all about it! The Icelandair stopover is a brilliant way to get a taste of what Iceland has to offer and for people who have visited before you now have a change to decrease your homesickness from the land of fire and ice. If you only have a few days I recommend spending one day in Reykjavik and then picking either; South, East, North, West, Westfjords or the highland area of Iceland. Beside the overview post I'm writing a few informative blogs about each area to help you plan your Trip in Iceland.
But let's kick of Iceland Stopover recap!
Pretty cozy to ease the jet lag and/or stop at Laugarvatn Geothermal Baths while driving the Golden Circle
Viking horses... remember don't ever call them ponies.
The majestic and beautiful Icelandic horses
Got to love the sheep in Iceland... plus they do pose well for the camera
Bad ass car we have for the trip from Sixt Car Rental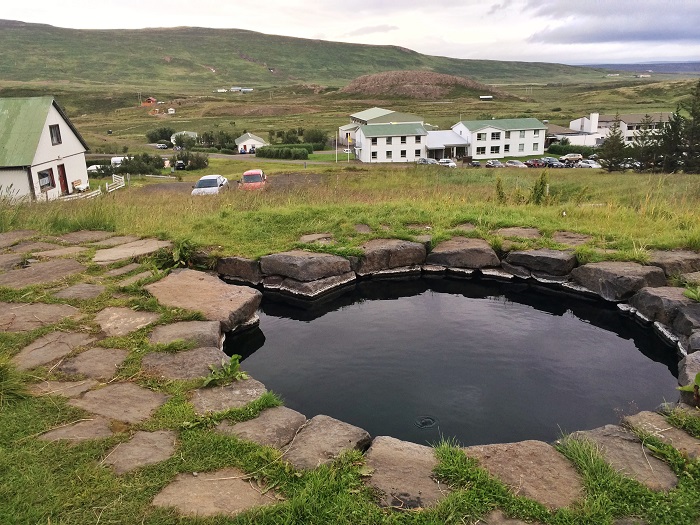 Guðrúnarlaug, is a reconstructed geothermal pool situated in Laugar of Sælingsdalur valley in the Western part of Iceland. According to the Icelandic Saga Laxdæla, Gudrun Osvifursdóttir, one of the greatest woman in the Sagas, used to dwell by a similar natural pool in the area. The pool is open for everyone to dip in and relax like Vikings. Located right next to the cozy country Hotel Edda Laugar in Sælingsdalur
"If you don't know where you are going any road can take you there" ― Lewis Carroll, Alice in Wonderland
Panorama view of Breiðafjörður, a large shallow bay with over 2,000 islands.
Gilsfjörður -- A fjord right next to Ólafsdalur
Stunning mountain formation!
We went on a Ocean Safari tour w/ Iceland Ocean Tours -- This is the island where the Viking Erik the Red, used as a hiding spot.
"A quiet secluded life in the country, with the possibility of being useful to people to whom it is easy to do good, and who are not accustomed to have it done to them; then work which one hopes may be of some use; then rest, nature, books, music, love for one's neighbor — such is my idea of happiness." -- Leo Tolstoy
Long exposure shot
Below is a list of 5 things to see while road tripping around this area. I recommend you spend 2-3 days roaming around West Iceland but for those who don't have that time, you can drive the Snæfellsnes Peninsula easily on a day trip.
Bucketlist:
Take a boat tour from Stykkishólmur and enjoy the magical Breiðafjörður.

For nature lovers this is definitely a "must see" place!

Guðrúnarlaug, a reconstructed geothermal pool situated in Laugar of Sælingsdalur valley.
Kirkjufell mountain is the most photographed mountain in Iceland and it's located in Grundarfjörður
One of the most historical sites in Iceland is Eiríksstaðir. Step back to the Viking Era and explore Eirik the Red's farm, birthplace of Leif Erikson, who is said to have discovered America.
Hraunfossar are mesmerizing waterfalls and for photography lovers make sure to stop there.
This trip would not have been possible if it wasn't for a few key sponsors: Icelandair, Hotel Edda, Icelandair Hotels & Sixt Car rental. They deserve a shout out so I hope you guys will check them out before planning your own adventure around the country.